Today's employment figures are giving a boost to the banks this morning. Bank of America (NYSE:BAC) is gapping up at the open, breaking through the 200-day moving average. The stock has been below that important line since January, punishing investors all year.
JPMorgan Chase (NYSE:JPM), the best of breed, is up nearly 2%, and Wells Fargo (NYSE:WFC) is rocketing higher at $48.50, up 1.7%, as the market rethinks the probabilities and timing of the next Fed move.
Today, the focus is on Bank of America; the stock has underperformed all year. In my opinion, the bottom is in for the year at the low of $10.99 reached in early February. That low was retested on Brexit when the stock fell to $12.05 on June 27th.
A look at the charts: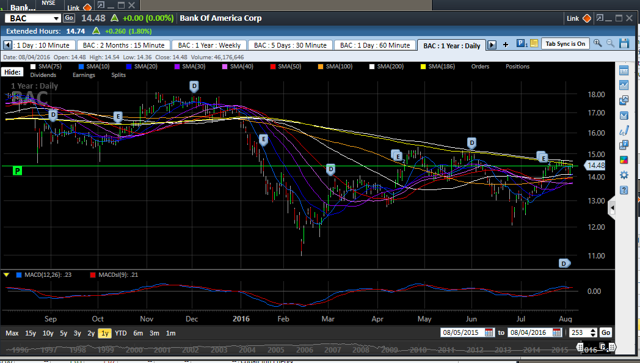 On June 10th, I wrote an article called Bank of America is Breaking Bad; interested investors can read that article here. I stated that technically speaking, the stock was going to retest a low and called for a company buyback between $12 and $13 level. The stock traded down to $12 and has since rallied back 23%, putting Bank of America in a bull market territory.
The Fed gave Bank of America permission to purchase up to $5B worth of stock in the next year, which should keep the stock stable at the current level.
Conclusion
The bottom is in for Bank Of America at the $12 level. The stock is a buy on any weakness. The intermediate price target is $20 a share. The charts are bullish, and the break above the 200-day moving average signals a longer-term move to the upside. The strengthening job market bodes well for all the big banks as the Fed may surprise the Street with an unexpected rate hike.
As always, do your own research, and good trading.
Disclosure: I am/we are long BAC.
I wrote this article myself, and it expresses my own opinions. I am not receiving compensation for it (other than from Seeking Alpha). I have no business relationship with any company whose stock is mentioned in this article.