2016 Q2 Earnings Highlights
Renewable Energy Group (NASDAQ:REGI) announced Q2 earnings after the close on August 4, 2016. We won't attempt to summarize the entire conference call, which can be found on this link. Some highlights from the call include:
Adjusted EBITDA missed expectations due to the accounting of $30.5 million in hedge losses;
REG anticipates a reversal of $20 million of unrealized hedge losses - assuming static markets - for Q3 and Q4;
Biodiesel sales met REG expectations of 150 million gallons, and revenues greatly exceeded analyst expectations;
REG Life Sciences earned $1.0 million in revenues and anticipates the commercial sale of products by Q4 of this year;
REG Geismar ran at 70% of capacity, including an unexpected outage in June;
REG intends to pay off its GoZone bonds affiliated with the Geismar facility, reducing its term debt by $100 million;
REG Grays Harbor reportedly is running at record capacity;
REG provided guidance for Q3 biodiesel gallons of 155 million to 175 million gallons, on higher expected fleet utilization and increased third party sales; and
REG provided Q3 adjusted EBITDA guidance for between $30 million and $45 million.
We had forecast that REGI would report adjusted Q2 EBITDA in the range of $30 to $40 million in a prior article (found here), with the caveat that we did not know the extent of REGI's forward sales and hedging activity. REGI's Q3 adjusted EBITDA guidance confirms our general expectation of healthy biodiesel production margins through the remainder of 2016.
We are writing this note primarily to address the $30.5 million in reported hedge losses. We hope that this article assists in the understanding of a complicated topic.
Biodiesel Hedging 101
Biodiesel production margins are created by the sale of biodiesel, the purchase of feedstock, minus variable costs. If we assume that biodiesel can be sold for $3.00/gal, feedstock costs are $2.20/gal, and variable costs are $0.30/gal, then we can calculate production margins to be $0.50/gal.
A biodiesel producer who would like to "lock in" these $0.50/gal production margins has a menu of risk management tools from which to choose. One way to lock in the margins would be to sign fixed price contracts for future sales and purchases: biodiesel at $3.00/gal, and feedstock priced at $2.20/gal. In the absence of counterparties willing to sign long-term fixed price contracts, then biodiesel producers can use a combination of futures contracts and futures-indexed contracts to create a synthetic fixed price.
As an example, a biodiesel producer may sell biodiesel to a customer at $3.00/gal indexed to the price change in NYMEX heating oil futures. At the same time, the biodiesel producer sells NYMEX heating oil futures contracts to lock in $3.00/gal in revenues. If the price of heating oil goes up $0.30/gal, then the producer gets $3.30/gal when they deliver the biodiesel. At the same time, they would lose $0.30/gal on the futures contract. Once all deliveries have been made on the contract and all futures positions have been unwound, the biodiesel producer will obtain $3.00/gal in net revenues. The same principles can apply to the purchase and potential hedging of soybean oil (if it is used as a feedstock).
Risk management tools are intended to reduce and limit price risk; however, accounting rules and reporting requirements may skew our understanding of its effectiveness.
Hedge Accounting - An Example
Not all hedge activity qualifies for hedge accounting. REGI mentioned on its Q2 conference call that it was constrained by hedge accounting rules, and it currently anticipates to benefit from an unwinding of about $20 million in Q2 unrealized losses during Q3 and Q4. We have created a hypothetical example below to try and illustrate the potential reporting impact of unrealized hedge losses.
In this example, we assume a hypothetical biodiesel producer who is seeking to lock in variable margin for 200 million gallons over two quarters (line 1). It accomplishes this by selling biodiesel to its customers indexed to the price change in NYMEX heating oil, and correspondingly sells NYMEX heating oil futures contracts with matched volume. For the sake of simplicity, we assume that it purchases feedstock at a guaranteed fixed price over the same period.
After signing the biodiesel contracts and selling the futures, diesel prices rise $0.30/gal (line 6) and remain there over the course of both quarters. The producer has retained his hedged margin of $0.50/gal (line 7) for both Q2 and Q3, even though he has a futures contract loss of $0.30/gal for both periods. This is because his customer will be paying $0.30/gal more for the product (line 5).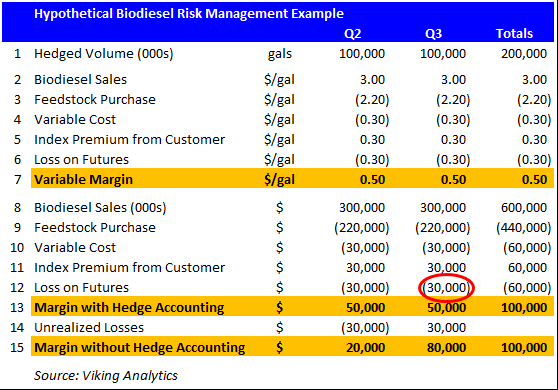 At the end of Q2, the producer is carrying $30 million in unrealized hedge loss on its futures contracts for Q3 (line 12, red circle). However, the unrealized futures loss will be offset once the biodiesel deliveries have been made, because the customer has agreed to an indexed price. The end customer is happy to purchase the biodiesel at the higher price, because he is selling it for an indexed price also, and has already locked in his wholesale or retail margin.
In this example, if the producer qualified for hedge accounting treatment, it would report a variable margin of $50 million for Q2 (line 13). If the producer did not qualify for hedge accounting treatment, then it would report a variable margin of $20 million (line 15). The reporting difference of $30 million is completely dependent upon the accounting treatment.
Hedge accounting treatment would enable the company to delay its Q2 mark-to-market hedge losses until such gains and losses have been offset by actual cash sales. Specifically, the producer would be able to defer the recognition of the $30 million unrealized hedge loss, because it was "hedged" with actual sales. If, on the other hand, the producer does not qualify for hedge accounting, then they would be required under GAAP to report the unrealized $30 million as a mark-to-market loss.
In an attempt to clarify further, with hedge accounting, the producer would report $50 million for Q2 and $50 million for Q3, while the producer without hedge accounting would report $20 million for Q2 and $80 million for Q3. Either way, the producer will make and report $100 million over both quarters.
In this example, we are not attempting to predict REGI's unrealized loss reversal. REGI has projected that this hedge loss reversal - if energy prices stay where they currently are - will be near $20 million through Q4. We do not know the level at which REGI locked in production margins, but we can assume that they locked in margins that they considered favorable for shareholders. REGI shareholders can take comfort that production margins through 2016 are partially hedged, and if biodiesel production margins shrink through the end of the year, then REGI may actually out-perform the market on a $/gal basis.
Final Comments
Our overall long thesis for REGI revolves primarily around our forecast for future earnings and EBITDA growth. Our estimates for EBITDA are based upon today's healthy margin environment for biodiesel production, and are consistent with REGI's expectations. REGI is now controlling and selling record biodiesel gallons, and more gallons multiplied by good margins equals a great outlook for Q3 and Q4. Based upon the earnings call, we anticipate that analysts will raise their revenue and earnings expectations for the company for the remainder of the year, perhaps significantly.
While REGI's reported hedge losses are a setback, if the company had qualified for hedge accounting, then it seems apparent that it would certainly have exceeded both revenue and EPS expectations for Q2, and also exceeded its EBITDA guidance for Q2.
Disclosure: I am/we are long REGI.
I wrote this article myself, and it expresses my own opinions. I am not receiving compensation for it (other than from Seeking Alpha). I have no business relationship with any company whose stock is mentioned in this article.