Background
For those of you who have done your extensive research on the Teva-Allergan Generics deal, I suggest for you to skip this summary and move on to the "Teva's Q1 and Q2 Sheds Light On Organic Growth Concerns" section of this article.
A little over one year ago, Teva Pharmaceuticals (NYSE:TEVA) agreed to acquire Allergan's (NYSE:AGN) Actavis Generic Unit for $40.5 Billion. This announcement was a big one, but not necessarily a surprising one. Mergers and Acquisitions have become an increased norm in the pharmaceutical sector over the past few years. Shire purchasing Baxalta. Pfizer (NYSE:PFE) attempting (ultimately unsuccessfully) to merge with Allergan for $160 Billion, Galenica's (OTC:GNHAY) recent bid for Relypsa (NASDAQ:RLYP), the list goes on and on. In an industry that is currently bent on consolidation, it should not come as a surprise to hear Teva's CEO say that his company will continue to target
Attractive specialty assets, or branded drug assets or pipeline assets
Teva's acquisition of Actavis Generics comes with a few important takeaways. First off, there will be near-immediate impact, demonstrating a well-planned synergistic strategy. That Teva anticipates approximately a 14% accretion to non-GAAP Earnings shows that this was a well thought out, planned purchase. Teva is now expected to generate $25 billion in Free Cash Flow through 2019, meaning that they will be able to make sales from Actavis meaningful. Here is a slide from the recent earnings report highlighting benefits from the transaction: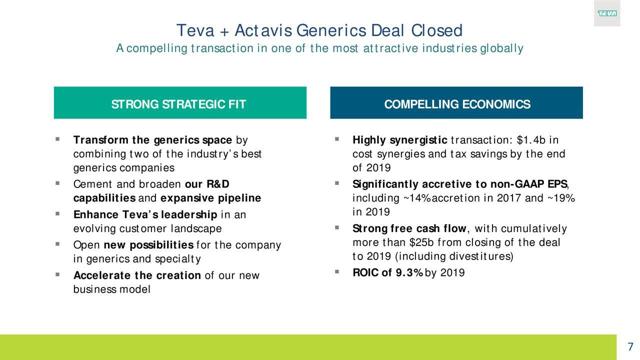 In fact, the company expects to grow revenues at a CAGR of 12.5% from 2015-2020, which is not only sensational but necessary. The generics market is anticipated to be valued at approximately $300 billion come 2020, which is the positive. The negative is that price reductions are anticipated to be at around a 5% level, quite significant. However, if Teva is able to push out its current guidance of 1000-1500 products annually, that will easily qualm pricing concerns.
Now that I touched on some aspects of the Teva-Allergan deal, let's focus on Teva's individual performance for Q2, and how it has been able to organically grow.
Teva's Q1 and Q2 Shed Light On Organic Growth Concerns
So in 2015, Teva dropped the bomb that it would be making a +$40B acquisition. The subsequent price changes since then are as follows: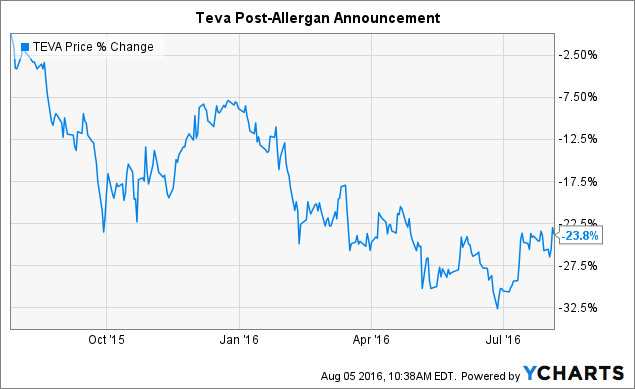 TEVA data by YCharts
Now this decline was due to a few factors. The first would surely be the delays in getting the deal approved; only last week did the FTC finally give it the final green light. Concerns over acquisitions often see investors overly depreciate stock price to new lows. A more reasonable explanation for the decline would be the lower drug prices. With a 5% decline in generic pricing, Teva has hurt. With such a decline in such a powerhouse company, it is time to get in before the upswing.
Q1
If you look at the chart above, you see a pretty hefty dip between April and June. Investors were not thrilled with Teva's Q1 performance, which saw revenue of $4.8B represent a 3.5% decline. Non-GAAP gross profit and non-GAAP EPS were down as well. Meanwhile, R&D prices went higher at a significant spread to the decline in SG&A expenses. In short, revenue/profit was slipping, and costs were being raised. Never a good sign. This, in addition to another delay in the Actavis Generics ruling, led the price to spike down even further. But just when things were looking down for Teva, they came back with a strong Q2 and finally received their approval.
Q2
After guiding for revenue between $4.7-$4.9 Billion in its Q1 earnings report, Teva came through with over $5 Billion ($5.04B to be exact). This was even an improvement Y/Y by a little over 1%, which is an incredible feat considering the pricing difficulties and the increased ForEx burden on the company. Sure, margins decreased for both gross and operating profit, but the decline was minimal. An interesting shift was that Teva dedicated a sharper increase in attention to its specialty R&D. While Generic R&D decrease Y/Y as a percentage of revenue, Specialty actually increased by 11%. Total percentage of revenue declined for the Generic side, while it raised quite significantly on the specialty side. With the addition of Actavis, this is sure to change, but it was interesting to see Teva focus more on the Specialty game, where there is still plenty of $$ to be made. Revenues in the US dipped 33% due to exclusivity lost on a number of drugs, but US revenue will clearly be on the rise post acquisition; Actavis is the first mover for getting generics into the hands of US consumers. Significant success in CNS, Respritory, Copaxone, and QVAR helped propel the specialty segment to peak performances. I won't go into the specific details of each performer (check this out for that), but it's worth noting that gross profit and profit margins both increased substantially for the Specialty products segment. This may have one wonder why Teva is pushing its generics side of things, but it is completely reasonable. They are trying to shape up a big component of their revenue stream, the largest in fact, and by bolstering it with the support of Actavis, they are ensuring the responsibility of making their generics unit thrive.
Continuation of Acquisitions Will Lead to New Organic Growth
Yes, I know that the title of this part will be contested, but let me support the claim. With Actavis coming in, Teva will have access to the US market in a new (and significant) manner. US revenue made up just around 53% of total sales in the past quarter; expect that number to jump towards the 60% level. Just by guiding for such high Free Cash Flow through 2019, Teva is showing how important this will be for them. While the Actavis acquisition has been receiving all of the attention, I would like to bring the more recent Anda acquisition to the table.
Earlier this week, Teva purchased Allergan's US distributor Anda for $500 Million. This purchase speaks volumes, and really demonstrates the shift Teva has taken. I've mentioned before in this article that Teva will gain unprecedented ground in the US, and the Anda acquisition solidifies that approach.
First off, Teva bought the distributor for $500 Million. That is an absolute bargain considering that the distributor is guided to earn about $1.5 Billion in revenue for the 2016 year. Teva has already claimed that it will save nearly $1.5 Billion in synergistic savings annually. This purchase makes me believe that. Teva has already been perhaps the biggest supplier of business to Anda, and by use of vertical integration, Teva will eliminate a significant distributor cost off of its finances.
Anda happens to be the 4th largest distributor in the US. When a new market opens up, they are a key distributor to 85% of pharmacies in the United States. Before acquiring Anda, Teva was just one of their 350+ manufacturing partners; now they are the owners. This means they can easily integrate the logistics of getting drugs on the market, while saving significant operating costs. It is because of this acquisition that I anticipate stronger operating margins for 2H 2016.
Conclusion
Teva has made some brilliant acquisitions, and is sure to prosper heavily over the next few years. With stronger support for its generics business, a vertical integration that will streamline distribution, and a strategy shift, Teva is on the move. Better get in before this rocket takes off.
Disclosure: I am/we are long TEVA.
I wrote this article myself, and it expresses my own opinions. I am not receiving compensation for it (other than from Seeking Alpha). I have no business relationship with any company whose stock is mentioned in this article.