Series Background
Last week I provided an update on my dream portfolio, presented in response to a reader's question on what I'd do if I had a million dollars to invest. That portfolio has done quite well in the year since it was created, but I questioned if I may have made a mistake in some of the selections, putting too much emphasis on "value" rather than performance with my picks.
As often happens, the discussion that followed it led to an idea for a follow-up article, as several readers asked what changes I would make to the portfolio going forward.
Looking back at the original article, this is what I stated as the goals of the portfolio:
this portfolio is for someone who is looking as much for preservation of capital as they are capital gains, so I will concentrate my efforts on high-quality stocks with high credit ratings and long track records, trading at a reasonable valuation...

My final assumption is that since this is either a recent retiree or someone investing a large lump sum of money, the individual is looking for an income stream from their investments. For this requirement, I will create a portfolio with an overall dividend yield of greater than 3%, which is roughly equal to the 30YR treasury yield and 50% higher than the yield of the S&P 500. I will also look for a blended dividend growth rate of better than 5% to counter the effects of inflation.
The portfolio has met the preservation of capital goal, as it has seen a 12.8% capital gain to date. It also met the income goal, with an initial yield of 3.59% and current YOC of 3.7%. However, it missed the mark with dividend growth, as it produced just 2.96% growth against the 5% growth goal; still not bad though as it beats the inflation rate.
Here is the original portfolio as it stands at today's closing prices: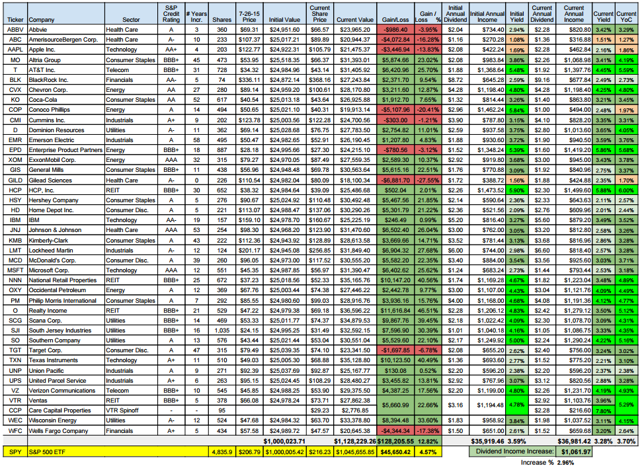 As you can see, this is a diversified portfolio, but not what I would call a defensive one. It does have some defensive stocks in the utility and consumer staples sector, but also had five positions each from the energy and industrial sectors, both of which are suffering right now.
Reader Input Provides New Twist
Some stocks were selected primarily due to their apparent cheap valuations, and in last week's follow-up article, I questioned if I made a mistake in going that route:
I may be putting too much of an emphasis on valuation rather than performance, and may be missing out on opportunities because of it. I've been emphasizing health care and oil & gas stocks in my personal portfolio due to their perceived bargain prices, while I've avoided other potential investments that have been growing earnings but are trading at a premium.
I didn't elaborate much other than that comment, but "scoots" didn't let me off the hook: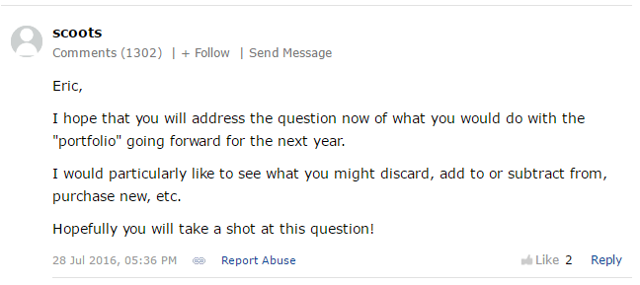 I already write about my personal retirement portfolio here on Seeking Alpha, so my initial thought when seeing this request was, "Thanks, but No Thanks!" as I didn't see how writing about theoretical trades in a theoretical portfolio would be all that interesting. But after further thought, this actually seems like a perfect way to run a case study on portfolio management.
My plans now are to annually revisit the portfolio and make any trades I see necessary to "improve" the holdings. I will then continue to track both the original portfolio as well each successive portfolio to see if the trades that were made did, in fact, improve the results.
I do have a rather limited amount of free time, so I won't track every quarterly dividend received for each position, but I will track the capital gains from each portfolio as well as the projected income they will generate. This should be adequate to determine which portfolio performs better as time goes by.
Candidates To Sell
As stated above, the original intent of the portfolio was to provide for preservation of capital, an attractive dividend yield, and 5% or greater income growth. Looking at these companies below, each of them has some issues that may keep them from meeting these goals in the future.

Conoco Phillips (NYSE:COP) was the lone company to cut its dividend, and it was a big cut of 66%. Unfortunately, the business conditions for Conoco have continued to deteriorate as crude prices have again fallen to the $40 level. As an E&P they don't have refinery or mid-stream assets to diversify income, so they are highly reliant on crude prices for earnings. While I still believe crude prices are eventually heading higher, I don't know when that will occur. In the meantime, Conoco has negative earnings and no time horizon on when that will change, so I wouldn't be surprised if another dividend cut happens down the road.
Cummins Inc. (NYSE:CMI) is an industrial company specializing in engines and engine components. It has been an excellent performer over the years, but growth has stalled over the last 5 years on weakness in the commodity markets. With a payout ratio now over 50% and analysts becoming less bullish on growth prospects, I expect dividend growth to slow substantially from what has been seen in recent years. For this reason, Cummins is on the chopping block.
Emerson Electric Co. (NYSE:EMR) was initially selected due to its nearly 60 year streak of dividend growth. This streak is incredibly impressive, but like Cummins, its growth has slowed in recent years and the payout ratio has crept up to over 60% of expected 2016 earnings. Between the elevated payout ratio and uncertainty with business prospects, I expect dividend growth to stay in the low-single digits for the next few years.
Gilead Sciences, Inc. (NASDAQ:GILD) is a drug company that has seen tremendous growth in recent years due to its Hepatitis C drugs, Sovaldi and Harvoni. It began paying a dividend in 2015 and increased the payout by 9% earlier this year. Unfortunately, despite its tremendous growth, there remains uncertainty if that growth can continue going forward, which has caused it to trade at a very low PE multiple. With a low payout ratio and strong cash flows, I expect that the dividend can continue to grow at a high-single digit rate going forward. However, with uncertainty in EPS growth and the volatile nature of its industry, it was moved to the chopping block in this portfolio.
HCP, Inc. (NYSE:HCP) is a REIT specializing in the health care industry that has a 31-year streak of dividend increases. However, there are concerns regarding its HCR ManorCare portfolio and fears there could be a dividend cut in the future. Uncertainty is unwanted in this portfolio, so HCP goes on the chopping block.
International Business Machines (NYSE:IBM) is the final company on the chopping block. Looking at dividend growth, all appears well, as IBM produced a 14.9% annual growth rate over the last 5 years. However, earnings and revenues have declined for the last few years while the debt load has climbed. Additionally, the payout ratio has now passed the 40% mark, which will likely mean a slowing dividend growth rate in coming years.
The Replacements
Here are the new companies that will enter the portfolio:

As you can see, the replacements offer a similar income, with $5,009 compared with $5,066 being a rather negligible difference. However, the growth prospects are much better, as these six companies are projected to grow dividends at nearly twice the rate and EPS at three times the rate of the original holdings.
Notice that I "bought" shares in the new companies so they would equal roughly $120 less than the old holdings. I did so to account for transaction costs, which would be roughly $10 per trade on the 12 trades needed.
Flowers Foods Inc. (NYSE:FLO) was selected as the replacement for Conoco Phillips, as I believe it has a much clearer picture for growth going forward, while also providing a much higher yield.
The company isn't a sexy name, but it has been a great performer over the years, with double-digit EPS and growth rates over the last decade. Analysts expect this continue, as they project EPS growth of 9% going forward. I believe dividend growth will roughly match that growth rate, which is pretty attractive growth for a 3.6% yield.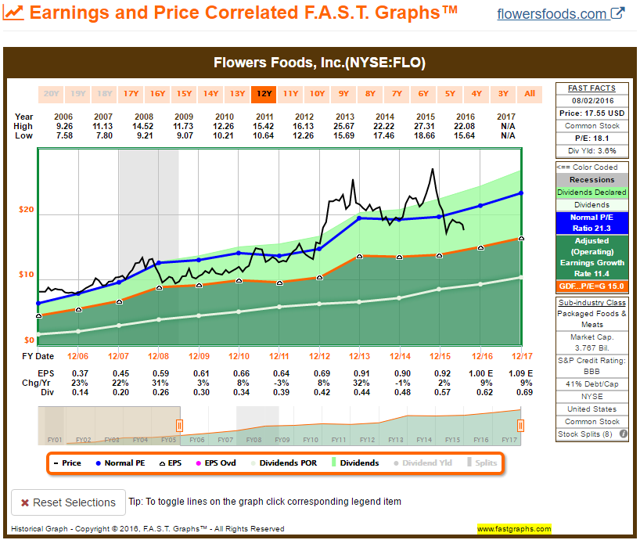 Others considered: Cracker Barrel (NASDAQ:CBRL), Reynolds American (NYSE:RAI)
Next up is the replacement for Cummins. For this position I choose to remain in the industrial sector, and went with General Electric Company (NYSE:GE). In doing so I give up a little bit in yield, but I believe gain in growth prospects. General Electric is finishing up the shedding of its financial arm of the business and is flush with cash that it expects to use for share repurchases. On top of that, it is a dominant player in the aviation and power industries, which I find attractive.
It has had a dip in earnings as the company is restructured, which has resulted in a freeze of the dividend. However, growth is projected at around 12% going forward, and should result in a return to dividend growth in the next year or so.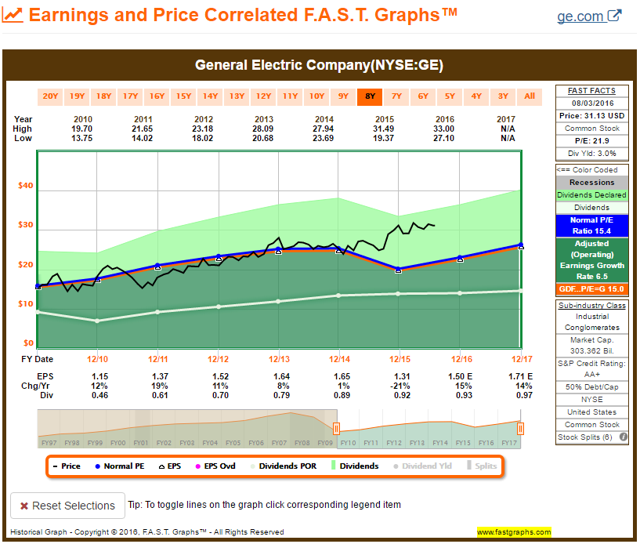 Others considered: Honeywell (NYSE:HON), 3M Company (NYSE:MMM)
The Kraft Heinz Company (NASDAQ:KHC) was selected as the replacement for Emerson Electric. Again, I give up a bit in the way of dividend yield, but I expect that will be made up with growth, as analysts are expecting high-teens EPS growth for KHC over the next 5 years. I will admit that the outlook is a bit foggy as the merger integration continues, but with 3G and Berkshire Hathaway in the driver's seat, I like the company's chances for success.
In replacing Gilead Sciences I wanted the replacement to come from the health care sector, and decided to go with Cardinal Health, Inc.(NYSE:CAH) for the replacement. I think the combination of a reasonable valuation and strong growth prospects make it an attractive candidate for the portfolio. The company has grown EPS at a 14% rate over the last 6 years and is expected to continue producing double-digit growth going forward.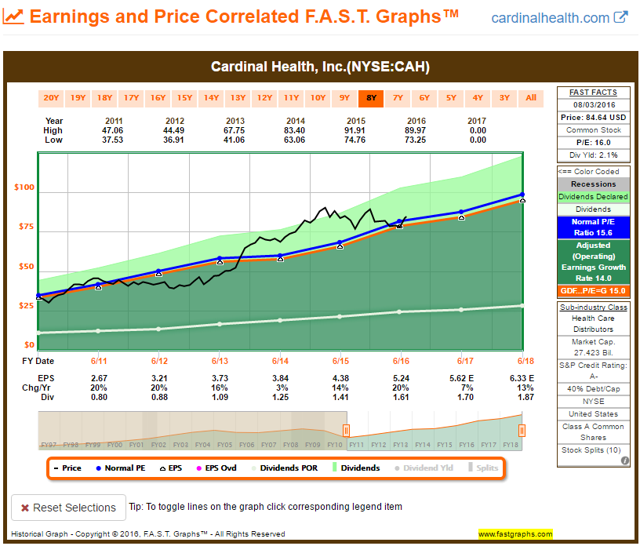 Others considered: CVS Health (NYSE:CVS) and Abbott Labs (NYSE:ABT)
In replacing HCP I went with another REIT in the health care business, Omega Healthcare Investors Inc. (NYSE:OHI). Omega operates in a similar business to HCP, and also has some concerns regarding its skilled nursing facilities, but has been a more consistent performer in recent years, during which it has increased the dividend payout for 16 consecutive quarters.
The stock is currently trading well below historical valuation levels, and as a result, currently yields around 6.8%.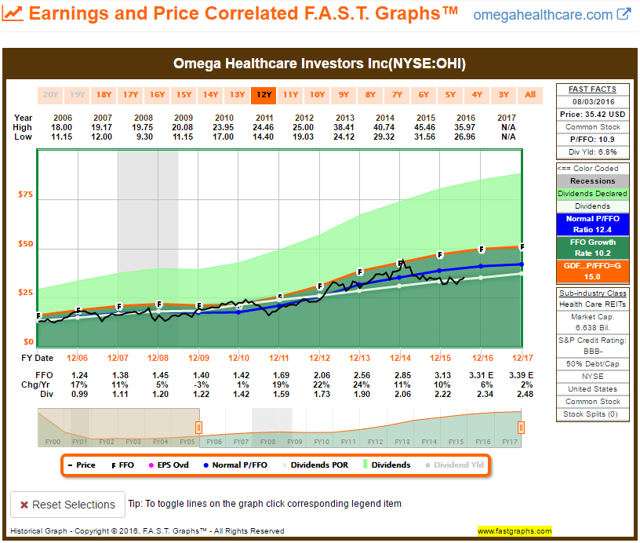 The final addition to the portfolio is Cisco Systems, Inc. (NASDAQ:CSCO), which replaces IBM. Cisco is a relative newcomer to the dividend growth crowd, but has been an excellent performer thus far. It has aggressively grown the payout, with a ratio now up to 45% of earnings. In addition, and contrary to IBM in recent years, the company has consistently grown earnings along with the dividend.
Analysts are also bullish going forward, as they expect 9% EPS growth over the next 5 years, which the dividend should follow.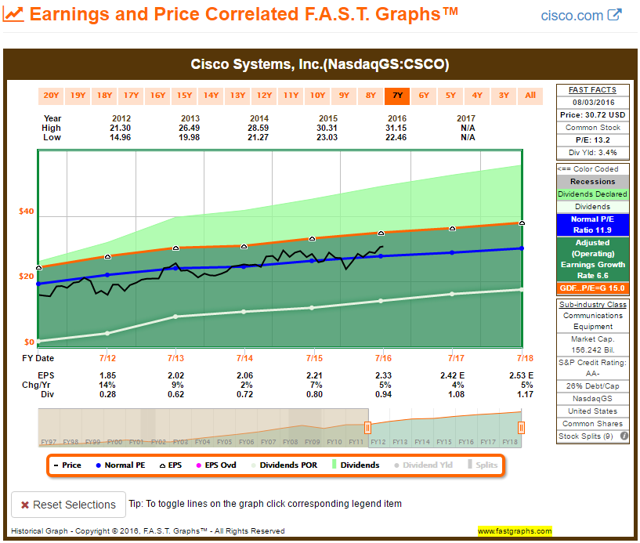 Others considered: QUALCOMM (NASDAQ:QCOM) and Intel (NASDAQ:INTC)
The Updated Portfolio
Here is how the new portfolio shakes out with the new additions: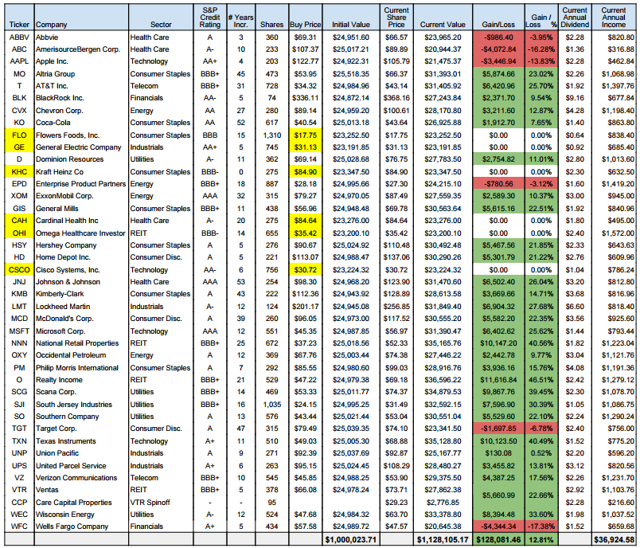 As mentioned previously, the new portfolio is projected to produce about $57 less in income than the original one. However, I expect the dividend growth from the new companies to outpace the ones they replaced, so this gap should be made up and then some pretty quickly.
Both this and the original portfolio will now be tracked going forward, and I will update the progress in the future. As of now I am planning to do annual updates, during which I will provide comparative results, and then make changes as I see fit to improve the portfolio for the next year.
Closing Thoughts
This project was a bit difficult for me to tackle, as the moves made here are somewhat contradictory to what I've done in my personal portfolio. I continue to hold Cummins, Gilead and IBM there, but I'd be lying if I said I haven't considered cutting bait on them. Thus far I have been patient with each, as I still feel they are good companies that will eventually return to growth, but there are also plenty of others out there that have been performing better that I am tempted to switch to.
In that spirit, I thought this would be a worthwhile case study to tackle, as there is a wide range of thoughts and opinions on the matter of active portfolio management. Is it better to buy and hold forever or sell and move on to "better" opportunities? All we have to go on is our own intuition and the information we have at any given time. However, stories can change quickly, and what is a dog today can quickly become a darling tomorrow, and vice versa.
Hopefully this effort provides some meaningful conclusions, and helps us all become better investors as a result. If you would like to be notified when there are updates to this portfolio, or for similar articles I write on investing, please click the follow button next to my name at the top of the page.
Disclosure: I am/we are long ABBV, ABC, AAPL, MO, T, CVX, KO, FLO, GE, OHI, COP, CMI, D, XOM, GIS, GILD, IBM, LMT, MCD, MSFT, OXY, PM, O, TGT, UNP, UPS, WEC, WFC.
I wrote this article myself, and it expresses my own opinions. I am not receiving compensation for it (other than from Seeking Alpha). I have no business relationship with any company whose stock is mentioned in this article.
Additional disclosure: I am a Civil Engineer by trade and am not a professional investment adviser or financial analyst. This article is not an endorsement for the stocks mentioned. Please perform your own due diligence before you decide to trade any securities or other products.