In my last article, I compared the short- and long-term results of investing a $10,000 stake in closed-end funds to that of using a dividend growth investing strategy. The shorter-term results favored the CEF portfolio, and the long-term results favored the DGI approach.
Here is what I stated in my previous article, which became the impetus for this one:
I believe that the DGI strategy is the better long-term track for my children. But there aren't many teens or twenty-somethings that have $10,000 to invest. Mine sure don't --- not even close!
As a matter of fact, our boys in their twenties barely have two nickels to rub together, but I know it's only a matter of time for them to come around to setting money aside for investing. We won't do that for them because previous experience tells us that financial assistance has little lasting value. They need some skin in the game.
Our girls, in their teens, will have a better crack at it. Mostly because I know so much more than I did ten years ago, and have since been far more diligent in passing on what I've learned about budgeting, investing, and planning for the future.
As stated in my previous article:
So in light of the topic and the results of my research, I turned my thoughts to 'what stock should my 17 year old daughter put her $250 into?' After all these recent conclusions, the answer was not as forthcoming as you might think. I discovered a weakness in this investing strategy.
So here's why:
Having worked with dividends for some time now, it has become apparent that, even though an investment will generate regular payments, reinvesting regularly isn't always a given. While dividends could be reinvested in partial shares when you own directly with the company or fund, you're also very limited in what you can invest in (i.e. rolling it into something else or adding a second position). Otherwise, owning your shares through a discount broker in order to give you more options and flexibility also limits your reinvesting because you can only purchase full shares. Consequently, a small investment won't generate a large enough amount in dividends to purchase even one share for months or even years! This will put the whole compounding concept on hold for quite some time, crippling "the machine".
As a real-life example, my daughter put her savings into her first investment, a broad ETF, at the age of fourteen. Her initial investment of $200 got her 11 shares that spin off an average of .11/share each quarter. In the three years since then, it has grown in value, but it has not accumulated enough income to purchase even one more share.
This made me realize it would have been better, compounding-wise, for her to be invested in a closed-end fund with similar holdings as the ETF. Her investment could have generated nearly three times the income and picked up more shares, getting the compounding machine rolling much sooner.
So I did a comparison of her ETF with a CEF that has similar holdings, calculated the income generated, and how often her dividends could have been reinvested to pick up more shares. To be true to the comparison of the income strategies discussed in my previous article, I did the same comparison using an investment in a blue-chip dividend grower.
Her ETF is PowerShares Dividend Achievers Portfolio (NASDAQ:PFM). It holds a basket of large-cap value stocks, and generates about 2.5% in dividends.
For the dividend grower, I used Nordstrom Inc (NYSE:JWN). It took some time to find a solid blue-chip that met the 10% dividend-raiser criteria, paid more than 2%, AND sold at a price my daughter could afford. It was yielding 2.5% at the time.
For the CEF, I used First Trust Dividend & Income Fund (NYSE:FAV). Like her ETF, this fund also holds a basket of large-cap value stocks. The dividend was at 7.5%.
All three pay quarterly. I ran the comparisons as if she'd initially invested in each one back in March 2013, which is when she bought her first investment.
Take a look: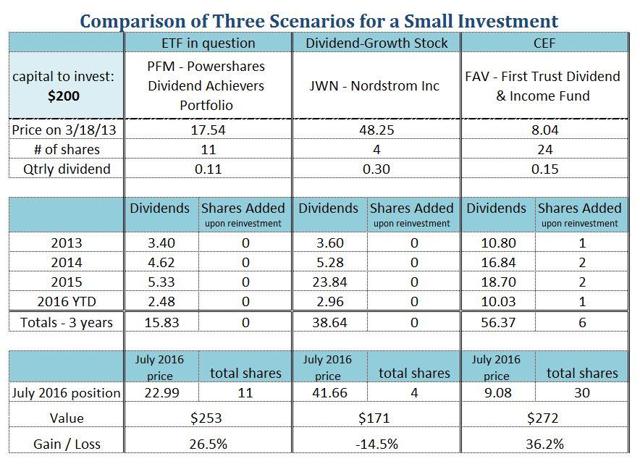 Neither the ETF nor the dividend-grower generated enough income on her small investment to add any more shares in 3 years. The closed-end fund, however, produced enough in distributions to begin reinvesting and picking up more shares within 9 months, and every 6 months thereafter, adding 6 more shares to the pot just by allowing it to compound on its own.
PFM grew steadily (despite stalling out a bit late last year), gaining 26.5% overall, for an average of 8.8% per year. Not too shabby.
JWN made great gains for the first 2 years, then pulled back quite a bit in 2015. Though it lost market value during our time frame, its current yield is more attractive now than it was when she first would have invested in 2013. Its retraction in price puts it closer to being able to pick up another share.
FAV's share price is only 13% higher than it was at the beginning of this experiment. However, by reinvesting the dividends and accumulating more shares, my daughter's investment would be worth 36% more today, or a 12% annual gain.
It was interesting to see that, even though PFM's market price increased by 31% while FAV's increased by only 13%, the power of compounding put FAV ahead of PFM in the end.
Note: I like to factor my transaction fees into my initial investments. I paid that extra $7 to enter the trade, so I consider it part of my cost basis. If you check my math, you'll see this in play.
Lesson learned.
It's time to show my daughter these numbers, and move her into a fund that will compound more quickly for her in these early years. Once she is able to begin adding to it (employment will be a big help here, now that she's turning 18), her investment will eventually reach an amount that will work for the DGI strategy. Then she can move into a solid dividend-grower and start that magical 30-year nest-egg.
Our younger daughter, who just turned 14, will indeed benefit from this little experiment when she invests her savings this year as well. Both girls are responsible for budgeting all their expenses as part of their financial education, and saving to invest is part of that picture. This has allowed them to start investing young, and with their own money.
I'll let you know in 2046 how that works out for them.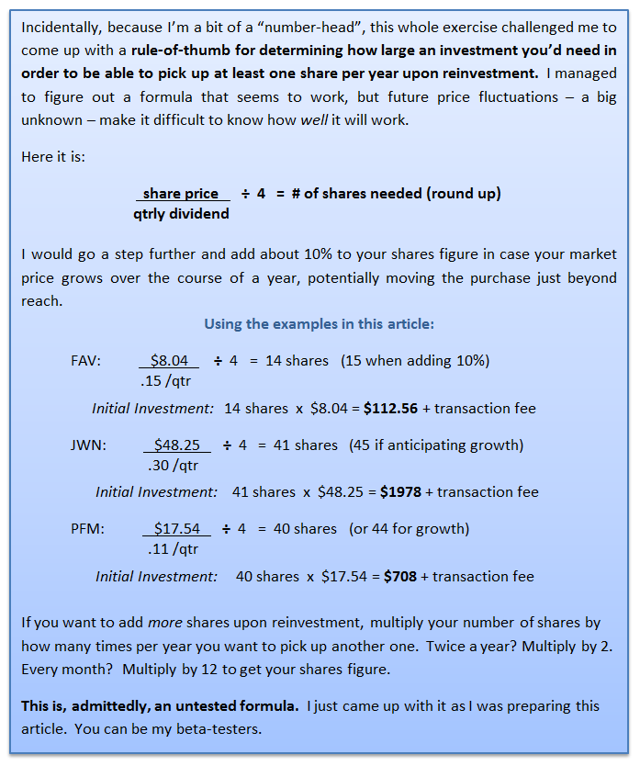 Disclaimer: I am not an investment professional. All commentary in this article is not meant as investment advice, but rather, as a means to share ideas and generate discussion. Please do your own due diligence before purchasing any investment or embarking on any investment strategy.
Disclosure: I am/we are long PFM.
I wrote this article myself, and it expresses my own opinions. I am not receiving compensation for it (other than from Seeking Alpha). I have no business relationship with any company whose stock is mentioned in this article.
Additional disclosure: We may initiate a position in FAV in the near future.