Computer Programs and Systems, Inc. (NASDAQ:CPSI) is in the Healthcare Services and Equipment sub-industry of the Healthcare sector. Its stock price was $39.64 as of July 29, 2016, with a market capitalization of $529.2mn. CPSI is traded on the NASDAQ exchange with headquarters in Mobile, Alabama.
CPSI provides healthcare information technology solutions across a hospital's set of needs, in particular for rural and community hospitals and post-acute care facilities. Their offerings help to solve hospitals' needs across the spectrum from care giving, to care management, and to financial management. The offerings include:
patient management software to allow hospitals to track their patients along the caregiving value chain;
financial accounting software to help centralize tracking of costs inside of hospitals for managerial decision making;
record keeping software to improve and automate the clinical process; and
Electronic Health Records (EHR) solutions under Healthland Centriq.
After careful analysis of the firm's historical trends relative to their current valuations and analyst estimates, we believe the embedded expectations of CPSI make it a very interesting long GARP growth idea.
At $39.64 per share, CPSI has embedded expectations of future performance that are high but can be much higher.
Based on the stock price of $39.64, market valuations are pricing in CPSI to see Adjusted ROA (ROA') levels decline to 24.1% over the next five years, with a 5-year CAGR of only 3%. These would be among the lowest ROA' and sustained Adjusted Operating Assets (Asset') growth rates the company has seen the last ten years.
We use adjusted, rather than "as-reported", metrics because GAAP creates inconsistencies when comparing one company to another, and when comparing a company to itself from year to year. By making adjustments, we aim to remove the financial statement distortions and miscategorizations of GAAP. To learn more about our adjustments, and how to better understand the chart below, go here.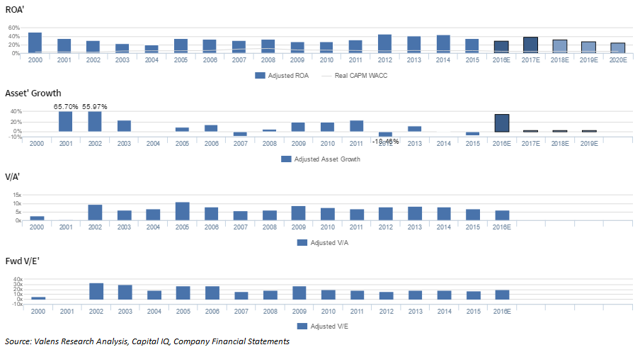 What is the market thinking and why
At a 19.3x Adjusted P/E (V/E'), the market is pricing in expectations for ROA' to decline from 34.8% in 2015 to 24.1% in 2020, whereas analysts expect ROA' to decline in 2016 to 28.7% before rebounding to 37.9% in 2017.
Bearish market expectations are likely a result of industry-wide headwinds, as well as company specific concerns. In January of 2016, the company completed its $250mn acquisition of Healthland, expanding its product and service offerings in the community hospital and post-acute care market. However, as acquisitions traditionally cost more than they return, investors may be wary about risks associated with the acquisition and anxious to see how possible synergies impact CPSI's bottom-line.
Additionally, as the overall healthcare industry changes dramatically under Obamacare, and Medicaid/Medicare billing systems are updated, investors may be concerned that the firm will be unable to keep up with changes, or unable to sustain prior ROA' performance.
Why the market is wrong
While ROA' has been slightly cyclical, it has never dipped below 20%, and has dipped below current market expected 24% levels only once in the past 15 years, in 2004. ROA' has ranged from 32.2%-46% over the past five years. This success is attributable to what is essentially the company's monopoly on healthcare systems in rural communities, with very few direct competitors.
Additionally, the firm's acquisition of Healthland positions it well for future changes in Medicaid/Medicare billing, as Healthtech, a subsidy of Healthland, specializes in billing systems. Finally, an expanding geographic presence will increase sales growth potential, with the company controlling 28% of the community hospital market post-acquisition.
Target price range suggests 59.8% upper upside potential
Given our fundamental analysis, our high end estimation would be a target ROA' and Asset' growth forecast of 46% and 3% respectively. This suggests equity upside of 59.8% from the current stock price of $39.64, with a target price of $63.35.
A reasonable low end estimation would be a target ROA' and Asset' growth forecast of 28% and 3% respectively. This suggests equity downside of -12.1% from the current stock price of $39.64, with a target price of $34.84.
Catalyst to the market revising its expectations of company performance
Given the niche market serviced by CPSI, investors may have a difficult time predicting and accurately forecasting future performance and growth. As such, much attention will be paid to incoming financial statements about revenue and earnings growth, as markets look to see if CPSI can successfully integrate, and benefit from, its merger with Healthland. However, while waiting for the release of quarterly data, one area investors can look to for information about CPSI's performance is their hiring practices.
Last year, in an effort to improve efficiency and optimize their cost structure, the firm fired personnel. However, this may have been partly in preparation to absorb a number of new employees from Healthland. As such, a return to aggressive hiring of personnel, such as new postings on job search websites, could be a signal to investors that the firm has fully integrated, and begun to realize synergies from, its recent acquisition.
And you get paid while you wait
Not only does CPSI have material equity upside potential, they also pay a robust 6% dividend yield. Part of the reason their yield may be so high is that investors do not believe that payments are sustainable. This may be because of the new debt the company took on to finance their recent acquisition.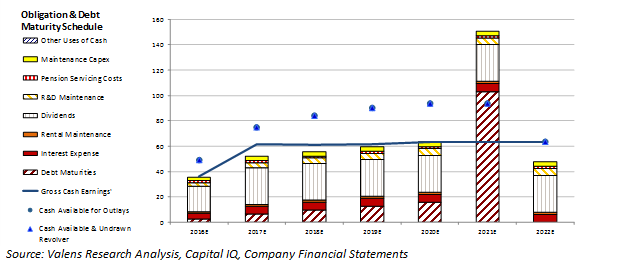 However, Valens' Credit Cash Flow Prime analysis highlights that from Q2 2016 (after the acquisition) until the end of 2020, the company will consistently have substantial cash on hand and cash flow buffers each year to handle all their obligations, including their sizable dividend payments.
The above chart shows the company's obligations and cash flows and cash generation over the next 7 years. The blue line is the cash flows the company is going to generate each year, and the blue dot is the cash flows and cash on hand the company will have each year to handle all obligations. The stacked bars for each year are the company's obligations each of those years, starting from debt maturities at the bottom, up to capex and discretionary spending in at the top of a bar.
When cash flow and cash on hand is above those obligations, the company won't have issues handling obligations. When cash flow and cash on hand fall below those obligations, as they do in 2021, the company likely needs to cut back on operating obligations, or refinance debt maturities if debt maturities are the issue.
Considering the company has five years where they will have no issues handling all their obligations with cash on hand alone, the dividend does not appear to be at risk. As such, even if the market takes some time to recognize CPSI to be as undervalued as it is, investors will be paid to wait with their strong 6% dividend yield, which is also above the interest rate Regions Financial is making on the credit facility they gave CPSI, which is currently earning roughly a 4% interest rate.
Final summary statement about the company, situation, and equity upside
With market expectations for a declining ROA', from 34.8% in 2015 to 24.1% in 2020, and a 19.3x V/E', CPSI is trading at a low value when considering prior profitability and future growth opportunities. Despite market fears about the firm's ability to fully integrate and utilize their recent acquisition of Healthland, as well as concerns about future industry profitability in the face of changes to the Medicaid/Medicare systems, business fundamentals at CPSI remain robust.
The firm maintains an essential monopoly over IT and EHR (electronic health record) systems amongst rural and community healthcare organizations, allowing them to maintain high ROA's, even in a constantly changing environment. Therefore, with robust historical growth and profitability, CPSI appears undervalued at 19.3x V/E' with a +6% dividend yield, with the possibility for multiple expansion, and equity upside of as much as 59.8%, as the benefits of their recent acquisition drive growth in their earnings and revenue.
Note: This analysis was conducted by Peter Williams, Gideon Tesfay, and Julia Valdivia Alva. It was conducted in a seminar program taught by Valens Research.
Disclosure: I/we have no positions in any stocks mentioned, and no plans to initiate any positions within the next 72 hours.
I wrote this article myself, and it expresses my own opinions. I am not receiving compensation for it (other than from Seeking Alpha). I have no business relationship with any company whose stock is mentioned in this article.