I.
A couple weeks ago in an introduction article, Teranga Gold Corp.: Making Money, Adding Ounces, Staying Cheap, this author brought to viewers attention about the gold miner, Teranga Gold Corp (OTCQX:TGCDF). The conclusion was that a followup would be issued with a more in-depth study of the company after their second quarter earnings (July 28th) were released. It has been a week since and this author is left scratching his head wondering how has the market not noticed this company? A couple things come to mind.
First, share prices are dictated by supply and demand; asks and bids. But if one is not even aware of the shares existence to begin with - it can't be demanded. Said simply, individuals need to know about something before they can buy it. And Teranga is lacking press, articles, and investor excitement.
Second, the company has announced their decision to acquire Gryphon Minerals (OTCPK:GPHYF) through an all-share transaction. Although this acquisition is one of those truly rare win-win events, markets are still waiting for a conclusion of the shareholder votes. Will Gryphon shareholders agree to join Teranga? Or will they direct their own fate for the high-class Banfora deposit within a rising gold price environment.
With or without Gryphon, Teranga shares have much more upside. But, together, this company will undergo a metamorphosis creating a multi-jurisdictional, low cost and quality asset, mid-tier Western African gold producer.
II.

Quick overview: Teranga is a profitable gold producing company on the border of Senegal, next to Mali. It is managed by a bunch of very distinguished gentlemen, made up of former Barrick Gold (NYSE:ABX) employees and backed by a billionaire. The company operates a large area, producing roughly 200-230k ounces of gold a year from their 90% owned Sabodala Mine. The company has a huge land package and interesting early stage projects in a gold rich area that still needs exploring. They have roughly 4.5 million ounces of gold measured and indicated (M+I) and another 390,000 ounces stockpiled. The CEO in Q2/2016 also stated they have 3 new deposits which that "at a minimum are expected to be added to the resource category by year end." The company has engaged in a mill optimization program that is very ahead of schedule and has a 50%+ IRR (internal rate of return) at $1,200 gold price. They recently made an offer to acquire Gryphon Minerals, gaining a substantial increase to their total resource reserve base of 70%, for very cheap. As gold price continues to rise, Teranga offers well-managed substantial leverage.
III.
Last week Teranga released their Q2 earnings and conference call. Investors absolutely need to review the calls written transcript as it discusses many things that are upcoming.
Q2 had a lot to live up to after Teranga's near flawless Q1 results. In the first quarter, management delivered $144 free cash flow per/oz, a record 71,000 oz produced, and gave shareholders a net profit. The best part was they did this with an averaged realized gold price of $1,169 (the average of what they sold each ounce for). The company's updated LOM (life of mine) plan is using a modest $1200 gold price.
But imagine the gold price leverage with what the numbers can be at $1300, $1500, or $1900 gold price. Think of the potential cash flows and shareholder value generation.
(source: corporate presentation)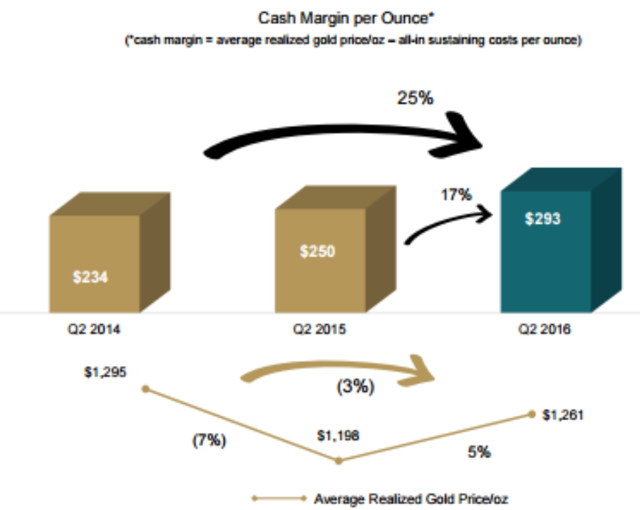 Our overarching goal is to maximize free cash flow, based on the new life of mine plan for Sabodala that we announced in the first quarter... We expect to generate free cash flow of over $0.5 billion [$500 million] at $1200 gold on just our base case mine plan and remember this plan is only for Sabodala - Richard Young CEO.
Yet, until that day of $1900 gold, management has impressed anddelivered once again in Q2. A $6.7 million net profit to shareholders, a best ever second quarter production of 52,500 ounces, and a phenomenal 31% increase in cash on the balance sheet since beginning of the year. Again, this was all with an average realized gold price sale of $1,261 per/oz. The second quarter ended June 30 and since the BREXIT in late June, gold has hovered in the mid $1,300's - and has ever since.
Most important to this author is the free cash flow and year-over-year improvements. Observe:
(source: corporate presentation)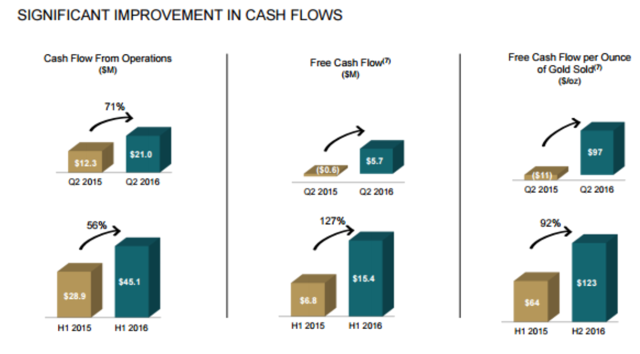 As for Teranga's balance sheet, they boast a significantly healthy account: cash of $58.1 million ($13.7 million higher than 01/2016) and $12.1 million in VAT (value added tax) refunds over the course of 2016 courtesy from Republic of Senegal. They have a $30 million Revolving Credit Facility that has had $15 million drawn from so far. At present, this gives the company $70.2 million in cash + receivables with $15 million in debt (or $55.2 million net-cash free of debt). Although, a qualm this author has with the management's decision to pull from the credit facility, when there is sufficient cash readily available, is disheartening. Why waste cash flow on interest payments? Such a dead weight loss - management's sole blunder.
Teranga's rich balance sheet gives them powder in the keg to add assets and increase shareholder value. For example: recently in Q2, the company entered into a JV with Miminvest SA - a company founded to invest in gold and natural resources in West Africa. Miminvest's CEO is David Mimran (whom is also a Director of Teranga) and controlled by the Mimram family - headed by Jean Claude Mimran, the infamous billionaire of Senegal. The JV between the two consists of identifying and acquiring gold exploration stage opportunities in Cote d'Ivoire.
Also during the second quarter, we signed a joint venture agreement with Miminvest, a company controlled by one of our directors, David Mimran. Miminvest holds four exploration permits covering nearly 1400 square kilometers in Koulouqwinde. This JV represents a great opportunity to increase our optionality and expand our footprint in West Africa with a strong local partner. While there have been many discoveries in mining friendly Koulouqwinde it is considered to be a prolific, untapped frontier for gold - Richard Young CEO
Thus, by having plentiful cash and thick operating margins, Teranga can organically expand its assets through valuable acquisitions and developments, all while replenishing and adding to their balance sheet.
Which brings forth the major catalyst for the company in 2016 - the bid to acquire Gryphon Minerals.
IV.
Gryphon Minerals has a lovely project, debt free, cash rich and gateway for Teranga to expand out of Senegal and build a presence in Burkina Faso.
Gryphon has the 90% owned flagship Banfora Project with an impressive 3 million M+I (measured and indicated) gold ounces, along with the high optionality of the Golden Hill and Gourma exploration projects.
(source: corporate presentation)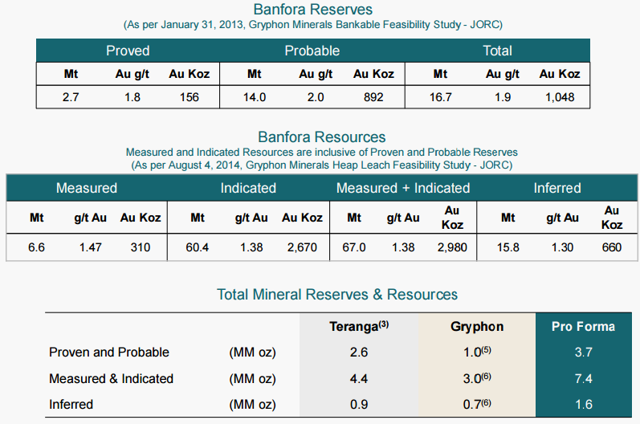 "A $63 Million Equivalent All Share Transaction Equates to ~$50 per ounce based on Gryphon's current reserves of 1.05 million ounces at 1.9 g/t Au" the company announced in the details of the acquisition. What's important here is that:
Gryphon is bringing $9 million in cash to Teranga's balance sheet - necessarily reimbursing Teranga shareholders, and
this is only displaying the very conservative P+P (proven and probable) reserves. Accounting for Banfora's 3+ million M+I reserves, the cost for acquiring each ounce is less than $23 dollars.
Teranga evolves from having an above-average resource base, to an elite resource base - transitioning from 5.3 million ounces (M+I plus inferred) to 9 million ounces; a brilliant 70% increase.
(source: corporate presentation)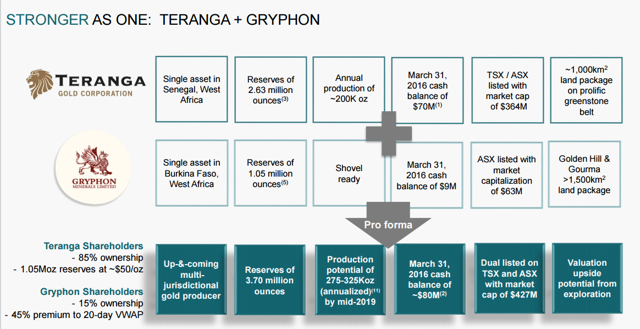 The company will now further drill and add to Banfora's reserves, file an updated 43-101 by mid-2017, and hopefully by early estimates Banfora's will be producing in early 2019.
V.
Teranga's market cap is relatively low compared with similar peers in Western Africa (see previous article; link in first sentence) at less than $350 million USD. If earnings stay at 0.02 each quarter and the share price stays around $1.25, the P/E ratio will be a relatively cheap 15.6, without any premium multiplier for its assets and optionality as the earnings catch up to rising gold. The market is completely ignoring that it has already discovered, permitted and financed construction of Sabodala. Why are similar exploration juniors in the region trading with higher multiples when the risks of permitting, financing and construction looms? Teranga has already accomplished this and is generating cash-flow - logically it should trade at a premium.
Most Importantly, As touched on earlier, Teranga still has the ability to post press releases, which the market loves in a rising gold price time, about their exploration drilling results. Yet their vast, gold loaded land package is completely ignored.
The company uses a $1,200 gold price and $50 barrel oil in their Life of Mine Plan, which is 12.5% higher and 20% lower, respectively, today. Since oil is their largest operating expense, cheaper oil significantly lowers costs for Teranga. Also, showing management's prudence, between 40-50% of their fixed costs are in euros - thus as the euro weakens, their 'real' return is higher because of the ForEx.
As shown in their LOMP, these numbers of $1,200 gold are already significantly discounted (basically obsolete) and as gold presses much higher, expect Teranga's free cash flows to surge and hopefully their share price.
Teranga, despite the company's flat price recently, is clearly still in a structural bull run - up over 200% since its February lows. The chart shows significant volume at the very end of April - the evening when they announced their impressive first quarters earnings.
(source: StockCharts)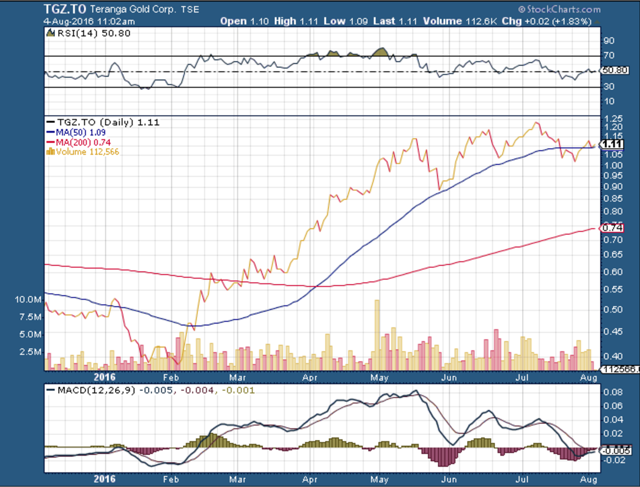 VI.
Teranga has a massive land package in a high gold discovery area. Thus, not only are they a profitable producer with long-life assets, but have a compelling exploration potential - giving shareholders substantial gold price optionality. The company has the ability to produce brilliant earnings reports while simultaneously announcing gold discoveries from drilling.
This de-risks investors with the notion they won't have to keep diluting simply to engage in drilling campaigns. Teranga has already made discoveries, been permitted and constructed the mine - all while gold was in a 4 year bear market. This takes away the risk most juniors have about:
1. can they raise capital to drill?
2. can they even make a gold discovery?
3. If a high quality asset is discovered, do they sell the property or raise capital and develop it themselves?
Whereas Teranga has already done the following, and just in time for the new gold bull market.
Why, then, has the share price of Teranga not budged? Their share price hit a 52-week high of 1.25CAD in mid-June when gold was still in the upper $1,200's. Even after an impressive second quarter, markets yawned. Other companies such as Gold Resource Corp (NYSEMKT:GORO) and IAMGOLD (NYSE:IAG) both had break outs since their Q2 earnings beats. So what gives?
This author is banking on the assumption that investors and analysts are waiting for the Gryphon Minerals acquisition to complete. Once investors know all the variables and how to evaluate the assets - with or without Gryphon - then the stock can be re-priced.
Until then, this author continues to add to his already large position. All while patiently twiddling thumbs until Mr. Market catches on
Disclosure: I am/we are long TGCDF, GORO, IAG.
I wrote this article myself, and it expresses my own opinions. I am not receiving compensation for it (other than from Seeking Alpha). I have no business relationship with any company whose stock is mentioned in this article.
Additional disclosure: Disclosure: author owns shares on the TSX under ticker TGZ.V, trading on OTC instead of home country market affects liquidity.