Caterpillar (NYSE:CAT) has seen its shares rise continuously over the last month, despite huge headwinds from the company's key markets. Recent results were not good, but better than expected. For income investors, Caterpillar looks less compelling than it used to.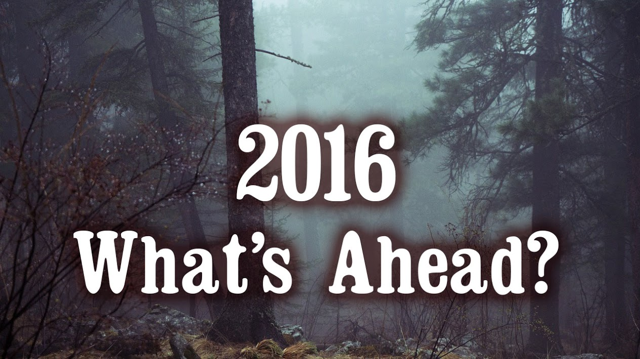 Caterpillar's sales continue to sink, revenues dropped 16.1% to $10.3 billion in the second quarter. This was expected, and sadly, it has been like this for quite some time: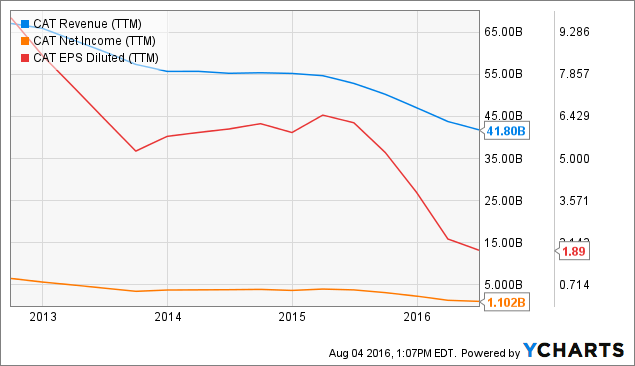 Over the last four years, Caterpillar's revenues have dropped by 37%, whilst net income dropped by more than 80% over the same time: The trailing numbers stand at $41.8 billion for revenues, $1.1 billion for earnings, earnings per share for the last year totaled $1.89.
The number one reason is that Caterpillar's retail sales keep shrinking at a rather steep pace, consecutively, what is one of the longest declines Caterpillar has seen: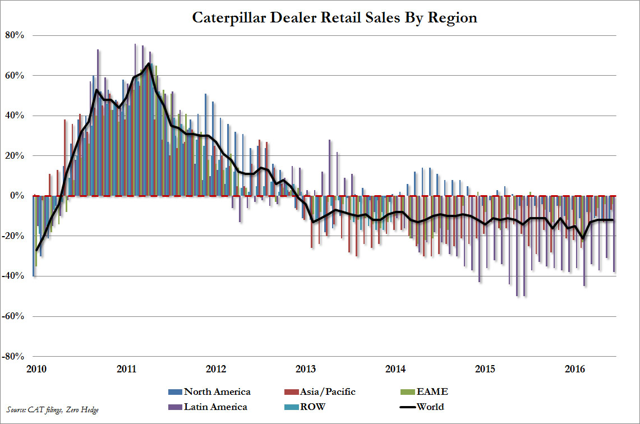 June marked the 43rd month in a row where retail sales dropped on a year-on-year basis, with huge declines seen across all markets: Especially, resource industries' machinery sales have been hit hard, reporting declines of 41% in Latin America, 31% in North America, 28% in Asia and a total yoy decline of 30% in June. Construction machinery sales have been better, but not good enough to lift combined retail sales anywhere close to a flat number yoy, with the decline rate still in the double digits area.
Lower sales and declining margins (due to lower sales leverage) leads to declining earnings as well, and Caterpillar has huge additional expenses, which the company classifies as restructuring costs. Those are excluded in their non-GAAP numbers (i.e., the second quarter's GAAP EPS was $0.93, whereas non-GAAP EPS was $1.09), but since Caterpillar has been restructuring for years, I'm not sure whether it really makes sense to exclude those (real and recurring) expenses.
Caterpillar now expects revenues to total $40.25 billion for the current year, which means Q3 and Q4 results will show revenue declines as well (since the ttm number is higher than the guidance given by Caterpillar's management), and in combination with increasing restructuring costs (now estimated at $700 million for the current year), Caterpillar expects full year EPS of just $2.75.
The expected EPS of $2.75 is lower than the dividend amount Caterpillar will pay out in the current year ($3.08 with a quarterly dividend of $0.77 per share), but likely, the dividend is well covered by the company's cash flows: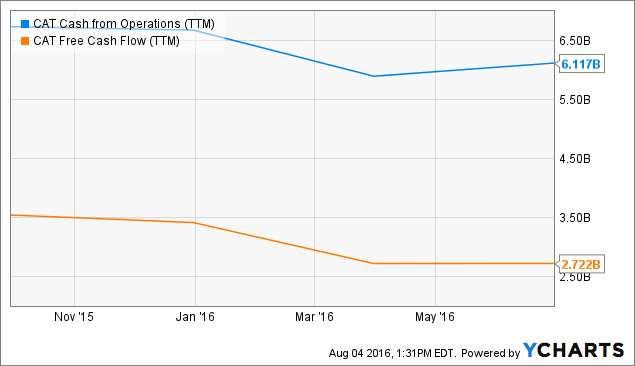 Caterpillar's trailing operating cash flow number still stands at $6.1 billion, and with capital expenditures coming in at $3.4 billion over the last year, this leaves $2.7 billion in free cash flows. Using Caterpillar's current share count of 585 million, this gets us to free cash flows of $4.61 per share. We can thus say that Caterpillar pays out more to its owners than it earns, but the dividend is still covered by cash flows (FCF payout ratio of 67%) and thus looks sustainable for the time being.
Caterpillar's free cash flow has declined over the last years as well (i.e. one year ago, the trailing FCF number stood at $3.5 billion), and if sales continue to decline, cash flows will decline further as well, but cash flows would have to drop by more than thirty percent for the cash flow payout ratio to rise to unsustainable levels. Even in this case, Caterpillar would be able to continue to finance the dividend for a while, and the company would likely do so if management believed that things would get better in a relatively short time.
With its cash balance of $6.8 billion, Caterpillar could theoretically fund the dividend for roughly four years before running out of cash. Since Caterpillar has stopped its share repurchase activity, there is also no other major drain on the company's cash balance, which explains that Caterpillar's cash position increased slightly over the last six months (up $300 million, but long-term debt increased as well).
We can summarize that Caterpillar's business is facing very rough headwinds, with sales declining in almost every market for more than three years in a row, but the company's ability to generate sufficient cash flows even in dire times means that investors need not worry about a dividend cut any time soon (although Caterpillar will not be able to finance the dividend endlessly if sales continue to decline). How compelling is Caterpillar's dividend of $0.77 a quarter?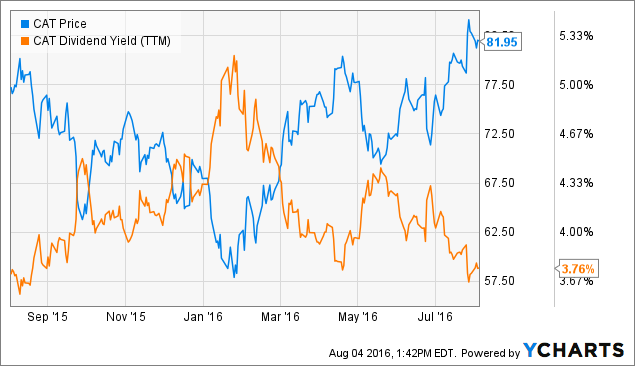 Caterpillar's shares have seen a roller coaster ride over the last year: Dropping from $80 to $55, and then rising back up to more than $80 again. A flat dividend means that dividend yields behave oppositional: The lower Caterpillar's shares dropped, the higher the dividend yield climbed for those willing to buy at a certain price. Investors thus could buy Caterpillar's shares with a yield of cost of more than 5% earlier this year, but the dividend yield at the current price is a lot lower at 3.8%.
Since Caterpillar hasn't increased its dividend for five quarters in a row, it is likely that the company will keep the dividend flat at the current level until things get better. With a dividend yield of 3.8% and no dividend growth for the foreseeable future, is Caterpillar still attractive for income investors?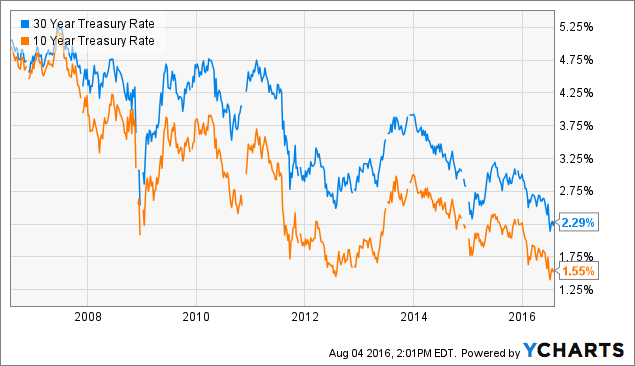 Fixed income investments such as 10-year treasuries and 30-year treasuries provide income yields that are significantly lower than what Caterpillar provides right now (with yields of 1.6% and 2.3%, respectively), which means that Caterpillar is a lot more suited to generate income, albeit at a higher risk. On the other hand, there are equity alternatives, which provide dividend yields roughly similar to what investors get from Caterpillar:
- Cummins (NYSE:CMI) pays a dividend yielding 3.4%, but growing annually and with lower payout ratios.
- Cisco (NASDAQ:CSCO) pays a dividend yielding 3.4%, growing rapidly and with substantially lower payout ratios as well
- Chevron (NYSE:CVX) pays a dividend yielding 4.3%, but the company is not able to cover the dividend with its earnings either (such as Caterpillar).
We can thus say that investors have the possibility to get more secure dividends from other large cap companies, but with lower yield, or investors can get even higher yields, which, on the other hand, are not covered by earnings. I thus believe that Caterpillar's shares are not unattractive for income seekers, but not especially attractive either. Since the company's share price has been very volatile over the last year, there is also some risk of short-term share price declines.
Takeaway
Caterpillar's sales continue to decline, and the company's guidance sees revenues declining for the next two quarters as well. Thanks to the company's huge cash flows, the dividend looks sustainable over the foreseeable future, but the dividend will likely not get increased until demand for Caterpillar's products picks up.
With a 3.8% yield, Caterpillar's shares are vastly more attractive than treasuries for income seekers, but also more risky.
Author's note: If you enjoyed this article and would like to read more from me, you can hit the follow button at the top of the page, right next to my name and icon, to get informed about new articles.
Disclosure: I am/we are long CSCO, CMI.
I wrote this article myself, and it expresses my own opinions. I am not receiving compensation for it (other than from Seeking Alpha). I have no business relationship with any company whose stock is mentioned in this article.