The BOE disappointed the market last month by not responding to the U.K. referendum. With recent U.K. PMIs for July indicating a recession, the BoE was forced to stimulate the economy and reacted by lowering interest rates for the first time since 2009 in addition to increasing QE. Following, an evaluation of recent PMI results of July.
Construction
In July, the downturn in U.K. construction output continued. The fastest overall drop in output since June 2009 was reached. It has to be noted that the peak was seen in mid-2014 - the Brexit is just an acceleration of the already existing trend. Client confidence was dampened following the EU referendum and a wait-and-see approach to decision making established.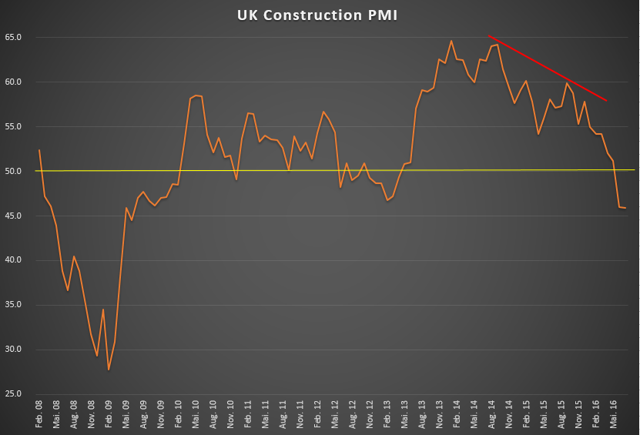 While I expect the weaker sterling to attract real estate investments from abroad, part of that effect will be absorbed by higher materials prices.
Manufacturing
The U.K. Manufacturing PMI for July was sharply down at 48.2 from 52.4 in June - its lowest level since February 2013. The domestic market was hit by pre- and postreferendum uncertainty. However, weaker sterling exchange rates spur new export order growth. At the same time, companies put more effort into securing more contracts, as mentioned in the PMI report. David Noble, Group Chief Executive Officer at CIPS commenting on the PMI:
"After seven months of modest drops, employment figures showed an entrenchment in uncertainty with a sudden deterioration - the second sharpest drop in almost three-and-a-half years, as businesses chose redundancy and restructuring to secure themselves against more possible bad news ahead. Without new orders coming through, this downward trajectory is likely to get worse, at least in the short term."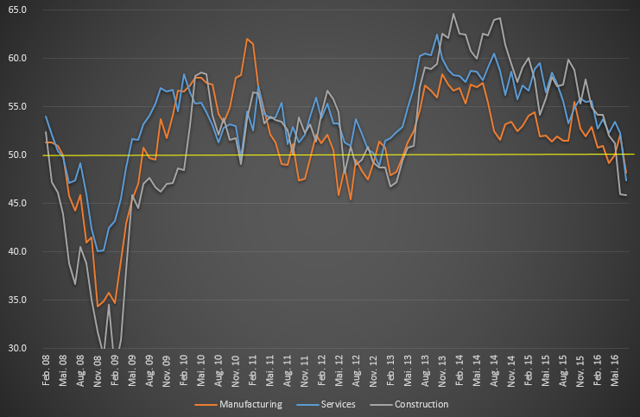 Services
The Business Activity Index fell to 47.4 in July, from 52.3 in June - the first contraction since December 2012. Strength of sentiment was the weakest since February 2009 and clearly needs motivation coming from the BoE.
The U.K. PMI data are collectively signaling a 0.4% quarterly rate of decline of GDP. However, it's yet to be seen whether these declines in the PMIs will be lasting and withstand the response by the BoE.
Disclosure: I/we have no positions in any stocks mentioned, and no plans to initiate any positions within the next 72 hours.
I wrote this article myself, and it expresses my own opinions. I am not receiving compensation for it (other than from Seeking Alpha). I have no business relationship with any company whose stock is mentioned in this article.