Great Panther Silver Reports Q2 Results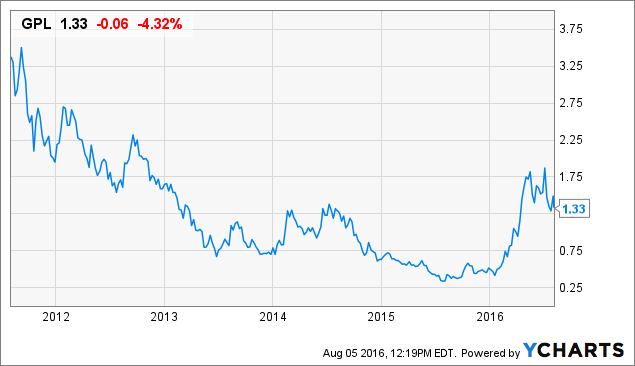 GPL data by YCharts
Great Panther Silver (NYSEMKT:GPL) has reported its second-quarter 2016 financial results, and it's clear that the company benefited from higher gold and silver prices and much lower cash costs in Q2. But does that mean the stock is a buy? I give my thoughts below.
In the quarter, Great Panther says mine operating earnings before non-cash items increased 96% year-over-year. Even though total metal production decreased 5% to 1.03 million silver equivalent ounces, Great Panther was able to reduce its cash costs 74% to $1.72 per payable silver ounce, and its all-in sustaining costs 43% to $7.19. The company's averaged realized silver price rose 15% to $17.82 per ounce.
Due to the much lower cash costs and higher metals prices, Great Panther was able to book a massive 591% increase in mine operating earnings to $11.52 million, a 134% increase in adjusted EBITDA to $9.84 million, and finally, a significant 48% jump in cash and cash equivalents to $28.8 million and an 46% increase in net working capital to $49.42 million.
Now, some readers may be wondering why Great Panther still reported a net loss of $1.7 million in the quarter. This was due to non-cash foreign exchange losses of $6.4 million on Great Panther's inter-company loans and advances made by the company to its Mexican subsidiaries, as well as a $2.2 million (non-cash) impairment charge associated with its termination of the option agreement for the Coricancha project.
To me, this is not really a big deal - what's more important to take away from this quarter is Great Panther's strong mine earnings and cash flow, as well as the significant jump in its cash balance.
Now, part of this increase in its cash balance is due to an equity offering back in July. However, Great Panther was able to wisely close on this equity offering at a price of $1.60 per share - higher than the current share price and well above the share price earlier this year - which gives the company cash to develop its properties and limits equity dilution for existing shareholders. It was pretty good timing.
Meanwhile, Great Panther has reduced its all-in sustaining cost guidance for the year, even though its expects the same level of production, and with higher silver and gold prices, I'm expecting a really strong third quarter.
Readers may remember that I listed Great Panther as my #1 top silver stock to own in 2016 when shares were under $.50. I liked the company's focus on reducing its cash costs and felt it had one of the strongest balance sheets in the sector, and I also felt shares were too cheap. It's been a really good selection, as shares have nearly tripled since publication of that article.
Then in May, I urged investors to take profits when shares of GPL hit $1.84 - that turned out to be a really good call, too, because shares have cooled down and now sit at $1.34 per share. After all, it's never a bad idea to book profits when you are sitting on such huge gains.
So, what should investors do here? Great Panther had a real strong quarter in my opinion and I'm expecting an even better third quarter due to higher precious metals prices and expected lower costs at its mines. While shares are not as attractive as they were earlier when I made my recommendation in the top silver stocks article, they are certainly more attractive then when shares hit $1.84. The balance sheet has also improved quite a bit, from strong mine earnings and the equity offering.
I wouldn't go all-in here by any means, because I think it's still possible shares go lower.
However, I think investors who are long-term bullish on precious metals and Great Panther should at least consider buying a few shares here, and then buy some more if shares pullback a bit. Dollar-cost averaging is a smart investment strategy in my opinion.
Great Panther Silver is still a great stock to own if you want leverage to gold and especially silver prices. Please follow me here on Seeking Alpha if you want future updates on the company.
Disclosure: I/we have no positions in any stocks mentioned, but may initiate a long position in GPL over the next 72 hours.
I wrote this article myself, and it expresses my own opinions. I am not receiving compensation for it (other than from Seeking Alpha). I have no business relationship with any company whose stock is mentioned in this article.