Introduction
Often you hear folks say "They have a fortress balance sheet." I am always curious what that means, as the definition is different for everyone. Few of us have an extensive background in accounting. That does not stop us from using the expression. When asked to explain, many folks will go the route of Supreme Court Justice Potter Stewart's memorable quote, "I know it when I see it." I might be using that quote out of context… maybe.
In light of his recommendation, I thought I would take a look at the charts that are generated from the accounting statements of a company that often gets described as having a fortress balance sheet - T. Rowe Price (NASDAQ:TROW).
As a dividend investor, TROW is one that pops to the top of safe dividends. Part of that safety is driven from the success of the business model and the success of the management team. The other part is driven by the foundation of the accounting statements. I want to make sure those dividends keep on coming to me. In order to avoid the dreaded dividend cut, it is important to understand a company's ability to pay that dividend if things were to turn bad.
Ten-Year History
Recently on the Dividend Health Checkup Podcast, one of our guest mentioned that Warren Buffett uses a 10-year history of data when looking at his companies. In keeping things simplistic, he looks at the first three years of that 10-year period vs. the last three years of that period. That is easy enough. That gives cycles time to happen. That gives products time to grow. That gives management time to change. All things considered, one should see growth in all the important categories over those two time periods. As I am nowhere close to Buffett in terms of investing (or one liners!), I will take a page from his book here instead of trying to reinvent the wheel.
The data used here comes from GuruFocus. It represents the 2006 to 2015 full-year periods.
Revenue, Net Income and Margin
Below are six charts. The charts on the left hand side are the actual figures. The charts on the right hand side represent the percent change from year to year for each of those figures.
Revenue is the Gross Revenue of the organization. Net Income is the Profit earned after deducting all costs (including tax). The last is the Margin, which is the Net Income divided by the Revenue. This is the percent of money that turns from Gross Sales into Income for the organization.
So how does TROW do in these figures? Revenue, on a three-year average increased almost 90% during that time period. As you can see on the first chart on the right, revenue growth has been slowing in the past few years.
Was the company successful in turning those incremental sales into income? Yes, it was. While revenue grew 89%, net income grew 107%. That means more was left behind in the pockets of shareholders. Again, as you can see on the chart on the middle right, this growth has slowed over the past couple of years.
Just to confirm what we are seeing in the Revenue and Net Income section, you can see that Net Income Margin has also grown over the 10-year period by 9%. The most recent time period comparison was actually a decline. This was relative to a reduction in net income and not revenue growth. This minor change was related to tax provisioning. The rate increased from 38.62% to 38.92%. It is important to understand why some of these things happen to make sure you do not miss anything important.
The takeaway from this section is TROW has been able to grow revenues and that revenue turns into income at a growing rate.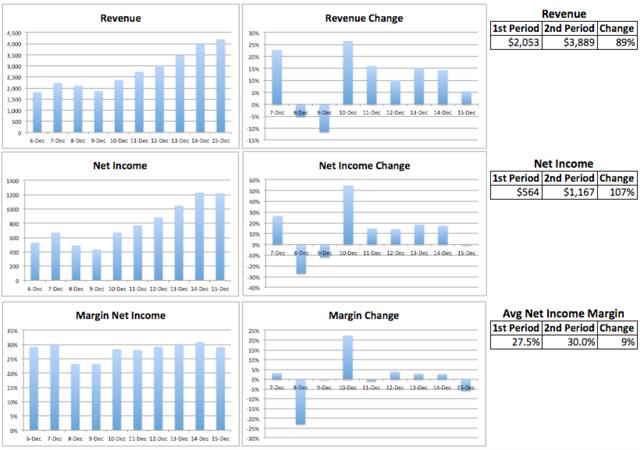 Free Cash Flow, Dividends and Debt
Next up for analysis is Free Cash Flow and Dividends. This is my favorite section. We all know that some funny stuff can happen in accounting. Free Cash Flow does not really lie. Let's just say it is much harder to lie with cash than it is with earnings. Above we saw that TROW was able to make more earnings. Did it also make more cash? Well, heck yea, it did! Free Cash was up over 113% in the two time periods. Interestingly, it is up even more than revenue and net income. For a dividend investor, this is great news. You can see in the chart in the top right that FCF change is not linear. It grows and shrinks year to year. What is important is that over long periods of time (in our case 10 years), it is growing.
What else is growing? The dividend! This is what you want to see. In the chart on the lower left, you can see the linear performance of its dividend across the past 10 years. It went from 0.59 per share in 2006 to $2.08 in 2015. That is pretty great. In our two period comparisons, the dividend average was up 133%. Now, you should be able to jump to the quick conclusion that if the dividend was up 133% and the FCF was up only 113% that the payout ratio had to increase.
That is exactly what happened to the payout ratio. The company has chosen to return more income to shareholders. The payout ratio went from 37% to 51% during the two time period comparisons. We know it is not because earnings declined and the dividend stayed the same. Instead, management has made the decision to return more of the total cash to investors.
The last thing I would normally check now is debt. TROW does not have any debt, so that makes that section super easy! No debt is better than debt in my book.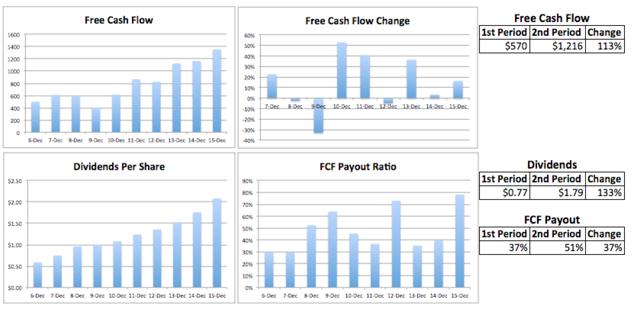 Cash, ROIC and Shares Outstanding
If we know that management is not using all the money to pay us dividends, then where does it go? Well, it can either go to buy back shares, sit in the bank or be invested on the shareholders' behalf. How did they do over this time period? Well, cash and securities are up about 87%. This is in line with the other growth rates. We want to make sure that the company is able to continue to invest where it needs to in order to be successful. This appears safe. Second, we want to check and make sure the company does a good job investing that money that it holds. If the company is not adding value through its investing, then it should look to return more of that to shareholders. In the case of TROW, it is generating roughly 30% returns with the money it is investing on shareholders' behalf. This has been pretty consistent over the past 10 years. 30% sounds good to me!
Last, management has the ability to buy back shares or offer more shares in the market to raise funds. In the case of TROW, management has been buying back shares. This helps boost some of the "per share" metrics and ultimately helps the individual shareholder own more of the company.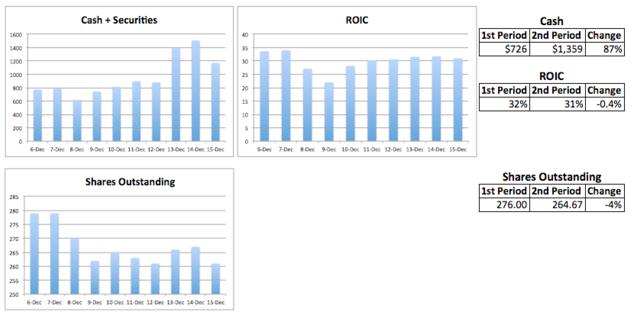 Conclusion
With the advice of Warren Buffett, I have taken a look at TROW from a 10-year performance standpoint. The key time periods were fiscal years 2006 to 2008 and then 2013 to 2015. In summary, I looked at 12 different measurements. It grew in 10 of the 12 areas with two others being in the "maybe" category. The dividend is growing, but declining. This is to be expected. Plus, the company is returning more of FCF to shareholders. This looks to be the right decision, but the payout ratio growth is what is driving the dividend.
All things considered, this is what a fortress balance sheet looks like. One can replicate this process to see how other companies perform over the three-year averages of the 10-year period. It is important to remember that investments do not happen historically. This process is a great starting point to look at the success of the business model and management team in the past. From here, additional research is needed to understand any potential risks and opportunities to continue this success into the future.
One final note - I completed this review based on full fiscal year data. That full fiscal year was 2015. We are over half way into 2016. As a next step in the research, it would be important to review the quarterly reports to see if the trends continue in each of these areas.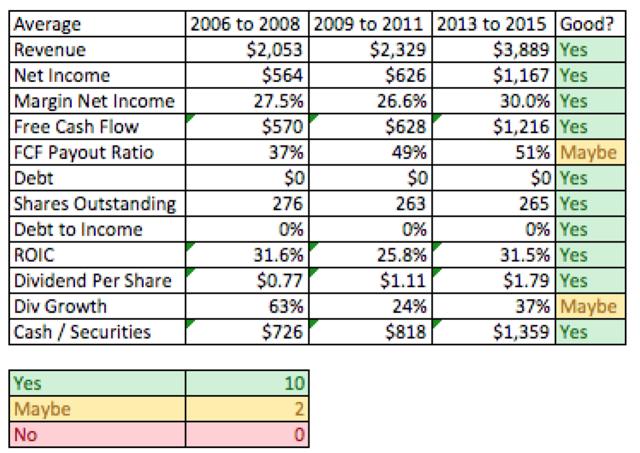 Disclosure: I am/we are long TROW.
I wrote this article myself, and it expresses my own opinions. I am not receiving compensation for it (other than from Seeking Alpha). I have no business relationship with any company whose stock is mentioned in this article.