Despite relatively strong balance sheets and ever-improving production results, producers, like Pioneer (NYSE:PXD), in the Permian are finally being forced to slow drilling programs. Since the initial decrease in activity between December 2014 and April 2015, Permian drilling has remained flat even as areas like the highly economic Eagle Ford has continued to see declines.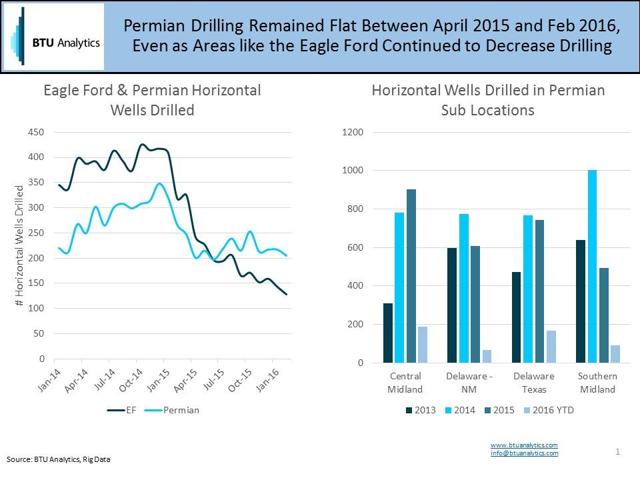 The stabilization in activity was driven by producers like EOG (NYSE: EOG), Energen (NYSE: EGN), Diamondback (NYSE: FANG) and Exxon (NYSE: XOM) that all increased drilling activity enough in 2015 compared to 2014 to offset slowing activity from other regional producers.
Supporting continued investment in the Permian is a better understanding of the underlying formations and continually improving IP rates for both oil and gas. Leading the improvements in oil IP rates is the Midland Basin where the average 30-day oil IP rate increased from 457 B/d in 2014 to 572 B/d in 2015. In Midland County, where Pioneer is the most active operator, the average IP rate in 2015 was 700 B/d, and Pioneer's IP rate was 885 B/d. On the gas side, Delaware Texas continues to lead the way with an average 30-day gas IP rate of 1,639 Mcf/d. Within Delaware Texas, Culberson County has the highest average gas IP rate of 3,811 Mcf/d with Cimarex (NYSE:XEC) and Concho (NYSE:CXO) leading the way.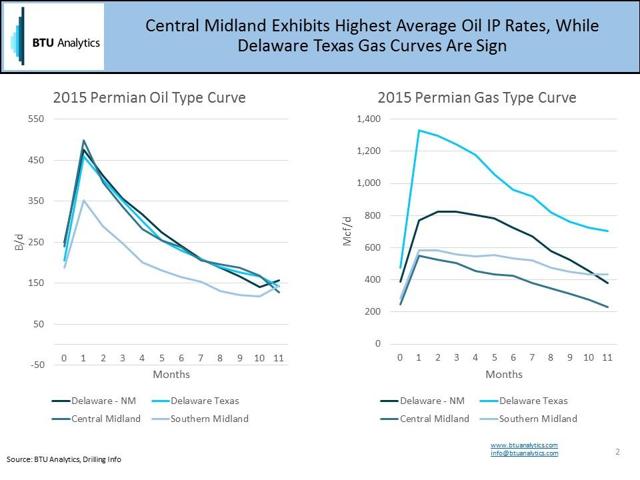 Pairing these stronger well results with lower well costs is helping to drive regional breakevens down in the Permian Basin. Whereas in 2013, less than 10% of the wells drilled would have been economic at today's prices, in 2015, that number increased to 40%.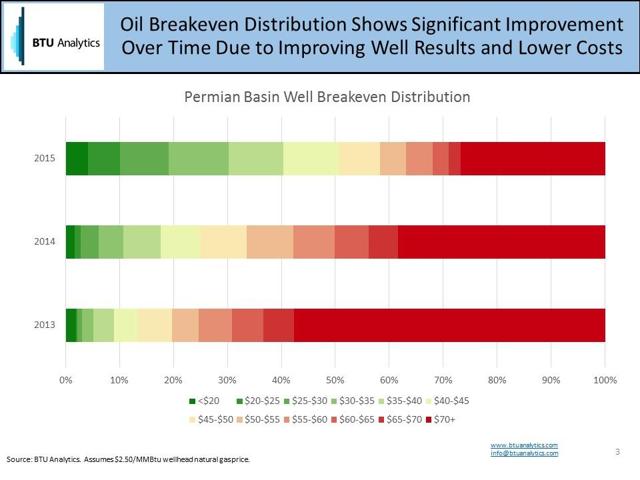 However, for many top producers like Pioneer, at $2.50/MMBtu wellhead gas, the average oil breakeven in the Permian is still closer to $40/Bbl, leaving razor thin margins at today's prices. Thus, without higher pricing, further reductions in drilling plans are on the horizon, even for the Permian.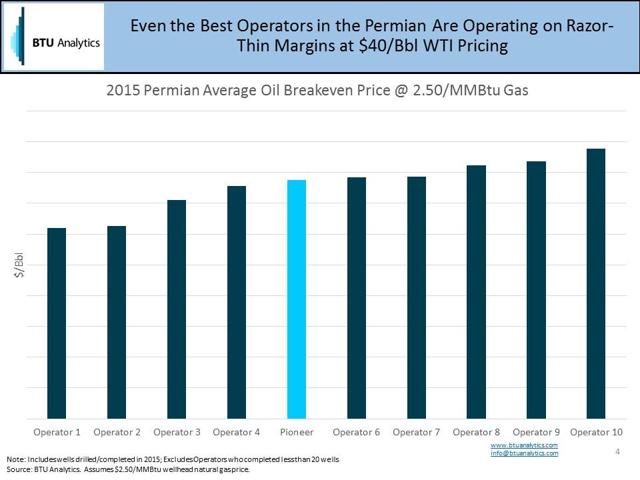 For more information on Permian Basin production, request a sample of BTU Analytics' Upstream Outlook.
Disclosure: I/we have no positions in any stocks mentioned, and no plans to initiate any positions within the next 72 hours.
I wrote this article myself, and it expresses my own opinions. I am not receiving compensation for it. I have no business relationship with any company whose stock is mentioned in this article.