Altria (NYSE:MO) is widely owned by dividend growth investors and other income seekers, mainly due to its history of reliable dividend increases and strong total returns that did not only beat the broad market but also its peer group: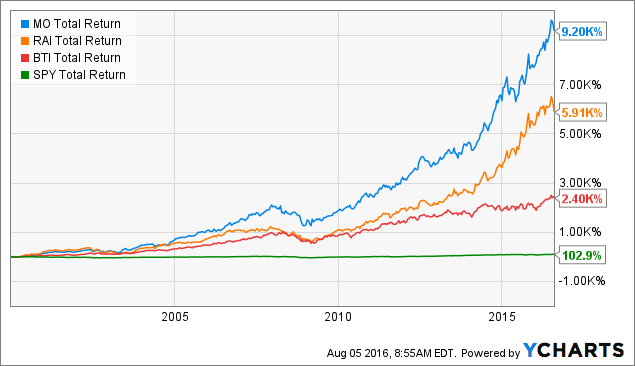 Since the beginning of the current century Altria has delivered a total return of 9,200% (33% annually), beating the returns of Reynolds American (NYSE:RAI) and British American Tobacco (NYSEMKT:BTI), which saw total returns of 5,900% and 2,400%, respectively, and vastly beating the meager 103% total return of the S&P500 index.
I'm not betting on annual returns of that size going forward, but Altria should be able to deliver strong returns in the future as well, very likely better ones than what investors can get from the broad market.
When we look at the second quarter's earnings, we see that Altria once again was able to beat estimates for the bottom line, despite a small top line miss. Revenues of $4.9 billion (net of excise taxes) were flat on a year on year basis, but luckily Altria's business model does not require the company to grow revenues in order to increase profits:
Cigarette consumption in the US keeps declining, but lower volumes are offset by higher average prices -- since Altria's customers are very insensitive to price changes, the company has no problems increasing the price per cigarette by a couple of percentage points each year. With lower volumes and higher average prices, revenues are relatively stable, but the great thing is that costs are coming down (since Altria has to produce lower amounts of cigarettes and can cut overhead expenses as well), which means Altria's margins and its earnings can continue to grow. Altria's operating margin for its smokeable products increased 260 base points in comparison to last year's second quarter, which allowed for operating income growth of 4.5% yoy -- despite cigarette volumes dropping by 5.0% over the same time.
Growth in other areas such as cigars (where volumes grew 7.5% yoy), smokeless products (where revenues grew 9.2% yoy) and Altria's wine business (where revenues grew 5.8% yoy) allows for additional growth of Altria's earnings. Adding in slightly lower non-operating expenses and a slightly lower share count (due to Altria's share repurchases) gets us to an adjusted EPS growth rate of 9.5% (from $0.74 to $0.81).
Altria's long term goal of growing its adjusted earnings per share by 8%-10% annually thus once again was reached in the second quarter. When we expect long term EPS growth of nine percent annually and add in the dividend yielding more than three percent, a double digit total return annually looks realistic going forward.
Altria has also raised its full year guidance, the company now expects 2016's adjusted earnings per share to come in at $3.04 (midpoint), which would mean an increase of 8.6% over last year's $2.80. A raised guidance is good news for income investors, as it means the upcoming dividend increase could be bigger than expected: Altria always announces its annual dividend increase in August, and has a target payout ratio of roughly 80% of adjusted diluted earnings per share. Taking 80% of $3.04 gets us to a quarterly dividend of $0.61 per share (rounded to whole cents), which would mean an increase of 8.0% over the current dividend level of $0.565 per share per quarter.
Since Altria's increased dividend will be paid out in Q3 and Q4 of 2016 as well as Q1 and Q2 of 2017, the adjusted EPS number for that time frame will likely be higher than the one for FY 2016, the dividend increase could thus be higher than those eight percent.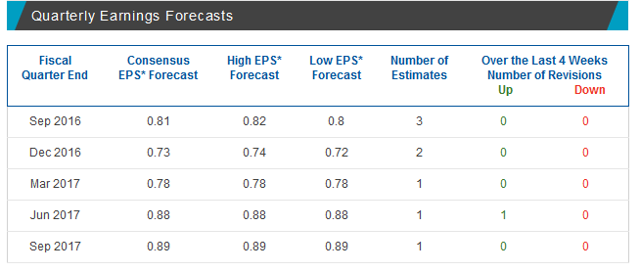 When we take a look at the analyst estimates for the next four quarters (the quarters in which Altria will pay the increased dividend), we see that even the lowest EPS forecast for these four quarters gets us to earnings per share of $3.18 ($0.80+$0.72+$0.78+$0.88). 80% of that amount, divided over four quarters, would equal a quarterly dividend payment of $0.636. If Altria paid out a little less than 80% of the earnings over that time frame, the company could go with a quarterly dividend of $0.63, which would mean a dividend increase of 11.5%, even a dividend increase to $0.62 per share would mean an increase by 9.7% (and would equal a payout of 78% of the lowest EPS estimate over the next four quarters).
Since Altria targets a payout ratio of 80% and the increased dividend will not only be paid in the remaining quarters of the current year, but also in the first half of 2017, I believe the dividend could be increased to more than $0.61 (which would be 80% of 2016's earnings). With an increase to $0.62 or $0.63 per share Altria would pay out roughly 80% of the earnings over the respective time frame. A dividend increase of ten percent (or rather a range of 9.7% to 11.5%) is thus not unrealistic, Altria could announce such an increase in the next few weeks.
The fact that Altria's dividend growth rate has risen over the last years is also a sign that Altria could increase the dividend by a bigger amount than many expect this summer:
| | | | |
| --- | --- | --- | --- |
| | Old dividend | New dividend | Increase |
| 2012 | $0.41 | $0.44 | 7.3% |
| 2013 | $0.44 | $0.48 | 9.1% |
| 2014 | $0.48 | $0.52 | 8.3% |
| 2015 | $0.52 | $0.565 | 8.7% |
| 2016 | $0.565 | ? | ? |
From 2012 to 2015 Altria's dividend growth rate has risen from slightly over seven percent to slightly below nine percent in 2015, a further increase is possible, I believe.
We don't know for sure whether Altria will raise the dividend by double digits in a couple of weeks, but it seems possible based on the targeted payout ratio and the expected earnings over the next years. Either way Altria's dividend growth streak will continue, and investors can continue to expect strong income growth as well as sizeable total returns going forward.
Takeaway
Altria's second quarter was successful, and due to its great business model the company should be able to grow its earnings at an attractive pace going forward. It will be interesting to see how the Budweiser merger will impact Altria and how the company will use its cash proceeds (one time dividend, buybacks, debt repayments or investments into other companies are possibilities), but management will find a way to deploy the cash in a beneficial way for sure.
Based on forward estimates and the company's target payout ratio of 80% I believe a dividend increase to $0.62 or even $0.63 per quarter is possible, which would mean investors can speculate on a double digit dividend increase this year.
Disclosure: I/we have no positions in any stocks mentioned, but may initiate a long position in MO over the next 72 hours.
I wrote this article myself, and it expresses my own opinions. I am not receiving compensation for it (other than from Seeking Alpha). I have no business relationship with any company whose stock is mentioned in this article.