EIA reported a -6 Bcf injection figure yesterday, which was -1 Bcf lower than our expectation of -5 Bcf. Be sure to read our summary of the storage figures here. We anticipate another low injection figure for next week's report. It definitely won't be a storage draw, but relative to historical standards, it's very low. We are anticipating a +20 Bcf to 23 Bcf. Our estimates are coming in below the average and toward the lower end once again.
If storage injection comes in at +20 Bcf, it would result in storage of 3.308 Tcf and reduce the surplus to 333 Bcf over last year's level. The same week last year saw builds of +65 Bcf and +57 Bcf for the five-year average.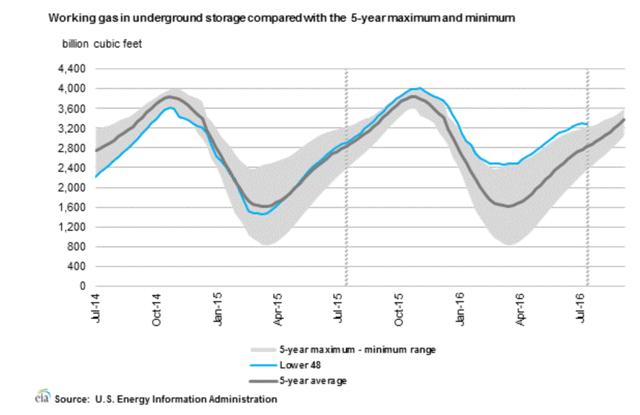 Power burn this week was much lower than last week averaging over 36 Bcf/d. U.S. gas production remains resilient, as we highlighted yesterday. Canadian gas imports all week never went over 7 Bcf/d or even got close to it. Imports averaged around 6.3 Bcf/d, but with U.S. gas production hitting a five-month high, it offset the decrease.
Overall, August injection figures aren't being revised lower as temperature models predict a much milder outlook. With U.S. gas production staying resilient, it's alarming going into September and October. At least natural gas producers aren't bringing on new rigs as Baker Hughes (BHI) reported that gas related rig counts declined by five this week to 81. Drilled but uncompleted wells (DUCs) are currently being used to prop up production, but we should start to see declines in the coming months as the decline rates catch up to overall production.
Eight- to 14-Day Outlook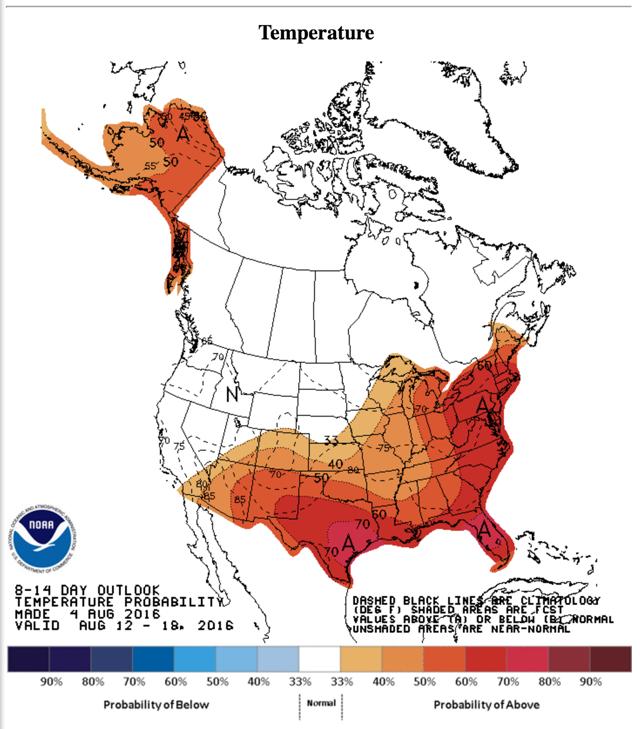 Natural Gas Prices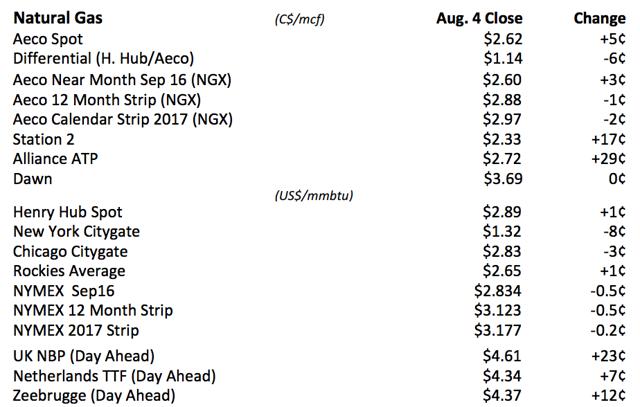 Thank you for reading our Natural Gas (NYSEARCA:UNG) Daily. If you want to read more of our articles, please be sure to hit the "Follow" button above. For investors interested in what E&P names we are buying, please check out the HFI Research premium service. We also write a weekly HFI portfolio update for premium subscribers. You can read a sample weekly update here and view our delayed one-month portfolio update here. We hope you can join the HFI community.
Disclosure: I/we have no positions in any stocks mentioned, and no plans to initiate any positions within the next 72 hours.
I wrote this article myself, and it expresses my own opinions. I am not receiving compensation for it (other than from Seeking Alpha). I have no business relationship with any company whose stock is mentioned in this article.