Netflix (NASDAQ:NFLX) stock has not been doing too well lately, as a couple bad quarters have left many investors and Wall Street worried about the company's ability to keep expanding its reach.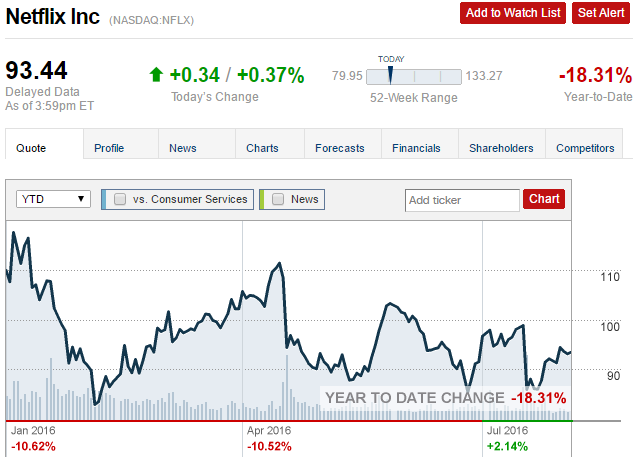 (CNNMoney)
While Netflix is probably due for more short-term pain, it could be a good stock for the medium term - but not at these levels. Let's see why.
Multiples Astounding
Netflix stock has usually been trading at very high multiples relative to industry peers and the market as a whole. But that was when the company was skyrocketing in growth and able to meet those rosy projections. Now, the stock is trading at high multiples with more negative sentiment and sputtering expansion plans. This can be seen in the latest quarterly report, where the company whiffed on subscriber growth estimates - 1.7 million new subscribers against a forecast of 2.5 million.
To be fair, Netflix did beat analysts' estimates of earnings-per-share of $0.02 by $0.07 ($0.09 EPS). And their revenue jumped 28% for the quarter. So while Netflix is having issues with bringing in new subscribers, they are monetizing the ones they have better. But it's too soon to say whether their strategy is indeed effective. The market will have to re-evaluate how it values the stock if this is the new Netflix - slow growth with higher margins. And that re-evaluation might bite investors who jump in now.
The times have changed, and thus the short-term doesn't look too good for Netflix. A 280 P/E ratio and a 100 forward P/E ratio would be acceptable for a company that is accelerating rapidly and has plenty of room to run. But Netflix is no longer in that position. Now they are a global media giant, with more subscribers than the top three cable firms combined. And those numbers aren't even counting the international subscribers Netflix has. As fellow Seeking Alpha writer Reuben Brewer notes,
One of the big questions investors have to deal with now is whether or not Netflix's current falloff is a long-term shift in the business environment or just a blip. It's not an easy question to answer. Inherently, Netflix's business model has to mature at some point because there are only just so many people in any given market to buy a subscription. And with more competition than when it first started, getting additional customers becomes harder and harder.
The central issue is, how will Netflix continue to grow while keeping its current subscribers satisfied and possibly still be able to bring in new consumers? That brings us to the next major issue...
Competition Ratcheting Up
Netflix's business model is relatively simple. Pay a nominal monthly fee, and you gain access to thousands of movies and TV shows, both online and through the mail. The simplicity and widespread availability of said model - open to anyone with an internet connection - has aided the company's rise.
But Netflix's competitors are ratcheting up their game. A material concern for Netflix is how saturated the US market is, and how both domestic and international competition may erode their base. As other services begin offering content Netflix doesn't have, Netflix will have to find a way to counter effectively and quickly.
The increasing competition can be seen through two main examples: Amazon's (NASDAQ:AMZN) Prime service and Time Warner (NYSE:TWX) investing in Netflix rival Hulu (although Google's YouTube efforts are also worthy of note).
Time Warner recently bought a 10% stake in Hulu, hedging their bets against Netflix and potentially bringing their slate of offerings to Hulu. As Jeff Reeves notes,
Time Warner Inc is actually the parent of HBO and its successful HBO Go streaming service - which makes one wonder whether HBO content will start appearing on Hulu in earnest, or whether the two distribution arms could eventually merge. Furthermore, if content is king, then TWX still has a lot to offer both customers and Hulu in a deeper partnership - including Warner Bros. films, TBS sitcoms and even live-streamed news from CNN.
The extent of Time Warner's Hulu bet is yet to be seen, but should have Netflix a little worried.
Also, Amazon Prime has about four times as many movies as Netflix and is landing key contracts to bring even more exclusively into their fold. That may be OK if Netflix's original television content continues to impress - but that's a big if. Amazon has an increasing amount of original TV content of their own, too.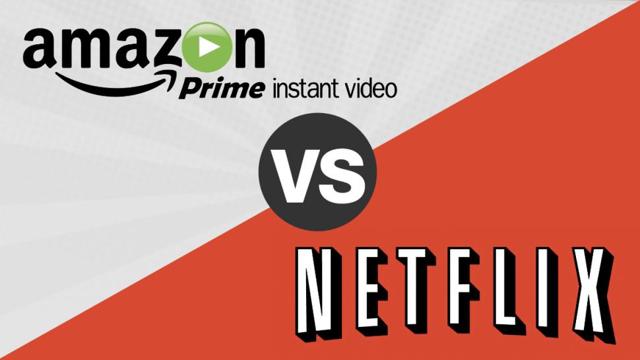 (TechRadar)
That's not to say that people won't just buy both a Netflix subscription and also have Amazon Prime or Hulu. Say you want to watch House of Cards on Netflix and the Matrix trilogy on Amazon Prime. Just buy both, then cancel Netflix when the season's over (and maybe Amazon Prime, too, if that's all you want to see).
With how fluid the media market is, a good number of consumers might choose to do just that. But a key issue for Netflix is content, or perhaps the lack thereof. Netflix will need to keep producing hit content of its own and also find a way to attract consumers who don't want to watch the latest TV shows - and as we've seen before, there isn't much room for error at these levels.
Netflix Can Bounce Back
Despite the negative sentiment surrounding the stock, and rising concerns over growth and competition, Netflix stock could be a good bet for the medium term. As the stock price gets shaved, this helps lower expectations as well as the high multiples. If you lower the bar, it makes it easier to beat the next time around.
Additionally, Netflix still has a robust operation of TV shows, despite their shrinking library and decisions which have cost them the rights to thousands of movies. Their upcoming series' can become hits, and Netflix can still grab more international market share. They can keep the trend of increasing monetization to offset declining subscriber growth, but that is a tight balancing act.
Basically, Netflix is in the midst of transition as consumer tastes and preferences are in flux and competitors are ramping up their operations to take on Netflix. It may not be a good time to get in to the stock during this transition, since the market is still treating the stock like an explosive growth story. But for the medium term, Netflix might be a good company to buy shares in as people start realizing it is attempting to establish itself more like a traditional media conglomerate - which is quite the irony, considering how Netflix is a big part of many cord-cutters' access to media. Netflix may be in for short-term pain to achieve medium-term gains over the next two to three years.
Disclosure: I/we have no positions in any stocks mentioned, and no plans to initiate any positions within the next 72 hours.
I wrote this article myself, and it expresses my own opinions. I am not receiving compensation for it (other than from Seeking Alpha). I have no business relationship with any company whose stock is mentioned in this article.