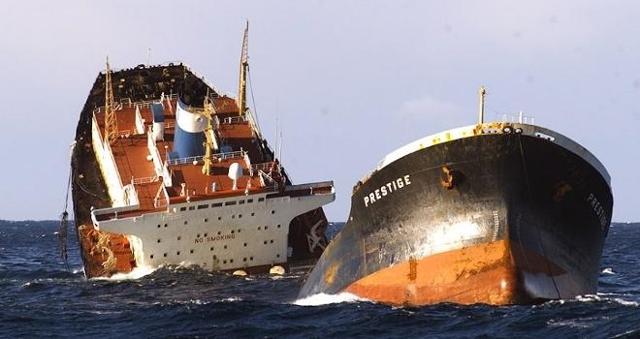 There might be a problem.
Slightly over 2 months ago, I wrote an article titled "A Positive For Tanker Stocks". In this article I described a factor that could absorb some of the significant tanker supply hitting the market during 2016 and 2017.
As it were, it appears that this factor is far from being enough to compensate for the incoming supply. I am thus writing this article to warn that price deterioration in the tanker markets seems so significant that quite the opposite might happen — we might actually see tanker companies in financial distress within just a few quarters.
I am saying this in spite of tanker stocks already having dropped a lot, discounting an incoming weaker market environment. Indeed, such drops at the time even prompted me to buy into DHT Holdings (NYSE:DHT). My thesis was that while some deterioration was expectable, it should be somewhat contained by things like the positive factor I described.
However, that was not to be. Instead, we're seeing massive deterioration. This article is thus just a warning that the tanker market environment has worsened considerably. It worsened so much that arguably it's heading towards the worst environment in the last 5 years. This is significant, because during 2014, in arguably a better market, many tanker companies were at death's door.
I'm saying the tanker market is deteriorating significantly, because two indexes, both of which are composites of several tanker sizes and routes, are showing such deterioration. Take a look at how the BDIY (Baltic Tanker Dirty Index) and the BCIY (Baltic Tanker Clean Index) look like:
In the last 6 months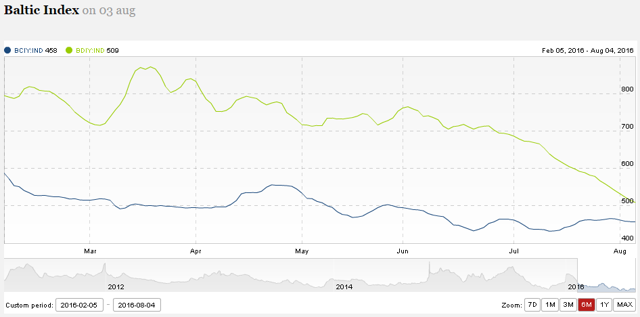 In the last 5 years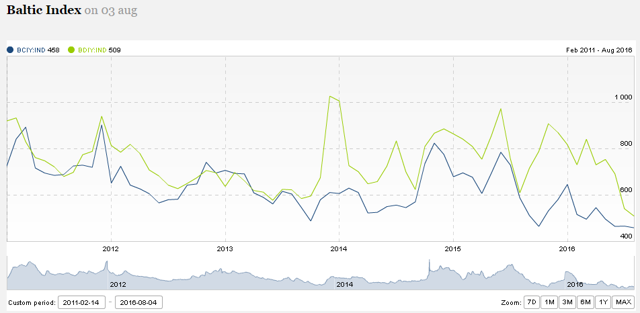 Source: Lloydslistintelligence.com
This is extreme deterioration, especially on the Baltic Tanker Dirty Index. Both indexes basically stand at 5-year lows, so the conditions experienced during 2014 will quickly become worse in the present.
At these levels, it's likely that we will soon see sector news of:
Dividend cuts;
Financial distress;
And, if the levels are sustained, bankruptcies.
Beware of holding stocks in the sector given this backdrop. Especially, forget about the possible sustainability of dividends like Frontline's (NYSE:FRO), which now sits at a 20% current yield. This will be cut in short order. And when one company cuts the dividend and suffers for it, so will others displaying high dividend yields, like Euronav (NYSE:EURN) and others.
Conclusion
Tanker rates have seen extreme deterioration during the last couple of months, on account of new tanker supply which will continue into 2017. Tanker rates (on aggregate) are dropping to the worst levels in 5 years, and will be at levels which will threaten some companies' survival. More easily, these levels will quickly lead to dividend cuts being announced.
Over time, this will lead to a cyclical bottom. But for now, the tanker news flow stands to worsen considerably.
Disclosure: I/we have no positions in any stocks mentioned, and no plans to initiate any positions within the next 72 hours.
I wrote this article myself, and it expresses my own opinions. I am not receiving compensation for it (other than from Seeking Alpha). I have no business relationship with any company whose stock is mentioned in this article.