Tecnoglass, Inc. (NASDAQ:TGLS) reported earnings Monday morning. On the surface, it was a so-so quarter, with revenue above expectations but EPS below, and expectations for the year revised downward a bit. However, let's dig a little deeper. (Note: all numbers from company financials and most recent management estimates.)
Business overview
Tecnoglass is a small-cap (~$300M) Colombian manufacturer of high-grade architectural glass, windows, and the aluminum frames that house them, selling to the construction industry in Latin America and the US. They are vertically integrated, manufacturing from glass to finished product.
Tecnoglass is very much in its "growth" phase. They brought a new aluminum press online this quarter, a new production line for painted glass, and the initial stages of a new soft-coat glass production line. They are in the process of installing a new insulated glass unit and building a new glass plant next to their current one. Next quarter also sees Tecnoglass begin the installation of 12MW of solar panels for in-house energy production.
The growth-oriented metrics management focuses on are revenue and adjusted EBITDA. Those have shown bumpy but regular increases for the last two years.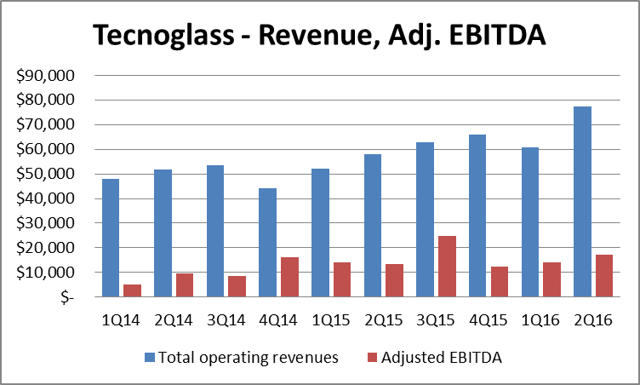 Under the financial hood
Once we start looking under the adjusted EBITDA line, however, things are not quite as good. (Not bad. Just not quite as good.) In order to facilitate the discussion, here is a table reconciling Tecnoglass's Adj. EBITDA to its GAAP net income for the last five quarters. The numbers are mainly taken from the recent press release but I have added a line and a column.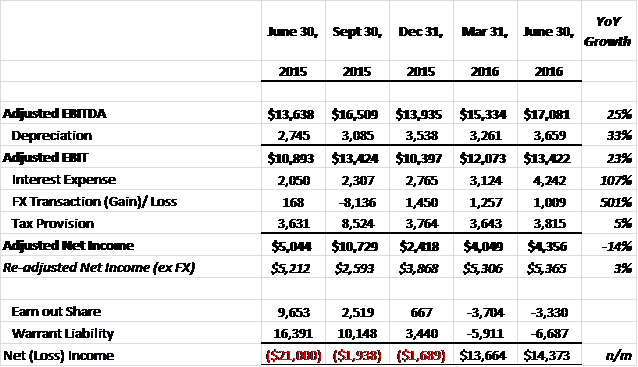 GAAP net income looks like it has been on fire, but that is a meaningless number for Tecnoglass, dominated by liabilities labeled 'Earnout Share' and 'Warranty Liability.' These are non-cash charges that have to do with parts of the capital structure I'll explain later. Adjusted net income, which is a meaningful bottom-line number, actually shows a decline of 14% YoY. How did we get from robust 25% growth in adjusted EBITDA to a 14% decline in adjusted net income?
It isn't taxes, which have increased only modestly. Rather, three lines have grown faster than adjusted EBITDA: depreciation, interest expense, and FX losses.
Of these, depreciation is the least worrisome. As the company has added plants and equipment, naturally its depreciation charges have increased. Although it is non-cash, it shouldn't be ignored. Tecnoglass is a heavy user of real assets, and it will have to maintain and eventually replace them. It's a cost of running the company.
Foreign exchange, again, one might be tempted to write off as not relevant to the operational side of the business. When the Colombian peso (or other LatAm currency) falls relative to the USD, Tecnoglass's income from its Colombian (and other LatAm) projects declines in USD. On the other hand, its expenses, particularly labor, fall too, and that bumps up the EBITDA line. It's impossible for me to tell which effect is stronger, but the point is that if you accept the benefits of an exchange rate on the top line, you should accept the negative fallout on the bottom line too.
Still, suppose we discount FX effects. I've created a new line, "re-adjusted net income", excluding FX effects. That just shows Tecnoglass flatlining YoY.
The real damage is done by interest charges. Tecnoglass has taken on increasing amounts of debt to fund its expansion, and the interest it pays has nearly doubled in the course of a year. Even discounting FX, the additional interest has eaten up all the growth in the company's top line.
Tecnoglass is levered up moderately high. Debt/equity is 3.9 by my calculation, with long-term debt/equity about 1.9. The comparison isn't perfect, but according to Finviz, other companies in the same industry have a median leverage ratio (both metrics) around 0.8. I don't expect these metrics to improve for at least a couple of quarters, given all the expansion the company is engaged in now.
So the question is this: Tecnoglass is adding capacity rapidly, but is it capacity for generating new revenue, or for generating new income? So far we have only the former. I'll give a full-year estimate below, but there are other pieces of the puzzle to put together first.
Recent shareholder news
First, the warrant exchange. Big news dropped Thursday evening. Tecnoglass has 6.7M warrants (TGLSW) outstanding which it has been promising - for a while - to exchange for shares. What has delayed the exchange was a financial restatement earlier this year. Now, at last, warrant-holders can exchange 2.5 warrants for one TGLS share. This removes an important overhang on the stock, making its capital structure more streamlined.
Second, Tecnoglass declared a long-promised dividend at 0.125/sh per quarter. It should take effect September 23. This, too, should attract shareholders.
Share count
The warrant exchange adds 2.7M to the basic outstanding shares, and shaves 4M off the diluted count. On the whole, a win for shareholders.
On the other hand, 1.5M earnout shares will be issued at the end of the year to a related party, when Tecnoglass meets some EBITDA targets, as it surely will. I make the total basic share count to be about 31.5M at year end. I believe that is also the diluted share count, though I'm not totally sure.
Full year estimate
Management has guided for FY2016 $288M revenue, or 20% increase over last year, and $70-75M adj. EBIDTA, or 32% increase. Assuming that the back half of the year looks a lot like the front half in terms of expenses (and obviously I have no idea what will happen with the Colombian peso, so I assume that does nothing) I calculate a net income (no need for adjustments, post warrant exchange and shares earned out) of $24.6M, or $26.9M (re-)adjusting for FX effects.
On 31.5M shares, that comes out to 0.78 per share for the year, a penny lower than last year. However, shareholders will also have received 0.25 in dividends.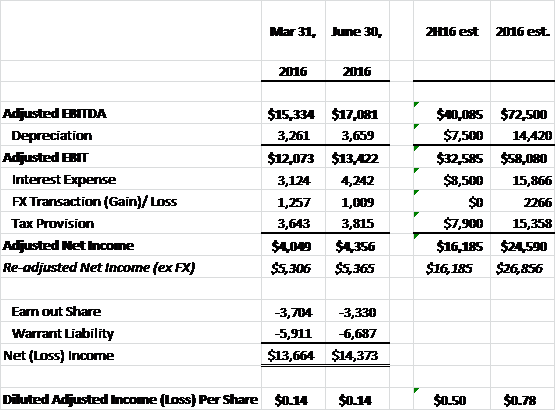 Valuation
Obviously, there are several ways to do this.
Enterprise value to trailing adjusted EBITDA is a low 7. Enterprise value to management's forecast adjusted EBITDA is an even lower 6.6. Trailing P/E is 15.6, but using my FY2016 earnings estimate the ratio is 13.7. I don't like to forecast growth very far out, but these are very solid numbers for even a no-growth company, and there is no reason to think Tecnoglass can't continue to grow.
Plus, the dividend yield is 4.6% at current prices. That alone should get the share price bid up a notch.
Risks
It is important to note that management's guidance assumes that the second half of the year has higher numbers than the first. If they hit those numbers, then the leveraged capex will have paid off in cash flow. The dividend payout ratio will also be at a hefty but sustainable 50%.
On the other hand, if they miss those numbers, and the second half of 2016 looks like the first half, this will be a pretty disappointing stock. The payout ratio will be more like 88%, not sustainable for a company in growth mode like Tecnoglass. They will probably have to cut the dividend, which would be discouraging for shareholders.
I should add there does seem to have been a seasonal bump in the third or fourth quarter in the last two years of data. Though that's not much to go on.
Probably the biggest risk for Tecnoglass is a downturn in the construction cycle. They state in their 10-K that backlog is not a great guide to future revenue; actual contracts are signed close to delivery time. If there should be a sudden falloff in orders, Tecnoglass's heavy debt structure would come back to bite them. The assets they've invested in are not liquid, and the cash position is not large. They would have to cut the dividend shortly after introducing it.
I realize the company has solid growth avenues ahead. They have to complete planned investments, and they are now committed to a dividend. However, we are late enough in the cycle that, personally, I would be more comfortable with a cleaner balance sheet.
Conclusion
I like this company a lot. They are innovating, making world-class products, in a part of the world not famous for world-class products. Management gives the impression of being honest and straightforward (priceless), operationally savvy, but a little overwhelmed with the demands of US exchange financial reporting. However, they seem to be getting a handle on that. The company is growing strongly and investing in its future.
An investment in Tecnoglass requires some faith in management's forecast. If they are on the money, then the investor will be (ha!) in the money. If they revise downwards any further, the way they did this quarter, the company's finances will be pinched and the bottom line will be disappointing.
Besides operational hiccups, the main factor that would affect revenues is the construction cycle. On that front, Tecnoglass is exposed. Going forward, management will have to balance investment for growth against deleveraging for financial defense.
Supporting Documents
Disclosure: I am/we are long TGLS.
I wrote this article myself, and it expresses my own opinions. I am not receiving compensation for it (other than from Seeking Alpha). I have no business relationship with any company whose stock is mentioned in this article.