"What seems too high and risky to the majority generally goes higher and what seems low and cheap generally goes lower." …. William O'Neil
It is no secret that many investors are risk averse now that the S&P is trading north of 2100. However, they have been this way for quite some time , because the last bear market is still fresh in their minds. Baby Boomers are aging and they join the army that is searching for "safe" investments. This has pushed the defensive areas of the stock market to valuations that are distorted on a historical basis. The flight to what is believed to be the safety of bonds driving yields ever lower is almost fanatical.
We see human nature at work once again as investors just love to take things to extremes. In 1999 it was all about capital appreciation, and dividend paying stocks were an afterthought. I believe the short sighted outlook that many took on back in the era of the tech boom has taken on a new look.

The pendulum has swung and now it's all about that safe yield. Growth has been avoided as being much too risky at these elevated levels.
What has been left behind in that wake is the growth areas of the stock market along with its capital appreciation. It has been avoided like a plague. I have long argued that there is a place in every portfolio for growth to be placed right next to those income producers. Just like one diversifies in different sectors of the equity market, diversification along these lines is also necessary.
What has been left behind in that wake is the growth areas of the stock market along with its capital appreciation. It has been avoided like a plague. I have long argued that there is a place in every portfolio for growth to be placed right next to those income producers. Just like one diversifies in different sectors of the equity market, diversification along these lines is also necessary.
Stepping back and surveying the landscape I find that there is still an army of people that view the equity market as vastly overvalued with an economy that is ready to roll over into recession. Of course if you are one of them then you need not read further.
The arguments telling us that the risk/reward pendulum is squarely in favor of the bears is heard everywhere. However, as I wrote last week that isn't necessarily true. Strength often begets more strength. In fact one could suggest based on the picture being presented to investors now and what the stock market is telling us is that the table is now very much tilted to the upside. Yes I know that seems like lunacy to some, and I will be asked what it is that I am smoking. Well it also seemed like lunacy when the market broke out in 2013 with the S&P at 1550, and to some it has seemed like lunacy ever since. I don't expect them to change anytime soon.
If an investor does their homework they will always be able to find risk/rewards that are skewed in their favor. If I am correct with my market assessment, the wind will be at an investors back making this an easier task than one might think.
What I see is an improving landscape on the economic and earnings front. The worst of the earnings profit recession is probably behind us. Many indices are at new highs that are accompanied by broad participation. The technical breakout from the 18 month consolidation period sure appears to be genuine.
Since the S&P achieved record highs there has been plenty of historical precedence presented to readers that supports a case for even higher stock prices down the road. Readers can either accept or reject that notion. However, as you will see later, Wall Street strategists and their clients are still underweight equities, and that speaks volumes.
So what does this have to do with the suspected "income stock bubble" and adding growth while managing a portfolio. I have discussed the elevated valuation of some dividend equities. The extended valuation of these income equities/sectors may result in investors being surprised in the event the market does encounter a change of philosophy regarding equities.
Certainly I am not suggesting that one eschew their income producers for growth stocks. What I am suggesting is that one not chase the groups that are overvalued by any historical measure. Be aware of what you are buying, and what price you are paying. For sure, we could easily see this phenomenon continue given the low interest rate backdrop. However, all investors should be aware that a reversion to the mean in these overvalued sectors will not be pretty.

The case for being selective now and adding growth will come across to some as a perma bull on steroids. How can one delve into the growth areas of the stock market when there seemingly is no growth around us?
It's very simple. As always I try to maintain a balance while being aware of what is going on around me. In an environment with slow economic growth there are a bevy of companies offering double digit growth selling at market multiples. Given the market backdrop that I see in place, the next rotation in the market will be highlighted by money moving into the growth names that have been tossed aside for one reason or another.
This trend may have already started. The chart below shows the performance of each S&P 500 sector since the close on 6/27, the Brexit low. While the S&P 500 is up 8.5%, six sectors have outperformed and four have underperformed.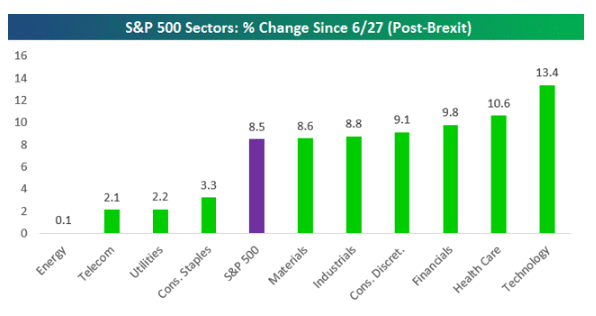 Source:Bespoke
Thomson Reuters provides investors with a look at YTD sector performance while highlighting the July results.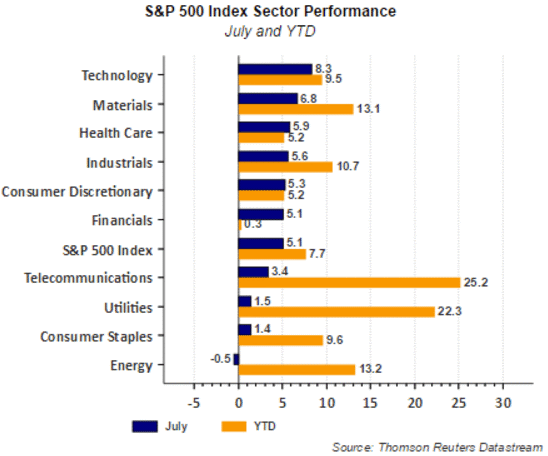 Technology has been a solid performer as earnings have led those stocks higher. Within that group, the semiconductor's (NASDAQ:SOXX) have recently broken out to new highs. Seasoned investors have come to realize that the semiconductor industry is widely recognized as a key driver for economic growth. These stocks are marching higher, and may be signaling an economy better than many anticipate.
Money rotating into the Healthcare sector may have just begun, as valuations in select companies are inexpensive based in historical averages. A portion of that money may have come out of the somewhat overvalued defensive sectors that have lagged since the June lows.
If the equity market continues on an upward trajectory as I believe it will, the lion's share of profits will come from selectively adding growth around the core of your income producing assets. I remind all readers as I always do, that my portfolio strategy may not be suitable for everyone. Each should make investment decisions based on their personal situation.

Economy
In the past, when the yield curve flattened it was a good predictor of forthcoming recession. However, the current level and shape of the yield curve is not indicative of a looming recession.
As shown below, when the spread between the ten year yield and two year yield becomes inverted, that is, 2s yield more than 10s, it's a very strong signal that maturity transformation is being disrupted, policy is too tight, and that the economy is overheating. That is not the current condition of the yield curve. 2s versus 10s is dramatically steeper than pre-recession conditions in the 1970s, 1980s, 1990s, and 2000s.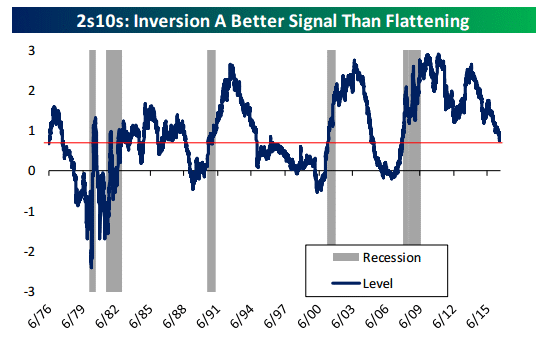 Source:Bespoke
Once 2s/10s invert, the economy typically has less than 6 quarters until a recession. This current level shows no recessionary pattern based on historical precedent.
The big disappointment this week in terms of data was construction spending. The nominal spending figures dropped for a third successive month, taking their year over year seasonally adjusted growth to flat, and the quarter over quarter growth to the worst level since 2011.
The July ISM manufacturing index was reported at 52.9 indicating that economic activity in the manufacturing sector expanded in July for the fifth consecutive month, while the overall economy grew for the 86th consecutive month.
This week's ISM Non Manufacturing report for the month of July showed solid growth. With a reading of 55.5, the headline index declined one point from last month's level of 56.5 and was 0.4 points below consensus expectations (55.9). Bespoke tells us that the average monthly reading of the ISM Services index throughout the current economic expansion has been a reading of 54.7. It remains above 50 and in expansion territory.
Hard to find any issues with the Jobs report that was announced on Friday. In the past a strong report was met with trepidation as it was interpreted to believe a rate increase was forthcoming. Not so this time around as the market cheered the news.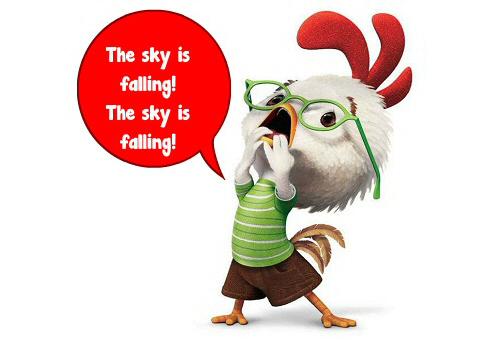 The headline;
"Auto Sales are peaking, auto sales are peaking, the consumer is dead!"
The facts;
Wards Auto announced July seasonally annual adjusted rate for auto sales at 17.8 Million units. Last years sales at this time were 17.5 million units.
My conclusion; Sales of nearly 18 million autos isn't a sign of a weary consumer or a weak economy.

If one needs more evidence to rebut the recession agenda, here's a very clear pattern of declining new home sales prior to US recessions.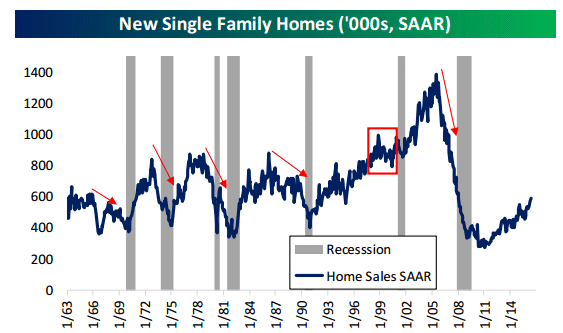 Source: Bespoke
Despite weak activity in the industrial sector and all through the crude oil price crash, the US housing market remained on firm footing. That trend continues today with new home sales at a new post recession high. It is very hard to argue that the economy is heading for recession based on this data.

Global Economy
The European Banking Authority released the results of their stress tests on major European lenders. Most banks would be able to maintain decent capital ratios under the EBA's adverse economic scenario.

For the first time since January of 2013, the private sector assessment of Chinese manufacturing co-sponsored by Markit showed a reading higher than the official gauge while also rising month over month versus a decline for the official data. The upside surprise in Markit's Flash Manufacturing PMI was also the largest month over month gain in that index since August of 2013.
At the beginning of 2016 all eyes were on China and the talk that their economy taking the world into global recession. The poster child for all things construction related in China was Caterpillar (NYSE:CAT). Don't look now, but the much hated Caterpillar is currently the best performing Dow stock of 2016. Up 22%+.

Earnings
My interest in adding growth is supported by the earnings surprises. Two sectors are leading the way, Healthcare and Technology, where over 90% of companies have exceeded estimates. If one is looking for revenue gains, Health Care (85%) and Technology (72%) have once again been the strongest. Along with them, Energy (65%) has also shown strength. I believe money will now start to find a home in these areas of the market, and why I am positioning for such.
Thomson Reuters S&P 500 Earnings Data;
Forward 4 quarter S&P 500 earnings estimate: $126.52, versus $126.45 last week.

P.E ratio: 17.2(x)

PEG ratio: 13.2(x)

SP 500 earnings yield: 5.83%, vs 5.81% last week.

Year-over-year growth rate of the forward estimate: +1.30%.
Based on The data being reported by Factset, earnings are expected to keep improving;
"During the month of July, analysts lowered earnings estimates for companies in the S&P 500 for the quarter by just 0.7%. From $30.66 to $30.44) during this period. In comparison during the last 4 quarters, the average decline in the bottom up EPS estimate during the first month of a quarter has been 2.7%."
"In fact, this marks the smallest decrease in the bottom-up EPS estimate over the first month of a quarter since Q2 2014 (+0.4%). "

GAAP versus Non GAAP (Operating) earnings and the difference that exists between them is a common concern heard from many investors.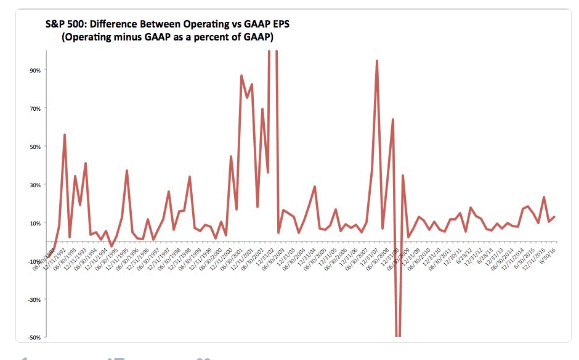 Chart courtesy of Urban Carmel
The 1990s saw much higher levels than exist today, and the correlation in the chart below seems normal to me.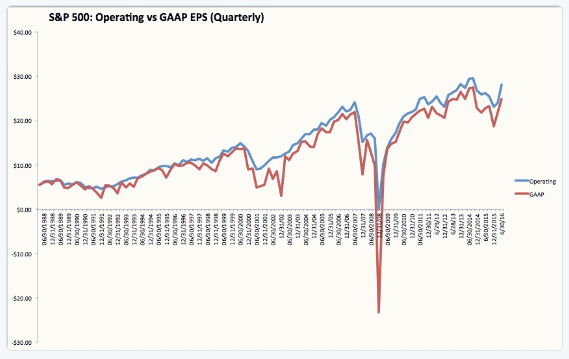 Chart courtesy of Urban Carmel

The Political Scene
The conventions are over and there are less than 100 days until the November election. Polls suggest a tight race, but we have recently seen how polls can be wrong.
Of course all eyes are on the two candidates. What may be lost is something far more important will be decided. First, it determines who controls the House of Representatives. Second, it will decide who controls the Senate. And third, it likely sets the direction of the Supreme Court for a generation
In the last 10 years, we have had an all Republican government, all Democratic government, a Republican president and Democratic Congress, and a Democratic president and Republican Congress. They all have one thing in common, growth remained sub par throughout.
For what it is worth, The Dow so far is tracking the performance of an incumbent party win, in which lows tend to come early in the year and rallies late. When it's not been in recession, the odds of an incumbent party retaining control of the White House jump to 71%.
Like everyone else, I have my preference for who I believe should be the next president. In doing so, I make no portfolio adjustments based on all of the noise that will come out of analyst reports touting which sectors will do better or worse if he or she wins. It is a waste of time.

Sentiment
Bullish sentiment declined for the third straight week, falling below 30% for the first time since the end of June. Meanwhile, bearish sentiment is just three points lower, while neutral sentiment is back at an elevated level of 43.4%. With the market trading sideways, investors remain nervous. Despite new market highs, it is amazing how pessimistic investors remain, at least on a longer term basis.
Wall Street strategists are constantly surveyed for their recommended equity allocation. The results are a reliable long term sentiment indicator. Look at the chart below to see how historically it has been bullish when Wall Street suggested under weighting equities, and bearish when they suggested overweight positions.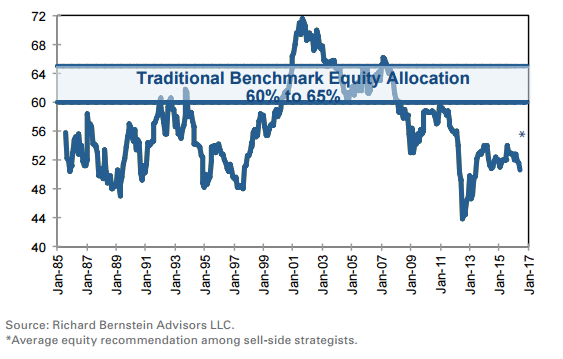 Then take a look at where the average sell side analysts are positioned and what many are suggesting to their clients today. The stock market broke out of a 13 year base pattern in 2013 and in my view confirmed a secular bull market. Yet. equity allocations which were at all time lows are still to this day not in line with the normal benchmark.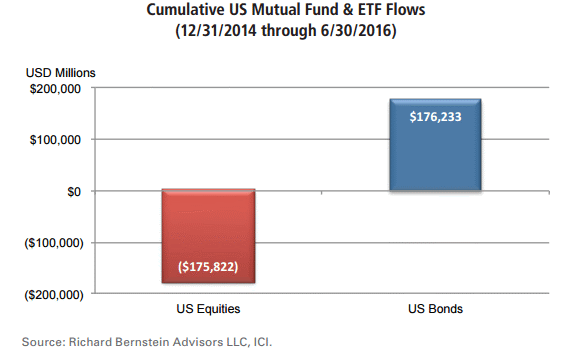 Here is more proof that this trend isn't over as the outflows from equities and similarly strong and consistent inflows to bond investments, continues into this year.
The negative environment continues. When the S&P traded down to the February lows I noted that the investor backdrop being presented did not portend lower prices, instead citing that the market highs were not in.
This type of investor sentiment and positioning both then and now is not indicative of euphoric market highs. At the 2007 market top, fund managers' equity allocation was nearly 60% overweight and cash was under 3.5%.
As shown for months now and repeated here, there is no such evidence today. Euphoria and wild bullishness has not set in, and it is why I believe we have yet to see the top in this bull run.

Crude Oil
WTI bounced off of its 200 day moving average on Friday July 29th, but couldn't hold its 200 day on a retest this past Monday. This break also marked the beginning of a new bear market for oil, which is defined as a 20%+ decline from a bull market high. At the lows this week, oil was down 22% from its high 54 days ago on June 8th. Bespoke reports that the median bear market has seen a decline of 31.4%.
If we extrapolate that to the current market it would appear support may be found in the $35-$36 level. Other technical indicators suggest that the first level of support is around $38.20. While WTI was going from $50 to $40 down 20%, the S&P was up 3%. That may be telling us the trading action in WTI isn't about the global demand picture. Confirming my earlier conclusion that this drop in oil is a consolidation phase after a massive four month run.
The late week rebound in WTI regaining the $41 level with the Friday close at $41.82, has for the moment, negated the new bear market talk. If that level can hold, then what we may have just witnessed was a "head fake" when the price broke below support.
Perhaps more short term pain, but I am still going with my thoughts that the 6- 9 month picture brings balance to the market and a higher price for WTI than the present $41.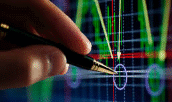 The Technical Picture
The headlines that captured the media's attention was the 7 day DJIA losing streak. It should be noted that the DJIA has never seen a smaller decline (-1.38%) during a seven day losing streak in its history. A sign of underlying strength in this market.
Adding to the strength was another development that I was looking for;
"What I will also be watching closely is the NASDAQ Composite. IF it can better its closing high of 5,218, it would be another huge bullish signal.
That has now occurred with the index closing at an new all time high on Friday at 5,221.
The premise that I put forth regarding the breakout to new highs being genuine highlighted two important keys. It was imperative that the breakout would hold for at least two to three weeks. That has been accomplished as the breakout level is still holding nicely after 4 weeks of trading.
The second key for investors to note is that at some point in time the S&P could easily retrace back to the 2131 breakout level or lower. It's best to keep that in focus as the market grinds higher.
Last week I made the case that S&P 2250 could very well be my next upside target. During any market move up or down, it is best to stay in the present, monitoring the data as it comes in. Therefore, I rarely if ever look too far out predicting 200-300 point moves, either up or down.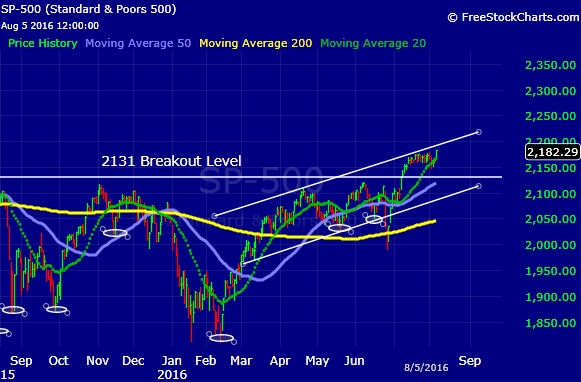 The daily chart continues to follow the upper band of the up trending channel. Two weeks of sideways action has allowed overbought levels for the S&P to work themselves off. If there is a pullback in our future, my view is that it should be contained to the 5-7% range, and not pose a threat to the long term uptrend in place.
Short term support is at the 2131 and 2113 pivots, with resistance moving up to the 2210 level.

Individual Stocks and Sectors
A follow up to my discussion on why I am adding energy exposure at this time. The E&P oil stocks I am following had a solid week, reacting to positive earnings and guidance reports. I continue to build positions as I wade into the sector. Keeping in mind that I am not looking to what the price will be next week, but in two to three quarters when we could see a very different picture in the oil patch.
"All in" drilling economics, that is to say, breakeven oil prices, represent an important determinant of long term value creation for producers and for investors in their shares.
The Permian Basin, Bakken, Eagle Ford, and what is called the SCOOP and the STACK in Oklahoma are the areas where it is economically viable for companies to extract oil if the price range is $35 - $40 bbl. My research indicates that the Permian Basin is without question the best in class U.S. onshore oil asset. The SCOOP and STACK area is the closest rival delivering adequate returns in the sub $40 level. The Bakken and Eagle Ford areas are challenged to break even around the $38 level.
The companies I am concentrating on have the bulk of their operations in these areas.
As such, investors should certainly take this variable into account when putting together their E&P portfolio. This is a very important factor that ought to be considered in stock selection. As in all research, it is important not to go overboard on one issue to the exclusion of all other considerations. In other words look at all of the factors involved. What I have provided here is the starting point that I have used to narrow the list that was presented last week down to a manageable number.
The stocks I highlighted last week will be punished as much as the explorers that are located in other areas in North America if WTI weakens. It is here that I believe the bargains will be found, especially if my thesis comes to fruition, and the price of WTI accelerates higher in 2017.
Occidental Petroleum (NYSE:OXY) is the core energy holding in my portfolio. They reported an in line quarter and announced a token raise in their dividend. A vote of confidence that not only is the dividend safe but the positive cash flow continues. A long term income producing asset (4.1% yield) with room for appreciation, as they too have income producing assets in the lucrative Permian basin.

Growth at a reasonable price. Look no further than the Biotech sector. I have been aggressive in both my commentary and my portfolio positioning, buying at what I believe are discounted prices. No one wanted to touch these stocks with all of the negative fear rhetoric surrounding the group, and that was the time to get involved. The Biotech index is now up 23% from the lows, and the index has just broken resistance to the upside. The bear market in Biotech is now over. Today it seems everyone has come to realize just how inexpensive biotech stocks are.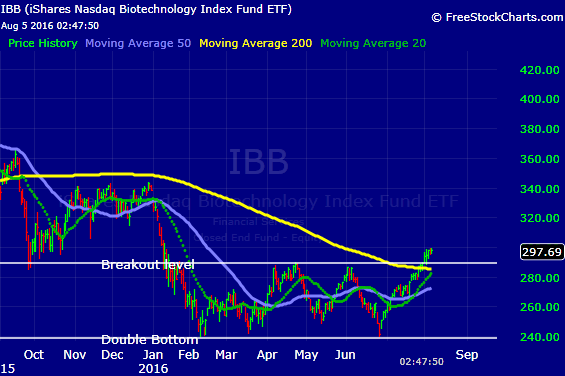 The daily Chart of the Nasdaq Biotech Index (NASDAQ:IBB) shows the recent breakout. With some ups and downs along the way, the index could make its way to the 340 level. Implying another 10-11% from here.
The same opportunity the Biotech sector presented may hold true for energy stocks. The bearish tone on the sector is back again, and it may prove to be a good time to get involved by doing some research now.

July was a very good month for market bulls. The S&P 500 gained 3.65% in July while the Tech heavy Nasdaq 100 was up nearly double that at +7.15%. Technology also dominated on the upside in terms of sector performance. Oil was the only asset class that saw real weakness during the month.
August hasn't been too kind to the bull in the last 20 years. As the chart below indicates it has been the worst month of the year. August 2015 brought a 6% decline for the S&P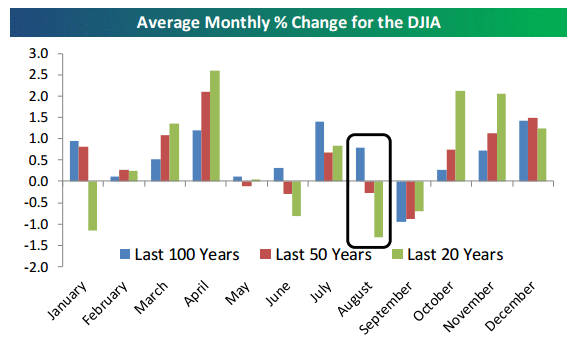 Source:Bespoke
There is a silver lining to S&P 500 performance in the month of August, it is that we are in an election year, and equity market performance during August has been much more positive during election years. In seven Presidential election years since 1986, the S&P 500 has averaged a gain of 0.77%.
Dana Lyons tell us that;
"Since 1950, when the SPX makes a new high after not having done so in the past year, the index has added to those gains more than 80% of the time in the next 3 months and 100% of the time in the next year."
More historical evidence to support an optimistic view. That's fine, but there are some issues that could easily bring a pause to the recent strong upside move. The primary issue being more consolidation of the market gains since February. This would be healthy and not a surprise given what could be a weak seasonal market period.
Of course the pundits are out in force once again in an attempt to make a name for themselves with the "sell everything" headlines. Everyone has this overwhelming desire to be the one that calls the top in the market. I'm not sure how an investor can sell everything now if they heeded the advice to sell everything in April. Then there are the other warnings that keeps investors out of stock and bonds. For all of their success, I am amazed at the these pathetic examples to get a headline.

The trend is higher, supported by strong technicals, resilient economic data and improving corporate earnings. All of this comes with a backdrop that shows skepticism and positioning that is not consistent with market tops.
When I look around and put all of the data together to form a short term strategy it reflects a setup for higher equity prices in the next 3 - 6 months.
In that time frame, there will be investors who are constantly talking about market manipulation, Fed conspiracies, faulty inflation statistics and rigged markets. They are usually looking for attention to their ideas. Ideas that have been completely wrong.
So I will open and close with the idea that Mr. O'Neil knows what he is talking about;
"What seems too high and risky to the majority generally goes higher"
Best of Luck to All !
Disclosure: I am/we are long OXY.
I wrote this article myself, and it expresses my own opinions. I am not receiving compensation for it (other than from Seeking Alpha). I have no business relationship with any company whose stock is mentioned in this article.
Additional disclosure: I am long other energy names as disclosed in the E&P Energy document mentioned in the article.