The US oil industry has made significant changes since the oil price collapse. The results have reduced well costs and increased production. The economics of unconventional oil production have improved. Some areas need just $40/bbl or less to break even. The decrease in the price of WTI has brought down the US oil ETF (NYSEARCA:USO). It may be a long time before the USO recovers to the highs of 2014. One thing is for sure, the short term doesn't look good. Low breakeven prices are not the case in all plays. The core Permian and STACK probably have the best economics. New well designs continue to improve recoveries. Operators are now able to break up shale better closer to the well bore. Induced fracs are important to payback times, as it is the key to initial production.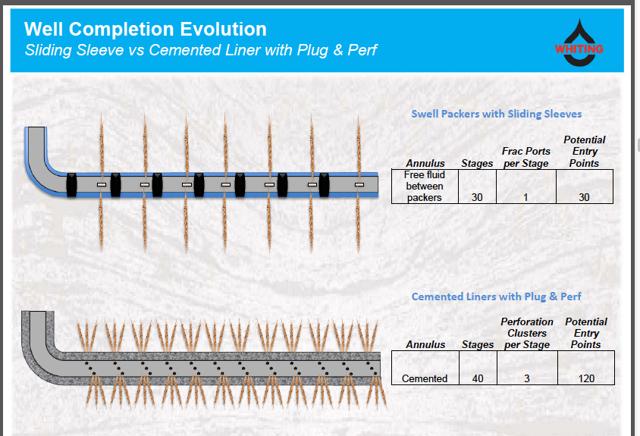 (Source: Whiting)
The slide above shows how better stimulation is accomplished. The first well is a sliding sleeve completion, which is cheap and fast but only provides a few points of access to the source rock. Some operators still use this method, but to a lessor extent. The bottom lateral provides more access points. The fractures are short and numerous. Production is increasing per well, and this application can be done for only a half million dollars more. To put into perspective, just 20,000 BO at $40/bbl are needed to cover the difference. Since more fracs are created, more proppant and fluids are required. On average, operators are seeing production improvements of 30% to 60%. New well designs improve more with better geology. Fringe areas might improve less, while core areas would see closer to a 60% increase. Some believe operators are being untruthful or exaggerating production increases. While possible, it is unlikely. Directors could face imprisonment and fines if convicted of fraud. They know that many analysts go over production data on a regular basis. The SEC recently started an investigation of Flotek (NYSE:FTK). This company stated production improvements due to Flotek frac fluid use. Production can be checked through state sites, plus there are applications like Welldatabase.com, which is my preference. Welldatabase.com provides access to production data from multiple states on one site. Most E&Ps are reporting production improvements from enhanced source rock stimulation. It is also being reported through all US plays. There is always a chance that one or two companies are misleading the public, but an entire industry?
Production increases are seen through highgrading. E&Ps are moving rigs to core acreage. An operator increases production at virtually the same well costs. This is different than production increases from enhanced completions. When looking at company presentations be sure to look closely at the data provided. Economic improvements to well costs can be related to batch drilling and zipper fracs. Drilling multiple wells on the same pad can save a lot of time. Time is money. An example would be an operator that drills 5 middle Bakken and 4 upper Three Forks wells on the same location. The rig stays on the pad, and only has to move (walking rig) a small distance for each well. After the rig is drilling, the completions crew is brought to the pad.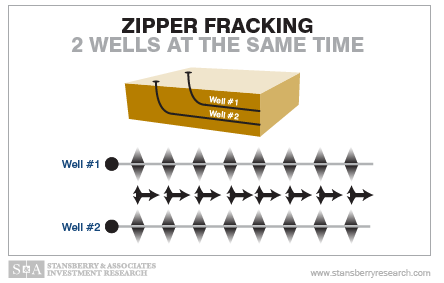 A zipper frac is the completion of 2 adjacent wells. One well is frac'ed while the other is able to hold frac pressure. This saves time, which also saves money.
There are many variables to well economics. The US oil industry is doing what it has always done. It is getting better, and evolving to the new oil price environment. The improvements will continue and change. Now pipe is in the ground before a well is completed. This means less flaring, and water doesn't need to transported via truck. Well costs include pressure pumping, wireline, proppant, fluids, etc. All are decreasing. Efficiencies are also at work. Operators are doing things faster and better. Cost savings are important, but how have newer well designs been performing? Public data is difficult to attain on proppant and fluids volumes. That data also takes a great deal of time. Once the wells are logged together there are further issues. Production data has to be entered by hand if based on producing days. Once this is done the production data has to be figured for the number of days and by lateral length. Some take the number of months, but this skews results. Wells can be offline for service, or shut in when adjacent locations are completed. If a location is offline, it is not producing. If it is not producing, the days should not be included.
Well data should be figured per foot. Horizontals can be done in many different lengths. Some still report production data by well alone without considering the difference in feet. If a short lateral (5,000 feet) is compared to a long lateral (10,000 feet), the long lateral could look like the better producing location. If the long lateral out produces by 20% but is twice as long, it is not the better well. Well design is all about creating the best and most complete induced fracs. That does not mean the longer lateral isn't better economically, just from a production basis. This is seen in the Bakken, where core production is as good as almost anywhere. Costs offset this, making the Permian more attractive.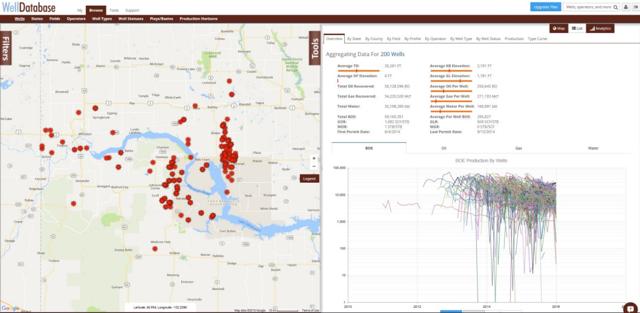 (Source: Welldatabase.com)
The map above provides the largest 200 North Dakota Bakken and Three Forks wells by proppant volume. These volumes have a range of 27,590,168 lbs. to 8,327,218 lbs. The fluids volumes range from 460,449 bbls. to 49,574 bbls. The average proppant used per well was 11,059,266 lbs. This proppant varies from types of frac sand, ceramic coated sand and ceramics. The average volume of frac fluids per well is 165,773 bbls. Operators have moved hybrid fracs where very large volumes of proppant are used in concert with slickwater. This may be the best well design in the Bakken. Not only have slickwater operators like Emerald (NYSEMKT:EOX) and Liberty started to increase proppant, but EOG Resources (NYSE:EOG) and QEP Resources (NYSE:QEP) have started using more of both. The proppant increases across the US are weighted more to sand. Ceramics are still used, but some operators have found shorter fracs near the well bore work well with sand alone. This is just beginning, and we think it will continue to push out the more expensive proppants from companies like Carbo (NYSE:CRR). The beneficiaries are US Silica (NYSE:SLCA), Hi-Crush (NYSE:HCLP), Emerge (NYSE:EMES) and Fairmount (NYSE:FMSA).
The shift to Mega-Fracs has been big, as some operators have begun to use this well design exclusively like Continental (NYSE:CLR). Others have just started. So how do these top 200 Mega-Fracs compare with respect to well design? The chart below shows the changes going back to 2004.
| | | |
| --- | --- | --- |
| Year | Proppant Lbs. | Fluids Bbls |
| 2004 | 509,800 | 11,280 |
| 2007 | 805,573 | 1,688 |
| 2010 | 2,336,157 | 40,039 |
| 2013 | 3,243,062 | 64,783 |
(Source: Hartstreet LLC)
Not all of the wells reported proppant and fluid volumes in 2004, but this does provide a general idea of how well design has changed. The 200 Mega-Fracs listed here were drilled and completed over a series of years starting in 2011. Just one well was completed in 2011, but this application increased with time. This covers only the top 200 as there have been 414 wells completed using over 6 million pounds of proppant.
| | |
| --- | --- |
| Year | Mega-Fracs |
| 2011 | 1 |
| 2012 | 9 |
| 2013 | 67 |
| 2014 | 78 |
| 2015 | 55 |
(Source: Hartstreet LLC)
Although it looks like the application decreased in 2015, our data is only through July 14th, 2015. The number is higher if we account for a 12-month period. These 200 wells target three formations.
| | |
| --- | --- |
| Formation | Total Mega-Frac Completions |
| Middle Bakken | 141 |
| Three Forks 1st Bench | 58 |
| Three Forks 2nd Bench | 1 |
(Source: Hartstreet LLC)
Approximately 70% of the wells targeted the Bakken. We are seeing the Three Forks becoming a decent contributor to Mega-Frac production, and even one second bench location.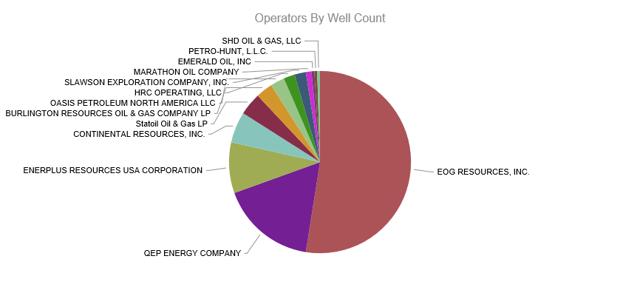 (Source: Welldatabase.com)
EOG Resources has dominated the Mega-Frac market. It was the first operator to focus on creating induced fractures close to the well bore. The greater fracturing required large volumes of sand. EOG's results were much better than the competitors, which pushed other E&Ps to experiment. EOG uses this design in all of its plays. EOG accounts for 105 of the 200 locations. 77 of those wells were completed in Parshall Field. QEP Resources has done 34, mostly in Grail Field. The number of completions by operator is listed below and cumulative production.
| | | | | |
| --- | --- | --- | --- | --- |
| Name | Well Count | CUM Gas (MCF) | CUM Oil (BBL) | CUM Water |
| EOG RESOURCES, INC. | 105 | 33,454,540 | 33,713,656 | 20,437,104 |
| QEP ENERGY COMPANY | 34 | 7,983,106 | 6,001,906 | 3,739,813 |
| ENERPLUS RESOURCES USA (NYSE:ERF) | 18 | 5,641,830 | 4,811,002 | 2,634,982 |
| CONTINENTAL RESOURCES, INC. | 11 | 2,159,918 | 1,454,245 | 1,455,982 |
| STATOIL (NYSE:STO) | 8 | 792,630 | 573,522 | 668,264 |
| CONOCOPHILLIPS (NYSE:COP) | 6 | 1,198,379 | 738,469 | 464,093 |
| OASIS PETROLEUM NORTH AMERICA (NYSE:OAS) | 5 | 529,747 | 528,445 | 623,213 |
| HALCON (NYSE:HK) | 4 | 798,915 | 830,383 | 855,305 |
| SLAWSON EXPLORATION COMPANY, INC. | 4 | 494,322 | 539,137 | 505,043 |
| MARATHON OIL COMPANY (NYSE:MRO) | 2 | 396,614 | 337,028 | 59,878 |
| EMERALD OIL, INC | 1 | 123,356 | 90,645 | 212,713 |
| PETRO-HUNT, L.L.C. | 1 | 413,748 | 213,866 | 80,788 |
| SHD OIL & GAS, LLC | 1 | 233,424 | 296,292 | 461,101 |
(Source: Welldatabase.com)
These wells were are completed at different time, so dividing the production by well number may not provide adequate well performance data. Mega-Frac well designs, as seen in the map at the beginning of the article, are focused in and around a small area.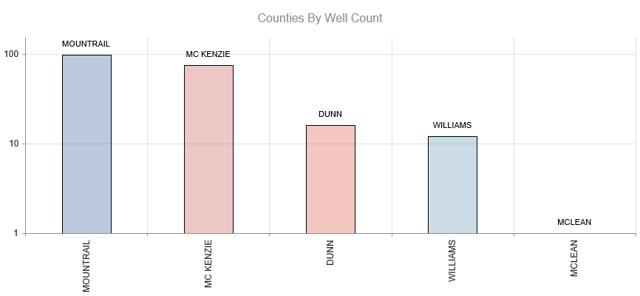 (Source: Welldatabase.com)
Much of the wells in Mountrail are EOG in Parshall Field, with much of the newer wells done in NE McKenzie County. This has become the new Bakken core, with much of Parshall and Sanish Field drilled. NE McKenzie County also has additional upside from the Three Forks. Both the middle Bakken and upper Three Forks outperform here.
| | | | | |
| --- | --- | --- | --- | --- |
| Name | Well Count | CUM Gas | CUM Oil | CUM Water |
| MOUNTRAIL | 97 | 21,597,052 | 27,773,912 | 16,379,053 |
| MC KENZIE | 74 | 28,425,196 | 17,318,760 | 8,880,369 |
| DUNN | 16 | 2,386,292 | 2,920,449 | 2,948,348 |
| WILLIAMS | 12 | 1,578,565 | 1,819,183 | 3,529,408 |
| MCLEAN | 1 | 233,424 | 296,292 | 461,101 |
(Source: Welldatabase.com)
Mountrail has produced more oil and less natural gas than McKenzie, but this is due to resource makeup of the geology. Many of the Mountrail wells were completed in 2013, so it has produced for a greater period of time than those in McKenzie. This provides the allusion that Mountrail has had better producing wells. Initial production is the best way to rate a well, not cumulative when there is different date of first production. This provides production by county where Mega-Fracs were located.
| | | | | |
| --- | --- | --- | --- | --- |
| Year | Total Wells | +6 Million Lbs. | +8 Million Lbs. | % Mega-Fracs |
| 2015 | 637 | 104 | 53 | 8.3 |
| 2014 | 1935 | 207 | 103 | 5.3 |
| 2013 | 2013 | 87 | 68 | 3.4 |
| 2012 | 1820 | 12 | 9 | 0.4 |
| 2011 | 1263 | 4 | 1 | 0.08 |
| 2010 | 780 | 1 | 0 | 0.0 |
(Source: Hartstreet LLC)
Fewer wells are being drilled in North Dakota, but the percentage of wells using more than 8 million pounds of proppant are on the rise. This increase has been seen since 2010. The increase in these wells is also due to longer laterals. That increase is slowing as most operators stick with 9,000 to 10,000 foot laterals. The longer the lateral the more feet of shale that will need proppant, so volumes per foot also aids in figuring the well design.
In summary, we continue to see increases in the number of Mega-Fracs completed in North Dakota. The data provided in this article is through mid-2015. A year has passed since, and many operators have deployed this method to a larger extent. For 2016, operators have moved to exclusively using or increasing the number of enhanced completions. 8.3% of wells were Mega-Fracs for the first half of the year, 16.3% used over 6 million pounds of proppant. Wells using over 8 million pounds in 1H15 were used 46% more than 2014 and 59% more than 2013. Proppant volumes are increasing rapidly. From 2010 to 2015 usage almost doubled. From 2013 to 2015, operators used over 1 million lbs. more per well. Looking at the top 200 North Dakota wells with respect to sand volumes, these wells are mainly in core areas. Approximately 70% of these 200 wells targeted the middle Bakken, and only one well in the second bench of the Three Forks. Operators seem more interested in using a more expensive well design in its best interval. Some of this is due to highgrading, but Mega-Fracs have improved production more on a percentage basis, than lower pressured areas. Lower oil prices have pushed operators to improve well designs as payback times were pushed farther down the road. Operators have shown significant improvements in production from offset wells when compared to older designs. In upcoming articles, I will cover these production improvements and how it relates to the Mega-Frac completion style.
Disclosure: I am/we are long CLR, EOG, FTK, MRO, SLCA.
I wrote this article myself, and it expresses my own opinions. I am not receiving compensation for it (other than from Seeking Alpha). I have no business relationship with any company whose stock is mentioned in this article.
Additional disclosure: Data for the above article is provided by welldatabase.com. This article is limited to the dissemination of general information pertaining to its advisory services, together with access to additional investment-related information, publications, and links. Accordingly, the publication of articles should not be construed by any consumer and/or prospective client as a solicitation to effect, or attempt to effect transactions in securities, or the rendering of personalized investment advice for compensation, over the internet. This information is provided for guidance and information purposes only. This information is not intended to provide investment, tax, or legal advice. The information contained herein has been compiled from sources deemed reliable and it is accurate to the best of our knowledge and belief. However, I cannot guarantee its accuracy, completeness, and validity and cannot be held liable for any errors or omissions. All information contained herein should be independently verified and confirmed. Hartstreet LLC does not accept any liability for any loss or damage whatsoever caused in reliance upon such information. Readers are advised that the material contained herein should be used solely for informational purposes. Information presented is for educational purposes only and does not intend to make an offer or solicitation for the sale or purchase of any specific securities, investments, or investment strategies. Investments involve risk and unless otherwise stated, are not guaranteed. Be sure to first consult with a qualified financial adviser and/or tax professional before implementing any strategy discussed herein.
Editor's Note: This article covers one or more stocks trading at less than $1 per share and/or with less than a $100 million market cap. Please be aware of the risks associated with these stocks.