The current earnings season has been a tough one for most of the oil and gas producers, including almost all oil majors who posted disappointing quarterly results as cost cutting efforts failed to offset the impact of persistent weakness in oil and gas prices. But Devon Energy (NYSE:DVN), one of the leading independent oil and gas producers, has come out looking much better following its latest quarterly results.
During the three months ended June, Devon Energy produced 644,000 barrels of oil equivalent per day (boepd), a drop of 4.5% from a year earlier. But production from core US and heavy oil assets was largely flat from last year at 545,000 boepd, exceeding the mid-point of the company's guidance by 6,000 boepd. Meanwhile, the realized price for oil, NGL and natural gas averaged $17.97 per barrel of oil equivalent in the second quarter, after including the impact of hedges, down from $33.69 a year earlier. Following lower production and prices, revenues from sale of hydrocarbons fell 31.6% from last year to $1.09 billion. Its midstream arm, with its MLP EnLink Midstream(ENLK, ENLC), contributed $1.54 billion to revenues, down from $2.1 billion last year. Total revenues fell 26.7% to $2.49 billion.
However, Devon Energy also did an impressive job of cutting down costs, with a 48.6% drop in total operating expenses to $3.98 billion. The company's lease operating expenses, the primary field-level cost, came in at $416 million, a drop of 26% from a year earlier and 6% below the low end of the company's guidance. G&A costs totaled $147 million, down 31% from last year. Lower depreciation and impairment charges also helped.
The total operating expenses, though, were still higher than the revenues. Consequently, Devon Energy ended the quarter with a loss of $1.5 billion, but that's considerably smaller than last year's loss of $7.75 billion. More importantly though, the loss was driven by one-time items, particularly the $1.5 billion impairment charge. Excluding those, the company turned a profit of $33 million, or $0.06 per share. That blew past analysts' estimates who were expecting a loss of $0.19 per share, as per data from Thomson Reuters.
That's in stark contrast to what we've seen with the oil majors. Most of the world's leading oil producers, such as Exxon Mobil (NYSE:XOM), Chevron (NYSE:CVX), Royal Dutch Shell (RDS.A, RDS.B) and BP (NYSE:BP), have all reported their quarterly reports and almost all failed to meet analysts' estimates. In fact, the French oil and gas producer Total (NYSE:TOT) was the only oil major whose earnings came in better than Wall Street's estimates, though they were also down 30% from a year earlier.
Moreover, in the second quarter, Devon Energy has also addressed its other major problem - its poor financial health. At the end of last year, Devon Energy carried total debt (ex. non-recourse EnLink obligations) of slightly more than $10 billion, but it promised to reduce that by selling up to $3 billion of assets this year. At the end of the second quarter, the company has managed to reduce debt almost 7% to $9.34 billion. And it has exceeded the divestiture target by announcing sales of $3.2 billion. As sales get closed by the end of the year, the debt levels should meaningfully decline.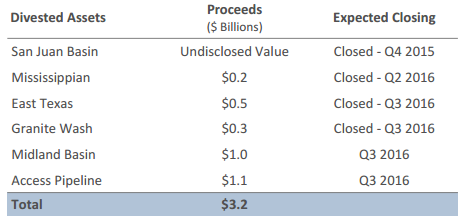 All in all, it was a solid quarterly performance. Devon Energy has emerged looking much better. The management has done a commendable job of curtailing costs, thereby pushing the company back to profitability, despite the fact that realized prices dropped almost 47% from a year earlier. This proves that the company can generate a decent profit in low oil price environment and without any significant support from hedges. Moreover, we can now say with a fair amount of certainty that Devon Energy will end the current year with lower levels of debt as compared to last year.
Note from author: Thank you for reading. If you like this article, then please follow me by clicking the "Follow" link at the top of this page.
Disclosure: I/we have no positions in any stocks mentioned, and no plans to initiate any positions within the next 72 hours.
I wrote this article myself, and it expresses my own opinions. I am not receiving compensation for it (other than from Seeking Alpha). I have no business relationship with any company whose stock is mentioned in this article.
Additional disclosure: I own shares of funds that may hold a long position in XOM, CVX, RDSA, RDSB