Source: Ford Motor Company
Since the darkest days of the financial crisis automakers such as Ford (NYSE:F) and GM (NYSE:GM) haven't fared well, badly underperforming the broader market.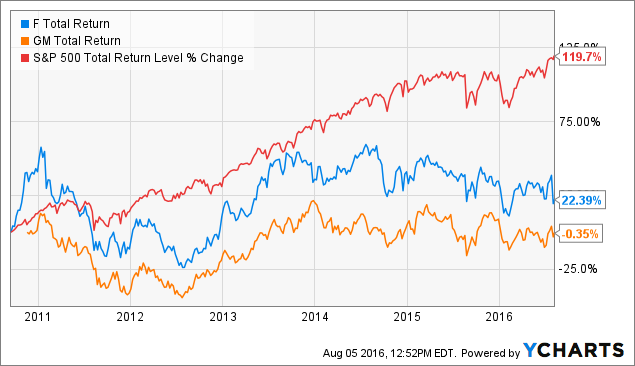 F Total Return Price data by YCharts
What's more, disappointing second quarter earnings have seen Ford shares sell off sharply, despite some of the cheapest valuations in the company's history.
Find out four reasons why Ford bears are wrong about the company's future. More importantly, find out why dividend investors should take advantage of Ford's strong long-term potential as one of the best dividend growth stories of the coming years.
Q2 earnings weren't as bad as they initially appear
| | | | | | | |
| --- | --- | --- | --- | --- | --- | --- |
| Metric | Q2 2016 | Q2 2015 | YoY Change | First Half 2016 | First Half 2015 | YoY Change |
| Revenue | $39.5 Billion | $37.3 Billion | 5.9% | $72.2 Billion | $67.3 Billion | 7.3% |
| Net Income | $1.972 Billion | $2.161 Billion | -8.7% | $4.427 Billion | $3.315 Billion | 33.5% |
| EPS | $0.49 | $0.54 | -9.3% | $1.11 | $0.83 | 33.7% |
| Free Cash Flow | $6.0 Billion | $3.5 Billion | 73.9% | $8.6 Billion | $4.1 Billion | 111.0% |
| FCF/Share | $1.51 | $0.87 | 73.6% | $2.16 | $1.02 | 111.4% |
| Dividend | $0.15 | $0.15 | 0% | $0.55 | $0.30 | 83.3% |
| FCF Payout Ratio | 9.9% | 17.2% | -42.4% | 25.5% | 29.4% | -13.3% |
As you can see, Ford's earnings fell despite solid top line growth. That was a result of a 0.7% decrease in operating margins, a result of weakness in Ford's South America, Middle East, and Asian divisions. However, the negative comps in the Middle East were mainly due to the strong US dollar, while in Asia margins fell due to investment into the retooling of Ford's Chongqing factory to allow for expanded production.
In fact, despite the market's violent reaction to Ford's results, the company's results were actually exceptionally good, especially where it matters most. For example, from a pre-tax profit perspective this was Ford's second best quarter ever. Better still, the company reported its highest ever free cash flow, which drove its dividend payout ratio to an all time low, despite last quarter's $0.25 special dividend.
Ford's long-term turnaround continues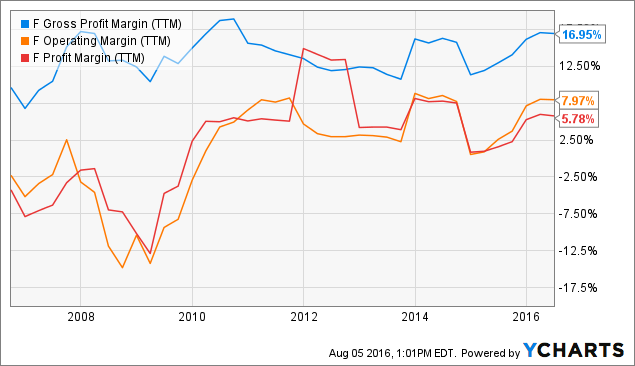 F Gross Profit Margin (NYSE:TTM) data by YCharts
As long term investors we can't forget that any single quarter, or even a single year's results don't matter nearly as much as the long-term trend in a company's margins and cash flows.
| | | | |
| --- | --- | --- | --- |
| Metric | TTM | 2006 | 10 Year Change |
| Revenue | $155.6 Billion | $160.1 Billion | -2.8% |
| Gross Margin | 16.2% | 7.0% | 131.4% |
| Operating Margin | 6.5% | -4.9% | NA |
| Net Margin | 5.45% | -7.88% | NA |
| Return on Assets | 3.72% | -4.6% | NA |
| Return on Equity | 29.52% | -265.8% | NA |
| Return on Invested Capital | 6.74% | -3.63% | NA |
| Free Cash Flow/Share | $3.38 | $1.47 | 129.9% |
As you can see, over the past decade Ford's management has made immense strides in becoming a much leaner company. Thanks to renegotiated contracts with the UAW, as well as cost cutting measures such as an increased emphasis on the use of fewer, global automotive platforms, Ford's profitability has improved immensely. In fact, in 2016 99% of Ford's global vehicle sales will come from nine core platforms, as opposed to 27 in 2007. Going forward management thinks it can reduce that platform counting to just eight.
This should further allow the company to benefit from increased economies of scale that result in further improving margins and free cash flow.
All these cost cutting measures, and focus on improved efficiency mean that the thing that dividend investors need to focus on most, free cash flow per share, has grown at an impressive 8.7% CAGR since 2006.
With Ford continuing to gain market share in Asia, the world's fastest growing auto market, I'm confident that not only will Ford hit new top line records over the coming years, but it will convert that revenue into record amounts of free cash flow with which to reward income investors with ongoing, sustainable dividend growth.
After all, Ford just announced record sales in China, with July, and year-to-date vehicle volumes up 15%, and 6%, respectfully, thanks to successful joint ventures with partners Changan, and Jiangling Motor Corporation.
Dividend investors are facing a potentially glorious future
| | | | | |
| --- | --- | --- | --- | --- |
| Company | Yield | TTM FCF Payout Ratio | 10 Year Projected Dividend Growth | 10 Year Projected Total Return |
| Ford | 5.0% | 25.0% | 8.3% | 13.3% |
| GM | 5.0% | 84.2% | 10.3% | 15.3% |
| S&P 500 | 2.0% | 39.1% | 5.8% | 9.1% |
Not only is Ford offering an extremely generous yield right now, but more importantly, that dividend is extremely secure thanks to Ford's massive free cash flows. And since a good rule of thumb for estimating long-term total returns is yield + dividend growth, if Ford can hit analyst dividend growth targets, then investors buying shares today should have little trouble beating the market's historical 9.1% CAGR since 1871.
Now I'll be the first to say that no one should ever take long-term Wall Street analyst forecasts as gospel. However, there is good reason to think that not only can Ford achieve that payout growth target, but perhaps even beat the market's expectations.
For example, right now Ford's global sales are being negatively affected by slowing global growth, specifically China, Brazil, and other commodity dependent, developing economies. However, once the global economy recovers Ford's ongoing cost cutting efforts should result in record margins, combined with record sales to generate truly massive free cash flow growth.
My dividend model assumes that over the next decade Ford's FCF/share grows at 8%, lower than in the past decade, a period of time that involved the worst economic shock since the great depression.
Assuming a 50% FCF payout ratio in 2025 Ford's dividend could hit $3.65. That would represent dividend growth of 19.8% CAGR, and potentially result in totals returns over the next decade of close to 25%. In effect, if Ford can continue its turnaround and raise its margins to those of rivals such as GM, while achieving very conservative and realistic top line growth, it could very well become one of the best dividend growth investments of the next decade.
| | | | | | |
| --- | --- | --- | --- | --- | --- |
| Company | Operating Margin | Net Margin | ROA | ROE | Q2 ROIC |
| Ford | 6.5% | 5.5% | 3.7% | 29.5% | 12.98% |
| GM | 5.0% | 7.9% | 6.3% | 31.6% | 9.98% |
| Industry Average | 7.2% | 5.3% | 3.9% | 14.9% | NA |
Shares are insanely underpriced
| | | | | |
| --- | --- | --- | --- | --- |
| PE | Historical PE | P/Operating Cash Flow | Historic P/OCF | Average Historical Discount |
| 6.4 | 11.4 | 4.0 | 5.0 | 32.0% |
Ever since the financial crisis, which Ford survived without the need for a government bailout, shares of the automaker have been trading cheaply. However, thanks to the recent sell off, today Ford shares are trading at a substantial discount to its already low historical norms.
| | | |
| --- | --- | --- |
| Morningstar Fair Value Estimate | Current Share Price | Discount To Fair Value |
| $15 | $12.08 | 19.5% |
What's more, according to Morningstar analyst David Whiston, Ford is trading at around a 20% discount to its five year intrinsic value. Now, don't get me wrong, normally I don't give any credence to analyst price targets. After all, over any one to two year period forecasting a company's share price is a pointless fool's errand.
However, thanks to a conservative, fundamentals focused, two stage discounted cash flow model, I consider Morningstar's fair value estimates the gold standard for determining a company's long-term intrinsic value.
In this case, Mr. Whiston is anticipating continued weakness in Ford's US division for the rest of the year, thanks to retooling for the company's upcoming redesigned super duty truck series hurting truck inventory levels.
Meanwhile, with management hinting that growth in China and the US is likely to be flat over the next few quarters, the medium-term outlook for Ford isn't great. However, thanks to the company's revitalized portfolio of quality cars that people actually want to buy, vastly decreased incentives should help preserve the company's improved margins, and free cash flow.
Longer-term Morningstar expects Ford's revenue growth to be sub 1%, due to its modeling of US vehicle sales falling from 21.5 million in 2016 to 19.9 million in 2020. Personally I think that forecast is extremely conservative, and should give Ford a very low bar to clear in order to provide better than expected growth in shareholder value.
Risks to consider
There are three main risks current and prospective Ford investors need to be aware of. First, and most importantly, is that the automotive industry is one in which it's very hard to generate, or maintain, a durable competitive advantage, or moat.
In other words, this is a monstrously competitive, commoditized business. And while Ford has done a good job of growing vehicle sales in emerging markets over the years, up and coming competition from Chinese, and even Indian manufacturers could make its quest to grow, or even maintain market share in these key growth markets, very challenging. It's even possible that Chinese, and Indian automakers might be able to break into the North American market, Ford's cash cow and profit center.
Second, is that the continued strong dollar could continue to hurt Ford's profits in the short to medium-term. Brexit's negative effects on the British economy have already resulted in an interest rate cut, and new round of QE from the Bank of England. Meanwhile, the US economy remains by far the strongest of any developed nation's.
In fact, on August 5th, the last jobs report shows 255,000 jobs created in July. In addition, in addition, June and May's figures were revised up 18,000 meaning that the average rate of job creation over the last three months was 190,000.

Source: Bureau of Labor Statistics
More importantly, as we approach full employment wages are starting to rise, with July's year-over-year average wage rising 2.6%. This was better than last month's 2.5% figure, and higher than inflation.
All of which means that further rate hikes are potentially once more on the table. Rising US interest rates, in the face of zero or negative rates in Europe, Japan, and the UK, would only cause the dollar to further strengthen. Which in turn would likely hurt Ford's overseas sales and profits.
Finally, my investment thesis is predicated on Ford, once it finishes fully funding its pension fund, driving strong consistent dividend growth. Part of that thesis involves share buybacks to take advantage of its ludicrously undervalued share price.
This would further increase the growth rate in FCF/share, keep the payout ratio low, and potentially allow a decade or two of sustainable, double digit dividend growth. However, as seen with the first quarter's special dividend, management may want to stay overly conservative with its shareholder capital return program.
Specifically, because the auto industry is so cyclical, in order to keep its dividend sustainable during a recession, Ford may want to maintain a large war chest of cash, and a very low FCF payout ratio. As someone who plans to buy Ford shares in the next few weeks, primarily for the current attractive yield, I applaud such conservative, dividend protecting principles.
However, if management becomes too conservative then it may choose to not grow the regular dividend at all in the future, but rather use special dividends, which are far less predictable, to turn Ford into a variable payout dividend stock. While such a decision wouldn't necessarily make me recommend not buying or holding Ford shares, it would still weaken my hyper-bullish dividend growth investment thesis.
Bottom line: Ford's come a long way, and has further room for improvement, which should lead to a very bright dividend future.
Don't get me wrong - I'm not arguing that Ford, or any automaker, doesn't deserve some kind of valuation discount due to the highly cyclical nature of the industry. That being said, at present Ford's shares are simply unjustifiably cheap, mainly due to Wall Street's short-sighted obsession with likely weak results over the next year or two.
With a bank vault like dividend, that should be able to grow quickly, or at the very least receive periodic special dividend boosts, I highly recommend adding Ford to one's diversified dividend portfolio at today's prices.
Disclosure: I/we have no positions in any stocks mentioned, and no plans to initiate any positions within the next 72 hours.
I wrote this article myself, and it expresses my own opinions. I am not receiving compensation for it (other than from Seeking Alpha). I have no business relationship with any company whose stock is mentioned in this article.