Fair Isaac (NYSE:FICO) reported a solid FQ3 just over a week ago and upped its full-year guidance for GAAP net income and GAAP EPS. The updated guidance is a bit on the conservative side as it is substantially below the company's run rate for FY16. While there is a significant part of the business that is transactional and thus difficult to forecast accurately, the increase in recurring revenues provides some stability to the top line; with that stated, I see FICO topping sales guidance by $24 million and beating on the net income number by $17 million. That in and of itself should lead to a pop in the share price after the company reports, but FY17 guidance will be a significant contributing factor to post-report share price performance. If management guides above 3-4% sales growth for FY17, the share price could see a nice rally.
FICO provides consumers with access to their credit score, which is the number taken into consideration by 90% of lenders; the Scores business is growing at a double-digit pace as financial institutions partner with FICO to provide consumers with easier access to their credit score and the report detailing how the score is derived. FICO is also a provider of software, including FICO Decision Management Suite and FICO Enterprise Fraud Management. Applications represents just over 60% of the business, with Scores representing 25% and the remainder coming from the Tools business.
As we head into FY17, the Scores business is expected to continue to be a growth driver with the addition of clients such as Bank of America (NYSE:BAC). The Applications business is expected to continue to be a steady grower, growing in the mid-single digits; Tools, which is highlighted by DMS, is showing positive signs as the uptake of the Decision Management Suite has been solid. There are a couple areas of potential upside surprises in FY17; FICO XD, which provides credit scores to consumers who were previously without a credit score, could see significant uptake, and the Affinity business, which was expected to see uptake in FY16, could close significant deals in FY17.
Given the improvement in profitability during FY16 and a FY16 forward GAAP P/E of about 32, I think that FICO could see 16% upside from here to the end of FY17. The value of FICO is 34x FY17 GAAP EPS of $4.40 or $149.60, a slight premium to the Nasdaq (33.8x). There should be limited downside risk on the back of relatively low multiplies and solid revenue growth.
Steady Growth And Improving Profits
FICO is a steady grower with improving profitability. During FY2016, FICO lowered its cost of revenue as a percentage of total revenue by decreasing the use of third-party services and by winning business in higher margin software. Over the next five quarters, I expect FICO to continue to grow because of FICO Open Access, Decision Management Suite (DMS), and fraud and compliance solutions sales.

Courtesy of Morningstar and Bottom Up Investing
FICO Open Access is a new business model for the company and it provides individuals with access to their FICO score and a report detailing how the score is derived. For example, you can go onto the Discover website and obtain your FICO score as well as a report about your score. FICO the company generates revenue from these scores; that revenue is a key contributor to the growth of revenue from the transactional and maintenance category. Additionally, FICO is adding score vendors, such as Bank of America, which will be accretive to revenues going forward.
For FY2016, I'm anticipating 6% total revenue growth, with a 12% increase in gross profit as cost of goods sold declines. Improved profitability is expected to result in a 34% increase in operating income and a 35% increase in net income with EPS of $3.90. The total revenue and net income forecasts are above management's guidance as it appears that leadership is guiding conservatively. For FY2017, I'm looking for 4% total revenue growth, with 6% net income growth and EPS of $4.40. The recent authorization of a $250M share repurchase program should augment FY2017 EPS.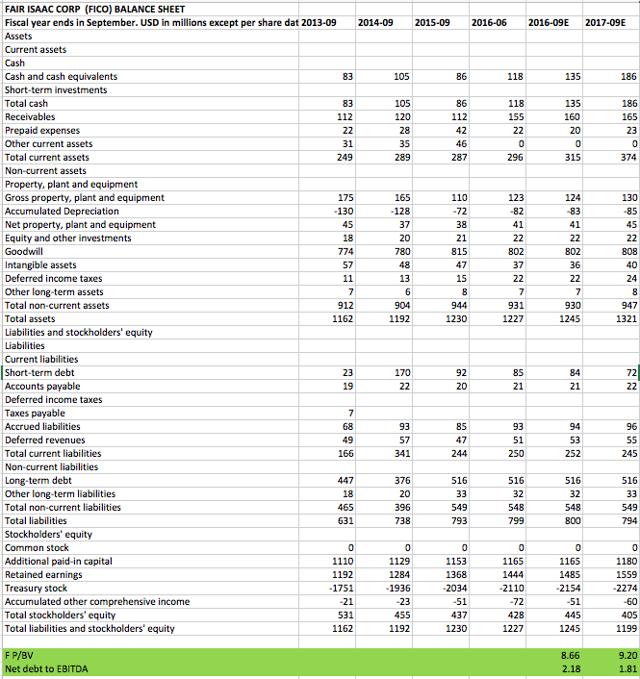 Courtesy of Morningstar and Bottom Up Investing
Turning to the balance sheet, the two items that are noteworthy are management's willingness to make acquisitions and the level of debt. Goodwill, which is the purchase price of a company over its net asset value, was about two-thirds of total assets at the end of fiscal Q3; cash, accounts receivable and goodwill are the major components of total assets. In terms of debt, the company has restrictive debt covenants that guide to a net debt to EBITDA ratio below 3; I'm expecting the ratio to be 2.18 at the end of the FY and 1.81 at the end of FY17.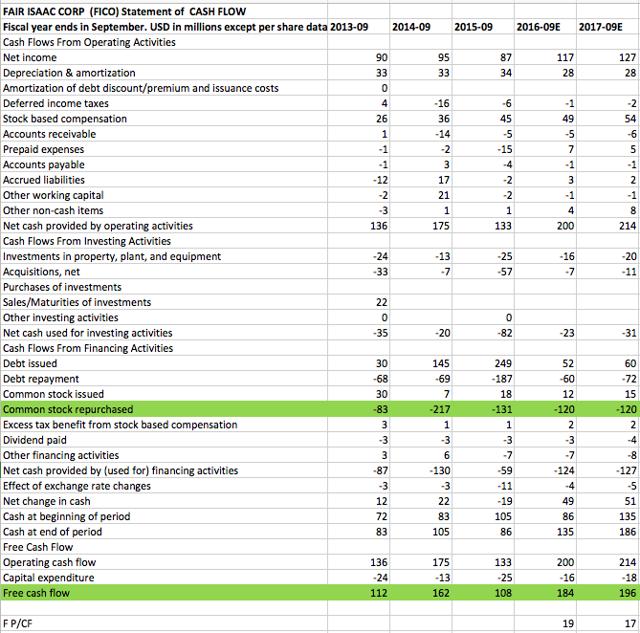 Courtesy of Morningstar and Bottom Up Investing
The cash flow statement tells a story of solid cash flow generated from operations and relatively minimal usage of cash for capital expenditures. With that stated, the company uses its cash flow from operations to make smaller acquisitions of technology that improve its offerings. Management may use some of the cash flow from operations to pay down debt in the coming fiscal year. The other noteworthy item is the $250M authorization for share repurchases.
Valuation
I see 16% upside to the share price based on my forecast for FY2017 EPS. With the Nasdaq trading at 33x trailing EPS and the Russell 2000 trading at 42x EPS, the conservative value of FICO's shares is 34x EPS, a slight premium to the Nasdaq. The forecasted EPS is partly based on the assumption that management continues the decreased usage of outside service providers with the corresponding impact of improved profitability. EPS is forecasted to increase 13% in FY2017.

Courtesy of Bottom Up Investing
Additionally, while a significant amount of good news is already priced, I think the continued success of FICO Open Access has yet to be priced by the market. Additionally, harder to model new opportunities such as FICO XD and Affinity could provide significant upside to sales and earnings and consequently the market value of the company. Overall, there is substantial upside potential and limited downside risk.
Disclosure: I/we have no positions in any stocks mentioned, and no plans to initiate any positions within the next 72 hours.
I wrote this article myself, and it expresses my own opinions. I am not receiving compensation for it (other than from Seeking Alpha). I have no business relationship with any company whose stock is mentioned in this article.