Late Friday after the close of trading, Tesla Motors (NASDAQ:TSLA) filed its second quarter 10-Q statement with the SEC. After a terrible quarter in terms of performance, and many issues with how business is faring, I hoped this document would answer some key questions. I did find some interesting nuggets this time around, but also failed to get an idea of one item investors were looking for most. Here are my key takeaways:
Cash to drop significantly in Q3:
During the second quarter, Tesla's cash balance increased quite a bit to more than $3.25 billion. A lot of this came from the huge stock sale, while Model 3 deposits and a draw against the ABL helped too. In the 10-Q filing, it states that Tesla has repaid all $678 million of the outstanding ABL balance, so that will reduce cash quite a bit. The company also noted that it received conversion notices related to its 2018 debt. Tesla has received notices for principal value of $411 million, which it expects to be paid off in Q3.
Those two items in full represent roughly 1/3 of the company's cash on hand, and don't forget that capital expenditures are expected to be nearly $1.75 billion for the final half of the year. That would put the cash balance at just a few hundred million, so unless there is some positive cash flow coming, either the ABL will be drawn on again or we'll get another equity offering.
Share count soared and has plenty of room to grow:
If you are an investor that doesn't like dilution, then you need to stay clear of Tesla. With all of the capital raised as well as tons of share based compensation, the chart below shows how the outstanding share count is up more than 40% in the past four years.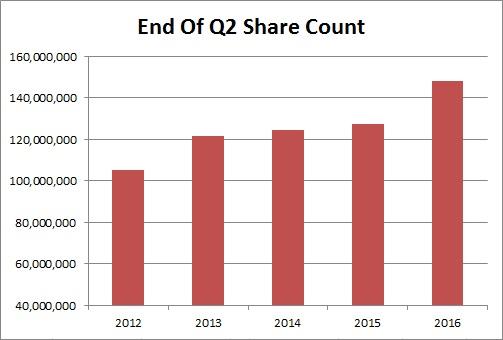 (Source: Tesla quarterly filings)
The end of Q2 share count was over 148 million, but that doesn't even begin to tell the whole story. The quarterly share count used for earnings per share was about 140 million, but that excluded almost 15 million shares because they were anti-dilutive. Additionally, if the SolarCity (SCTY) deal goes through, that will add more than 10 million more shares to the count. If there is another equity raise before the Model 3 launch, it is quite possible that Tesla's outstanding share count could be 175 million by the end of 2017.
Further cutback of expansion:
Back in February, Tesla's Q4 investor letter stated that the company was looking to open about 80 retail locations and service centers. Those plans have been dramatically reduced, as detailed in the Q1 10-Q filing and now the second quarter filing from above:
Q1: In particular, we remain on plan to open more than 70 additional retail and service locations in 2016, to bring our total to nearly 300 locations.

Q2: In particular, we are on plan to open more than 60 additional retail and service locations in 2016, to bring our total to nearly 280 locations worldwide.
Yes, the math looks quite funny there, something we've come used to getting from Tesla, as we saw with Q2 margins. But the real question here is why is the company cutting back its expansion plans so much? I find this really odd since in the quarterly investor letter, management went out of its ways to say, "We are also accelerating store openings and plan to add a new retail location every four days on average during the remainder of Q3 and through Q4." Cutting back on retail and service location expansion seems odd for a company looking to accelerate growth, not slow it down.
Model 3 reservations are...?
Many believe the key to Tesla's future is the Model 3, expected to be launched in late 2017. The company received hundreds of thousands of deposits for the vehicle early on, and we got updates from Elon Musk on Twitter and company executives almost daily for a time. The latest update was 373,000 reservations as of mid-May.
As explained in the investor letter and quarterly filing, the customer deposit number on Tesla's balance sheet soared during Q2, primarily due to Model 3 deposits. I recently wrote that this number doesn't tell the whole story, and we need an official update from the company. Unfortunately, I couldn't find a number in the 10-Q filing, which will only add to the speculation that the number is declining. If the number was rising, you would have expected Elon or others to brag about it, but that hasn't been the case.
Final thoughts:
There were some very interesting details released in Tesla's 10-Q filing. The company repaid its ABL after quarter's end and will be repaying some of its 2018 notes. The share count rose as expected, and will continue to soar due to share based compensation and if the SolarCity deal is completed. I'm curious to know why management did not disclose Model 3 reservations, and why plans for retail and service center expansion have been reduced again. Another quarter is in the books for Tesla, and as usual, it seems as if we have more questions than answers.
Disclosure: I/we have no positions in any stocks mentioned, and no plans to initiate any positions within the next 72 hours.
I wrote this article myself, and it expresses my own opinions. I am not receiving compensation for it (other than from Seeking Alpha). I have no business relationship with any company whose stock is mentioned in this article.
Additional disclosure: Investors are always reminded that before making any investment, you should do your own proper due diligence on any name directly or indirectly mentioned in this article. Investors should also consider seeking advice from a broker or financial adviser before making any investment decisions. Any material in this article should be considered general information, and not relied on as a formal investment recommendation.