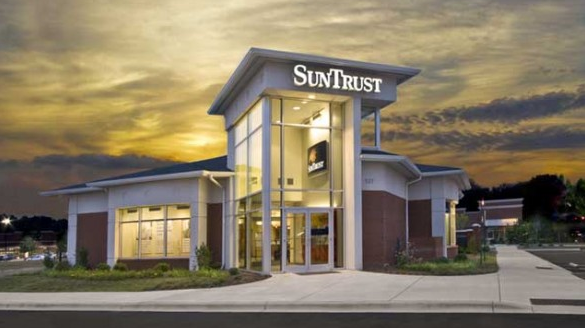 Regional bank SunTrust (NYSE:STI) is one that I've been rather neutral on in the past. The company's capital returns have been good in the past- including its dividend - but on a valuation basis, it has always appeared expensive to me. Indeed, the stock has bounced around a lot in the past couple of years but continues to be range bound as new highs have proven elusive. The company's Q2 results were taken in stride by investors but near its highs, what is going to get STI to finally push higher and break out?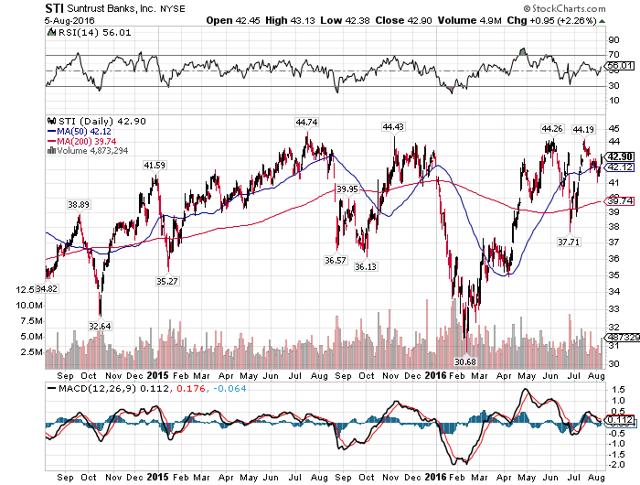 The interesting thing about STI's rise in the past couple of months is that it has produced what I'd characterize as also-ran results of late. There is nothing wrong with STI's business but it isn't special, either. But the price action in the stock would make you think STI is killing it of late. Q2 was actually quite strong in some ways, however, as STI produced some terrific growth numbers.
Revenue was up 6% sequentially and 7% over last year's Q2 in a show of strength that many financials these days would be envious of. Noninterest income was the big gainer as the mortgage business is very strong for STI these days and a sale leaseback transaction produced a sizable gain as well. While that's obviously not sustainable, the gains in the mortgage business are and STI's fee business is performing admirably.
NIM was flat around 3% (again) as STI has had a very difficult time squeezing yield from its portfolio for a long time. Of course, STI is not alone in this pursuit but it is nonetheless something I feel the need to point out. That sort of NIM isn't exactly earth-shattering and while there are worse, there are much better as well. Let's just say it is a good thing the fee business was so strong in Q1 because STI's NIM profile has been and remains weak. With rates looking like they are going nowhere soon, I expect we'll continue to see weak NIM throughout the remainder of the year. Indeed, management guided for something to that effect on the call so I'm not the only one.
Noninterest expense was controlled, up only 2% sequentially and 1% Y/Y as STI - like many others - has been in cost control mode for quite some time. That allowed STI's efficiency ratio to move down to 60.6% in Q2 and while there is still some room to run there, STI is approaching what counts as a high efficiency bank these days. I suspect that whatever EPS growth STI gets in the coming years will be heavily influenced by the movement of this number; it certainly bears watching for that reason.
I mentioned STI's capital returns earlier and they are certainly a big part of this story. STI used to pay a really tremendous dividend prior to the financial crisis but very tough times led to STI slashing its payout along with just about everyone else. But STI has been hard at work rebuilding its dividend and its current $1.04 annual payout is good for about 2.4%. That's not exactly income stock territory but at the rate that STI is raising its payout, it could be some day. This company has always been committed to the dividend and it will be again in the future but for now, it is also spending heavily on the buyback.
STI was approved for $960 million, good for about 4.4% of the float. That is on the lower end of big bank buybacks that came out of the CCAR process and with a total yield of less than 7% for this year, I can't say I'm impressed. I do think STI will be a dividend growth story for some time to come but right now, I have to think its capital returns are far too low to drive people to the stock.
STI is going for 12.2 times this year's earnings, in the upper-middle section of regional bank valuations. I wouldn't say STI is cheap but there are also more expensive banks around to be sure. One thing that would keep me from STI here is the fact that its capital returns are so low relative to some others and that while its revenue growth was very strong in Q2, its NIM is flat and likely going lower for the rest of the year. Efficiency initiatives are working well so that's great but EPS growth is going to be relatively hard to come by at least for next year. Keep in mind STI made $3.58 last year and is only expected to make $3.61 in 2017. That's not great and certainly shouldn't command a mid-to-high valuation.
At 1.26 times tangible book and 12.2 times earnings, STI's valuation implies some level of moderate growth but you just don't get that here. STI is a bit of an average bank with an above average valuation. If it was yielding 3%+ I could understand it but it isn't and that gives me pause. With STI nears its highs it seems due for a pullback to me so I'll steer clear until we can get a better entry price.
Disclosure: I/we have no positions in any stocks mentioned, and no plans to initiate any positions within the next 72 hours.
I wrote this article myself, and it expresses my own opinions. I am not receiving compensation for it (other than from Seeking Alpha). I have no business relationship with any company whose stock is mentioned in this article.