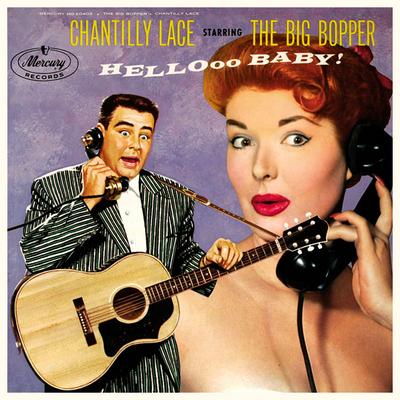 In the 57 years since "The Day the Music Died," the S&P 500 has risen about 3800%
What's not to like about that?
Among those perishing in that February plane crash was "The Big Bopper" whose signature hit song "Chantilly Lace" was telling the world what he liked.
While it may be cute when a child gives you that kind of information, not much good is to come when an adult lets free with those unfiltered thoughts.
It may be even worse when they act upon those thoughts that no one needed to hear in the first place.
The Big Bopper's album cover makes the words of the song even more creepy, but there must have been strains of that admittedly catchy tune playing as investors were awaiting last Friday's Employment Situation Report.
Of course, as we all know, there is nothing creepy at all about being in love with money or letting it know what you especially like about it.
It was pretty obvious what investors wanted and liked when the data was released and seemed to put a nail into the shockingly low number of new jobs reported back in June 2016.
I don't know what the equivalent is to the obligatory "chantilly lace" in the song, but the market definitely decided it was time to put a pretty face on the impending likelihood of an interest rate increase.
At one time reviled and probably misunderstood, now the market appears to understand that in the current economic context, a small rate increase is reflective of the early stages of an economy getting on its feet after many years of listlessness.
We have seen a torrent of confusing data and false starts over the past couple of years, as well as 2 months of wildly diverging employment numbers. Given all of that, not only was it difficult to predict what the latest release would hold, especially after another disappointing GDP, but it was also difficult to predict or gauge the market's reaction.
But now we know what the markets like, at least for now.
What they like heading into a week that begins quarterly earnings reports from national retailers is the sense of certainty about that interest rate increase that had been expected to occur on a serial basis during the course of 2016.
In hindsight, as good as low interest rates have been, and as much as most everyone on the equity side of the equation has liked low rates, most recognized that something bad was obscured by the allure of that chantilly lace.
Sooner or later it's time to grow up and move on and maybe Friday's market response to another solid month of employment data was an embrace of a more mature outlook on things.
We'll never know if The Big Bopper would have found a more mature approach in the pursuit of life's happiness, but it's not too likely that the market will be on an extended pursuit of logic and rational actions, despite Friday's constructive embrace.
Of course, as we do await next Friday's Retail Sales Report, it would be nice to get some confirmation by the retailers themselves, especially in regard to the guidance they are going to provide.
It's one thing to make that creepy call and divulge your likes, but it's an altogether different thing when the one on the other end of the line provides validation.
But it's still hard to imagine how the FOMC goes forward if retail is lagging behind and there's scant evidence of consumer participation, even as employment is growing strongly.
Next week, aside from those retail earnings and retail sales data, is going to be a quiet week on the economic front. In fact, not a single Federal Reserve Governor is scheduled to reveal what they like and we will all be spared of those inner thoughts.
That's something that we could all like. Those are among the thoughts that should be kept to one's self or solely in the company of consenting adults, who may still have to be prepared for what the chantilly lace has been hiding.
As usual, the week's potential stock selections are classified as being in the Traditional, Double Dip Dividend, Momentum or "PEE" categories.
With the exception of considering adding some iPath S&P 500 VIX Short Term Futures (VXX), as a purely speculative trade, or even longer term holding, this week is one in which I think some quintessentially American brand names can strike gold without having to risk exposure to Zika or street crime.
Among the names that I might like to buy or add to existing positions are Coach (COH), General Motors (GM) and Starbucks (SBUX).
Coach reports earnings this week, as does its competitor for the hearts of investors, the non-dividend paying Michael Kors (KORS). I recently sold calls on a longstanding lot of Coach shares. While they aren't underwater, they're much too close to being so after having been treading water for far too long.
Following the old axiom of "buy high and sell low," I bought the existing lot at too high of a price and have held it for more than 2 years. At the time of the purchase, the share price was actually the lowest I had ever paid and so it seemed to be a bargain.
Funny thing about bargains.
The only thing that has made it palatable have been the dividends and the other 19 times I've owned shares during a 4 year period.
I often like to sell puts before earnings, as Coach does have a history of large moves, often beyond what the option market had predicted or before earnings.
This time around, though, I'm thinking of adding more shares and selling calls beyond September's ex-dividend date in anticipation of Coach finally breaking beyond its 2 year highs, as long as the broader market plays along.
Starbucks usually recovers nicely after taking an earnings related hit. It tends to do so when Howard Schultz offers a compelling series of reasons why everyone got things wrong.
This time around, he didn't need to do that as earnings saw neither a strong move lower or higher. It was only on the following week that some analysts expressed ambivalence over near term prospects and Starbucks shares had about a 5% decline.
I wouldn't necessarily buy a cup of Starbucks coffee if it was offered at a 5% discount, but having wanted to own shares again following a long hiatus, that 5% may be enough of an enticement.
As with Coach, I'm thinking of using a longer dated expiration date for the sale of calls, although not so long as to encompass the next ex-dividend date.
Also along with Coach, while there are continuing currency considerations, as long as the broader market stays at current levels or higher, there isn't much reason to expect that Starbucks will do anything less than meet the broader market's performance.
General Motors hasn't had a particularly good month and guidance provided by Ford (F) certainly raises into question that need for the consumer to be in the market for new cars. However, General Motor's performance has still been admirable, given the headwinds.
To a very large degree, that has been the story of the new General Motors under the leadership of Mary Barra.
There has been so much bad news and yet it has been methodically digested and skillfully managed.
That's not to say that General Motors shareholders haven't paid a price, even if only in opportunity costs, but share performance would likely have been far worse in any number of earlier time periods.
As with Coach and Starbucks, my focus is on a longer term option expiration when selling calls. In the General Motors case, there's an attractive dividend to be factored in before the expiration of the September 2016 contract.
Just as with Coach, that dividend has made the holding of my current lot of shares palatable and may provide some justification for considering a new position as a longer term holding, while trying to accumulate dividends, option premiums and some capital gains on the underlying shares.
Finally, just when I thought volatility couldn't possibly get any lower, I recalled some similar lines of thought regarding energy prices.
When you're on the wrong side of the expectation that prices really can't get any lower you also come to the realization that there really is nothing funny about "bargain prices" that turn out not to be bargains, at all.
One of the things that I like about this product, despite the fact that it is definitely not designed for longer term holding, is that it is very easily traded in the options market and offers many opportunities, even if you're wrong about its near term direction or magnitude.
At the current level, the premiums for selling covered calls or put options is really enticing and I'm thinking of doing so. However, I am undecided about thinking about a short term trade or betting that in the longer term there will be some sort of a market correction.
In that case, the sale of a longer term dated, in the money put option, could be a very lucrative trade and serve as some portfolio protection, as well.
The latter has been the predominant way in which I've used this product over the past few years, but I haven't exactly shunned the opportunity to generate short term option income, as well.
A number of weeks ago there was a disconnect between the typical relationship between volatility and the S&P 500, in that volatility fell, even as the broader market did as well.
To many, and in this case, they were correct, that was a harbinger of continued deterioration of the volatility index as markets would be poised to head higher.
I can't begin to understand the mechanism, but sometimes pure observation is a great tool if you pull the chantilly lace from in front of your eyes and take a glimpse at the ugliness of the reality straight ahead.
Traditional Stocks: General Motors, Starbucks
Momentum Stocks: iPath S&P 500 VIX Short Term ETN
Double-Dip Dividend: none
Premiums Enhanced by Earnings: Coach (8/9 AM)
Remember, these are just guidelines for the coming week. The above selections may become actionable - most often coupling a share purchase with call option sales or the sale of covered put contracts - in adjustment to and consideration of market movements. The overriding objective is to create a healthy income stream for the week, with reduction of trading risk.