When I was a sell-side analyst I frequently came across companies trying to implement some sort of restructuring, be it a minor or major one. When I asked management why should I believe the plan would work out, the answer usually went more or less like this: "Look, we have hired this guy from Ambev...". The idea was to bring someone from a widely respected "business school". Not academia, but real life business administration. Ambev (NYSE:ABEV) is the embryo of Anheuser-Busch Inbev (NYSE:BUD), one of the global consumer icons now owned (at least partially) by Jorge Paulo Lemann, Marcel Telles and Beto Sicupira - the "3G guys". See, what recently became widely known globally as "the 3G way", in Brazil is known as "the Ambev way" for ages. A friend of mine who used to work there once told me that employees would cut their own coffee and any other amenities at work if there was a risk they would not meet (or beat) their budgets. Efficiency is deeply entrenched in its culture.
Figure 1: The 3G Way, Represented by Another Consumer Icon Here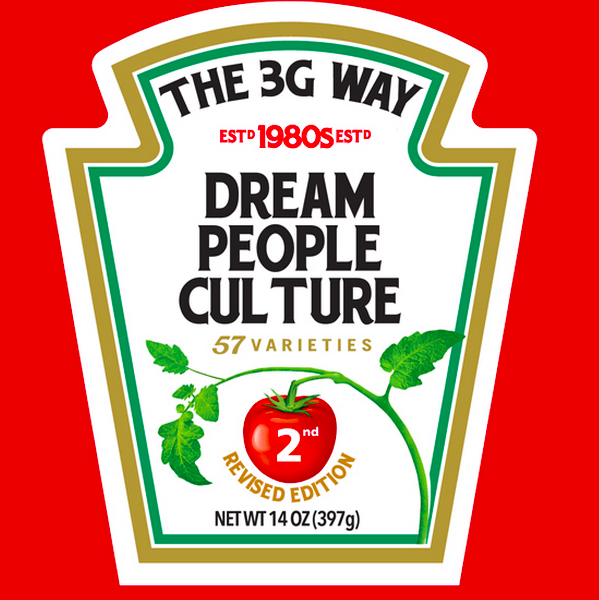 Source: the3gway.com
Now you might ask - OK, cool. But why all this introductory talk if this article is not even about ABEV or BUD? It is because The Coca Cola Company (NYSE:KO) is going through a corporate restructuring, as you all know very well at this point, aiming at boosting its earnings by focusing on branding and the more-profitable concentrate business rather than on bottling. The strategy per se makes sense, and if KO achieves its objectives it could really improve its fundamentals. As I have started digging deeper into KO in my research, the first question that immediately comes to my mind is obviously if the strategy will be successful. The key for a successful turnaround for KO in my view is its corporate culture.
Figure 2: Coca-Cola Co. Restructuring Initiatives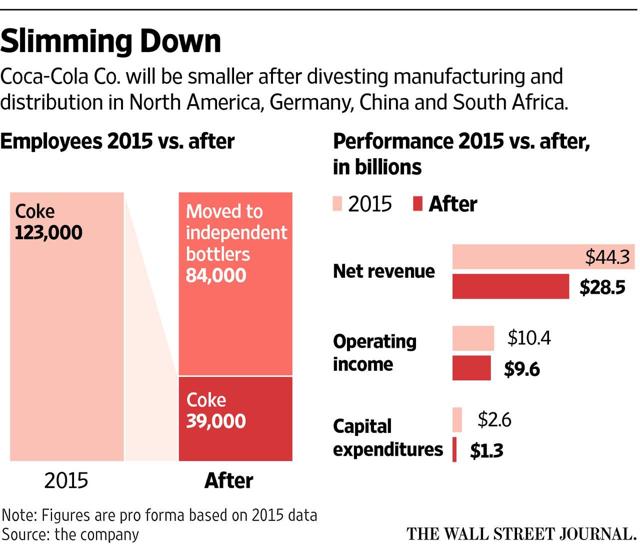 Source: WSJ and company
Why is culture so important? When you talk about efficiency gains, it essentially means doing more with the same or even less resources. Usually, it means slashing jobs and making life less comfortable for those who remain. (Remember the coffee anecdote above? The efforts to deliver results could be much higher than that). Not everybody fits this kind of environment. Usually, people get scared about any sort of transition, especially corporate transitions. But that doesn't mean a turnaround is impossible. But what usually drives those changes? A strong, solidly implemented corporate culture. Your employees must see that you have a good and clear strategy, they must believe the strategy is right and they must work towards implementing that strategy on a daily basis. And all of this is only possible if you communicate really well.
So, does KO have that kind of corporate culture? Well, I believe it has a corporate structure. But it seems to be a culture much more oriented to branding, sustainability, community, than extracting every penny from its assets. Also, it does not seem to communicate that well that its culture is important, and what it really means. BUD communicates that very well to its investors, let alone to employees. The word "culture" is mentioned 30 times in its latest annual report. Guess how many times Coke mentions "culture" in its own report? That's right, none. In fact, just once, but in a very different context: "The rates of obesity affecting communities, cultures and countries worldwide continue to be too high".
Figure 3: Dream-People-Culture - See How the "Culture" Thing Matters for BUD?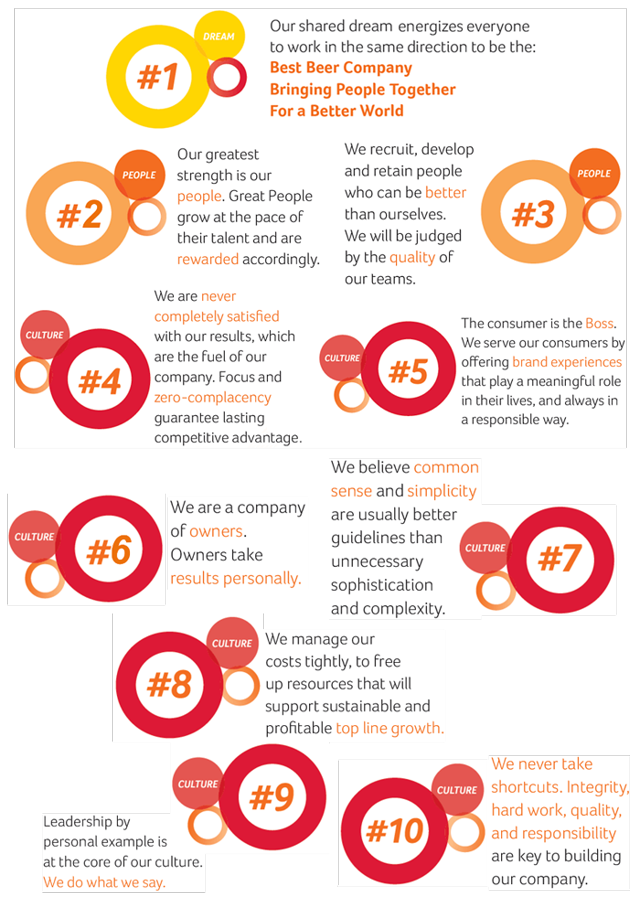 Source: AB-Inbev
But efficiency gains do not necessarily mean increasing sales. "The 3G guys" are great at cutting costs and driving profitability. In fact, they are known for mastering efficiency, but not that much about branding. I think this is a fair argument, as the successful brands they own were all acquired. But maybe, when there is not much management can do about secular consumer trends, such as the rise of craft beer, etc., the best thing may be just to smartly positioning itself for the new scenario, including via acquisitions. And this, those guys know very well.
Now, getting back to Coke, one thing it seems to know well is branding. It is one of the most valuable brands worldwide (#3 actually, according to Interbrand). This is no guarantee of sales growth either, as its results show, and maybe, growing sales is not the most important value driver for the stock. Coke already has a huge share of throat. According to its latest annual report: "Beverages bearing trademarks owned by or licensed to us account for more than 1.9 billion of the approximately 58 billion servings of all beverages consumed worldwide every day". That's a 3.3% share of throat, worldwide. Sounds like a lot. Even if the number is not that accurate, as it's an approximation. So, it seems that growth (especially organic) is really not that easy when we start from such a high basis. Would focusing on profitability be the right way to go? I believe so.
Figure 4: World's Most Valuable Brands, by Interbrand

Source: Interbrand
So, that leads to the point many people have already speculated about. KO has great brands, a huge market share, but is struggling with declining sales and operating income. Would it be an acquisition target, even being an almost US$200B market-cap company? It's twice as much what BUD is paying for SAB Miller (OTCPK:SBMRY). It definitely does not look like an easy task, and if anyone is capable of such a thing, I believe it would be BUD. But certainly not in the next few years, as it has a huge challenge in swallowing SAB Miller. So ruling out any takeover possibility for KO in the foreseeable future seems reasonable. Until then, KO's management will have to deliver on its plan. Otherwise, people will have a tough time believing in the profitability boost. That could hurt the stock price in one hand, but it could also fuel the M&A talks.
Focusing on efficiency and profitability seems the right strategy, but does it mean KO is a buy at this level? Growing sales from its sky-high market share level in a highly competitive environment, which is subject to quick changes in consumer habits, is really tough. So, I couldn't agree more with Coke's strategy to focus on what it knows best (branding), staying in the more profitable concentrate business and outsourcing bottling as much as possible. The degree and timeframe of the success will greatly depend on management's execution capability. Now, whether KO seems like a good investment at this point is a tough call. The dividend yield seems to persuade many investors, especially in this low-yield environment. But that alone is not enough reason to me. Something goes wrong with the turnaround strategy and a hit in the share price will more than offset that yield. The current valuation of 21x forward P/E looks quite lofty, but what isn't in this market right? Obviously, I'm talking short term here. I know this is a stock for life for long-term investors, and weighting the possibilities (turnaround, potential M&A, etc.), it does fit well as a core holding in a long-term portfolio. It's just a question of being able to buy it cheaper or not. I guess this one deserves a closer look and will be subject of more articles from my end in the near future.
Disclosure: I/we have no positions in any stocks mentioned, and no plans to initiate any positions within the next 72 hours.
I wrote this article myself, and it expresses my own opinions. I am not receiving compensation for it (other than from Seeking Alpha). I have no business relationship with any company whose stock is mentioned in this article.
Editor's Note: This article discusses one or more securities that do not trade on a major U.S. exchange. Please be aware of the risks associated with these stocks.