We ended the week pretty much flat to where we started.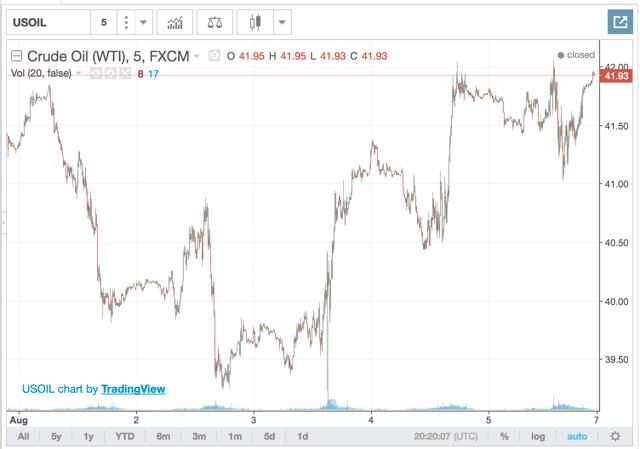 It was a gut wrenching week as WTI fell below $40 before staging a sharp rally back. This week saw OPEC bring about the idea of a production freeze deal again and North Sea oil workers going on strike.
Sentiment via positioning has now shifted into "very bearish" territory as short sellers are piling in once again.
Despite concerns over refineries lowering throughput, the weekly oil inventory report showed refineries increasing utilizations. It contradicted what a lot of traders were expecting, and the report definitely caught some short-sellers off guard.
Going forward, we continue to expect refinery margins (crack spreads) to suffer. Peak driving season is now behind us, and as we enter the fall maintenance season, refineries should logically cut throughput more than normal. PBF Energy has already started run cuts.
Crude (NYSEARCA:USO) prices, however, have bottomed, in our opinion. A combination of a massive increase in short positioning plus the obvious bearish rhetoric indicates to us that the sentiment has now shifted to "too bearish" territory. In our piece, " The New Oil Bear Market Will Be Short Lived," we highlighted two concerns that resulted in the decline from $50 to $40, and that was the concerns over the gasoline glut plus market positioning. Now that we know short sellers are just 13 million bbls from the record short position established in February this year, it's easy to see why prices declined so much as of late.
What did you think of this week? Do you see oil prices bottoming soon? Let us know in the comment section below!
Thank you for reading our Weekly Oil Markets Recap . If you want to read more of our articles, please be sure to hit the "Follow" button above. For investors interested in what E&P names we are buying, please check out the HFI Research premium service. We also write a weekly HFI portfolio update for premium subscribers. You can read a sample weekly update here and view our delayed one-month portfolio update here. We hope you can join the HFI community.
Disclosure: I/we have no positions in any stocks mentioned, and no plans to initiate any positions within the next 72 hours.
I wrote this article myself, and it expresses my own opinions. I am not receiving compensation for it (other than from Seeking Alpha). I have no business relationship with any company whose stock is mentioned in this article.