Despite one of the rarest storage reports to date, natural gas prices were down for the week.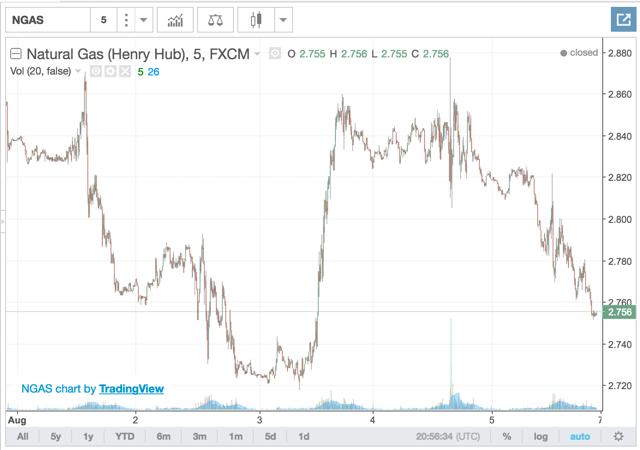 In our weekly natural gas storage report, we said the following:
"As we said many times before, injection figures need to average in the mid-20s for August if natural gas prices want to see $3+. If that doesn't happen, natural gas bulls will have to wait until winter for $3+ gas. Given that natural gas prices are already sitting around $2.83/MMBtu, it's better to take a wait-and-see approach for short-term traders."
July was one hot month, and reports over the next several weeks will probably highlight how this was one of the hottest Julys on record. Power burn demand for this EIA weekly storage report averaged over 40 Bcf/d! We won't see that kind of power burn demand for the rest of this summer.
With peak summer heat behind us, natural gas storage remains in "surplus territory" and that's not particularly bullish for prices especially if August temperature model runs are coming in modest.
We also reported this week that US production remains resilient. US natural gas producers are currently using up drilled but uncompleted wells (DUCs) with expectations to bring on more production at year end when natural gas (NYSEARCA:UNG) prices recover.
Despite potentially lower prices near-term, end of storage forecasts are averaging just slightly over 4 Tcf. We continue to expect EOS to end below 4 Tcf. If EOS finishes around 3.9 Tcf, it would be very positive for natural gas prices going into winter.
Similar to the oil markets, market participants have to balance the near-term bearishness with the long-term outlook. We remain very bullish on natural gas prices in the long-run, and believe that prices need to average $3.5/MMBtu in order for the market to balance.
Let us know what you think the equilibrium price should be in the comment section below!
Thank you for reading our Weekly Natural Gas Recap. If you want to read more of our articles, please be sure to hit the "Follow" button above. For investors interested in what E&P names we are buying, please check out the HFI Research premium service. We also write a weekly HFI portfolio update for premium subscribers. You can read a sample weekly update here and view our delayed one-month portfolio update here. We hope you can join the HFI community.
Disclosure: I/we have no positions in any stocks mentioned, and no plans to initiate any positions within the next 72 hours.
I wrote this article myself, and it expresses my own opinions. I am not receiving compensation for it (other than from Seeking Alpha). I have no business relationship with any company whose stock is mentioned in this article.