August crude futures prices fell 8% in the week ending August 2nd (to correspond to the data below), closing at $39.51, the first close below $40 since April 8th. Prices recovered a bit later in the week, closing at $41.80 on Friday.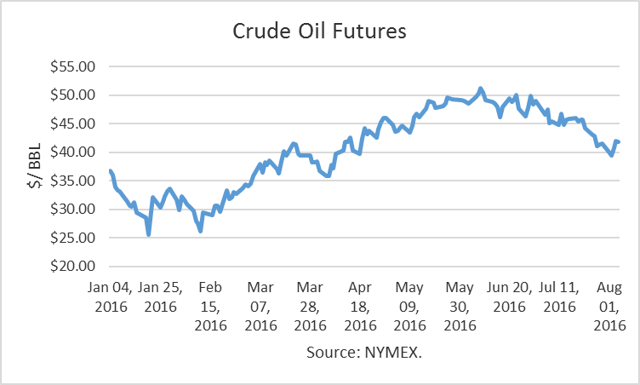 Over the past several months, I have been highlighting the fact that there is a relatively high negative correlation (-60%) in weekly price changes to weekly changes in short speculators' positions.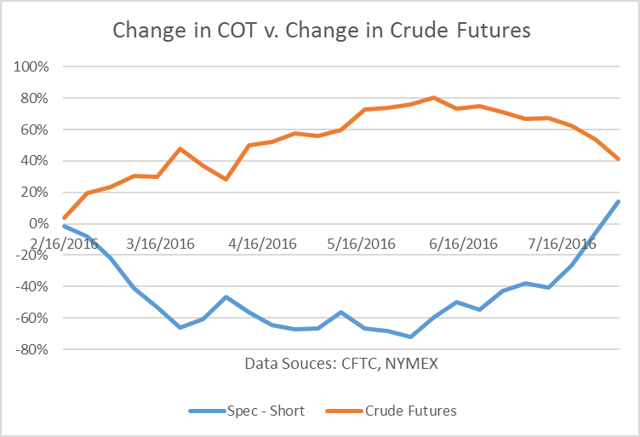 I have explained that the "freeze" concept had altered the risk-return of short speculators, who were responsible for driving prices lower. From mid-February through the end of May, 138 million barrels in speculative short positions were covered (bought), propelling prices higher.
Since early June, the "headline risk" premium has begun to deflate. Consequently, as noted specifically below, short speculators began increasing their short positions, causing prices to drop. From late May through August 2nd, short speculators have added over 165 million barrels to their short positions, depressing prices. In the past 3 weeks alone, they sold 105 million barrels, causing prices to drop by over 17 percent.
Commitments of Traders
Utilizing the Commodity Futures Trading Commission's (CFTC) Commitments of Traders (COT) reports for crude oil, I was able to dissect how traders were re-positioning last week.
The four groups I follow - Hedgers (Producer/Merchant/Processor/User) Longs and Shorts, and Speculators (Money Managers) Longs and Shorts - are defined below:
Hedgers: A "producer/merchant/processor/user" is an entity that predominantly engages in the production, processing, packing or handling of a physical commodity and uses the futures markets to manage or hedge risks associated with those activities.
Speculators: A "money manager," for the purpose of this report, is a registered commodity trading advisor (CTA), a registered commodity pool operator (CPO) or an unregistered fund identified by CFTC. These traders are engaged in managing and conducting organized futures trading on behalf of clients.
The latest data are for the week ending August 2nd and include data for both options and futures combined for the New York Mercantile Exchange (NYMEX). All comments below pertain to each group as a whole, on balance, noting there are exceptions among individuals.
Findings
Short speculators increased positions (sold) 38,489 contracts, increasing their total to 218,623 contracts. This is a new record short position for this group going back in the CFTC database to 2006.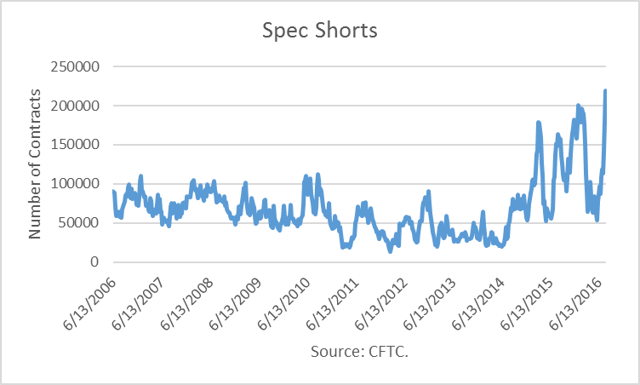 One impetus for the selling has been the gasoline oversupply that developed in July. Another is the approach of the seasonally weaker crude demand period in which refinery utilization drops, causing crude stocks to build.
But a development that could cause prices to drop more significantly is whether U.S. crude oil production begins to level off. I noted how far May production is above the EIA's forecast for August and that may force the EIA to revise its production model, resulting in a big upward revision, which I think may be in the works. In fact, in last week's WPSR, the EIA reported no drop in crude production from the lower-48 states, in contrast to prior weekly drops. This may be the start of the corrections to their model.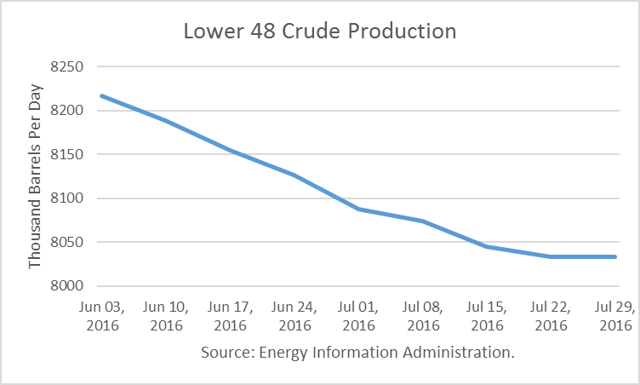 Long hedgers did just the opposite, buying 27,414 contracts last week, increasing their total to 283,800 lots. This group would include refiners who hedge crude purchases for processing, as well as large end-users, such as airlines. Over the past 2 weeks, this group has added over 40 million barrels to its hedge position, thinking prices are low enough for hedging.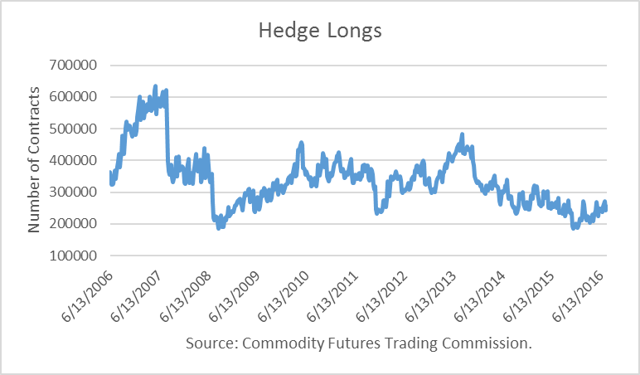 Short hedgers, primarily crude producers, increased the size of their positions (sold) by 16,243 lots to 525,154 contracts. Selling into weakness demonstrates the fear producers have of lower prices, as well as adds to their ability to withstand lower prices due to their hedges.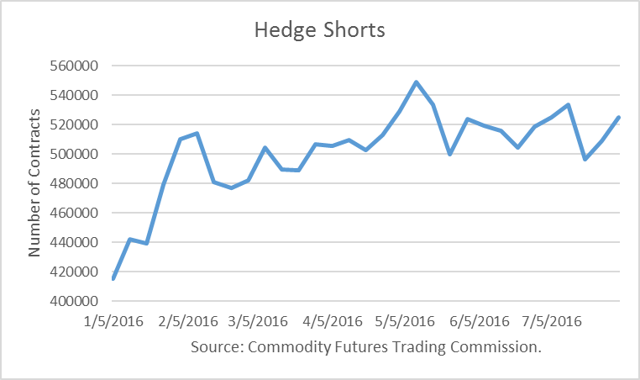 Finally, spec longs bought 4,750 contracts last week, ending with 305,440 lots. The relative small volume of purchases does not reflect a great deal of confidence that prices around $40 represent a great buying opportunity.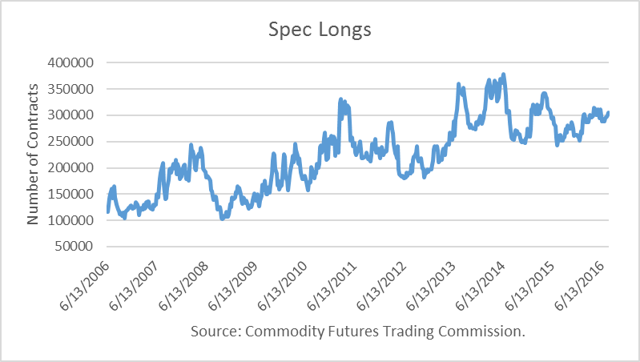 I netted the long and short positions of both these hedgers and speculators since mid-June 2006, and the graph below shows the size of the net long positions peaking in July 2013. More specifically, their net positions are at their lowest level.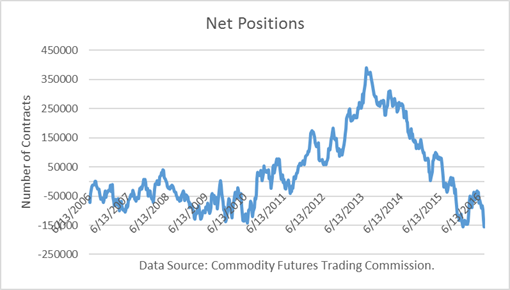 Conclusions
With a record short position, the market seems to be at a critical point. If there are bullish developments, short-covering could propel the price higher quickly. But if there are bearish developments, which I believe are more likely, such as growing evidence that the downtrend in U.S. crude production is ending, I think we could see a sharp drop in prices.
Disclosure: I/we have no positions in any stocks mentioned, and no plans to initiate any positions within the next 72 hours.
I wrote this article myself, and it expresses my own opinions. I am not receiving compensation for it (other than from Seeking Alpha). I have no business relationship with any company whose stock is mentioned in this article.