No reason to beat around the bush, let's get to it and see how Legacy Reserves (NASDAQ:LGCY) has performed.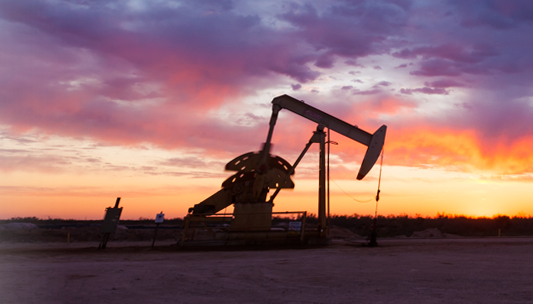 Source: legacylp
Production Volumes
Without maintaining decent production levels, upstream MLPs don't have a chance in this difficult environment. Adjusted for asset sales, production was only down 2% versus Q1 2016 and Q4 2015. For lower CapEx, these figures are solid. The firm has only spent one third of its expected capital budget so far this year. This provides additional flexibility going forward and also suggests the firm will not fail to hit its production targets because it did not allocate enough financial resources. Production is up 33% from the same period in 2015 due to acquisitions.
Expenses
Legacy has been among the best performers in terms of reducing operating expenses which are extremely important for upstream master limited partnerships in this environment. Legacy managed an 11% reduction in lease operating expenses ("LEOs") compared to Q4 2015 and 3% versus last quarter. It appears the firms that have already slashed operating expenses since early 2015 are finding a bottom in what they can achieve in LOEs. Developmental spending was $6.9 million for the quarter which is down versus prior periods but enough that the firm is still maintaining decent drilling activity. G&A expenses were up slightly to $8.5 million in 2016 compared to $8.2 million in 2015. On the surface this appears disappointing, but adjusted for the expanded asset base and 33% increase in production, G&A is well under control. Total CapEx is down 50% year over year. The firm's Permian Basin position is paying dues. Non-cash impairments totaled $15.4 million which is minute compared to prior periods.
Revenues
Because production held up, revenues from the sale of oil and gas were down but not drastically. To put them into context, $169 million in revenues were generated in the first half of 2015 compared to $137 million in the first half of 2016. Keep in mind this does not include hedging - these are production volumes times realized prices. Realized prices at the hubs wouldn't surprise anyone with oil just below $40 for Q1, natural gas at $1.68, and NGLs realized pricing actually up 10% quarter over quarter. Average realized prices were down 39% versus Q1 2015.
Asset Sales
Legacy closed on an additional $19 million in asset sales. Asset sales are another area Legacy has to perform in to stay solvent without making major sacrifices elsewhere.
Debt and Credit Facilities
Legacy reduced debt outstanding in Q2 by $67.6 million. It consisted of $30.6 million of repurchases and exchanges of senior notes, which reduces interest costs and the burden come bond maturities, and $37.0 million reduction in borrowings under their credit facility. Reductions in the credit line do not help the firm's interest expenses and balance sheet as much as the bond repurchases but it does improve the firm's liquidity which is equally important.

As we can see from the earnings release, total debt outstanding has been reduced significantly from $1.458 billion at the end of 2015 to $1.186 billion as of the first of August.
Liquidity
Given the firm's borrowing base of $630 million, the firm still has $108.6 million in liquidity. There is still a substantial risk of a redetermination causing the firm to suffer a borrowing base deficiency such as Vanguard Natural Resources (NYSE:VNR). Not that it should surprise anyone paying attention, but do not expect distributions on common or preferred equity shares to be reinstated anytime soon.
Hedging
Hedging production volumes does not have the same impact it used to. At the beginning of the downturn in oil and gas markets in late 2014 (note: it is hard for the author to believe it has almost been two years since OPEC crashed the markets two Thanksgivings ago), hedges were everything, or so we thought. Memorial Production Partners (NASDAQ:MEMP) turned out to be the only "super" hedged firm to have made it through the crisis. Breitburn (OTCPK:BBEPQ) and Linn (LINEQ) went under first with Atlas Resource Partners (ARPQ) recently filing Chapter 11 as well. It is interesting to note they had among the strongest hedges back in 2014. Legacy's hedges have naturally rolled off over time but this quarter it put many back on. The issue with hedging at today's prices is firms are locking in mediocre margins at best. In fact, Legacy is one of few firms who can generate some positive cash flow without strong hedges at today's oil, natural gas, and natural gas liquids prices. Hedges for the second half of 2016 for natural gas increased from 52% to 82% of production volumes. 2017's also grew from 49% to 70%. Oil hedges for the second half of 2016 increased from 29% to 63% of current production; 2017 moved higher from 10% to 46%. Below is a summary of the new contracts: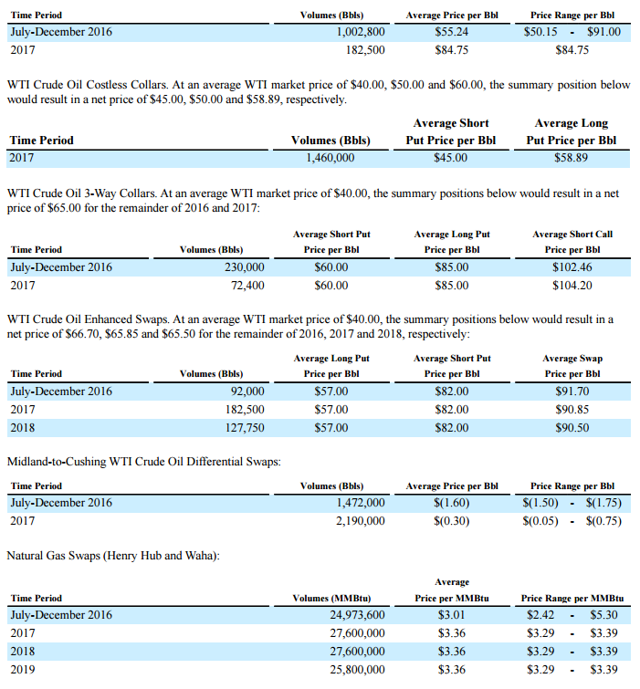 The remaining natural gas contacts: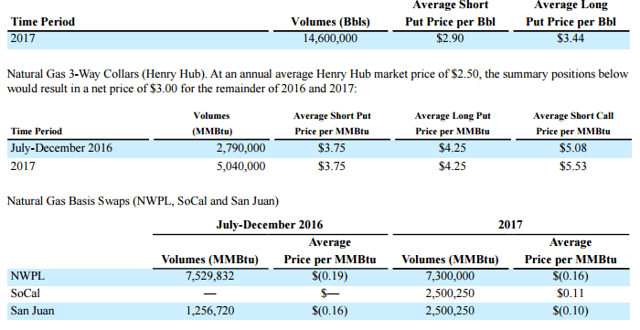 For those that do not want to spend the time to analyze the contracts, oil pricing is pretty solid at 10-25% above current strip pricing. Net pricing for natural gas is also decent but nothing spectacular ranging between $2.90 and $3.44 per MCF. Assuming commodity prices do not rise unexpectedly, these hedges are small positive but significant net benefit to the firm. They also reduce the risk associated with oil and or natural gas returning to prior lows. Unhedged, that would severely stress the firm's already weak financial position.
Summary and Conclusion
How has the capital structure responded to the above results?
The firm's debt has risen moderately in value to 50 cents on the dollar. This is still in the "very high risk" category but well above the "imminent bankruptcy" level (and way off the 11 cents on the dollar I saw it trade at early in 2016). Legacy's preferred shares have remained in the $4-5 range but I've noticed they tend to take a couple days to fully respond to market news. I wouldn't be surprised to see them test recent highs in the near future. The common units are flat over the last five trading days but up slightly since the earnings release. I wouldn't be surprised to see them trade moderately higher this week as well. I remain long Legacy's preferred LGCYO and will consider its senior notes if they retrace below 40.
Legacy has managed to push through yet another challenging quarter.
Please 'Follow' me for similar analysis in the future.
Disclosure: I am/we are long GST-A, VTR, HCP, HTA, OHI, DOC, VNRBP, VNRCP, MAIN, BXMT, BNS, LGCYO, CF, EPD, MMP, CF, EVEP, MEMP, TD, RY. HMC.
I wrote this article myself, and it expresses my own opinions. I am not receiving compensation for it (other than from Seeking Alpha). I have no business relationship with any company whose stock is mentioned in this article.
Additional disclosure: The author may enter into long or short positions in any part of the capital structure of any of the firms mentioned in this article. Readers should always conduct their own independent due diligence and not rely upon information or opinions provided by the author.
Editor's Note: This article covers one or more stocks trading at less than $1 per share and/or with less than a $100 million market cap. Please be aware of the risks associated with these stocks.