On June 9 we wrote an article titled "Itau Unibanco Will Crack The Stock Price Floor". After an analysis of the Brazilian banking system, the main points we made were:
• The Brazilian banking system will suffer a nasty external shock originated by a collapsing economy driven by the fall of commodity prices.
• Among Brazilian banks quoted in ADRs, Itaú Unibanco will suffer most from non performing assets AND is liquid enough to discount this dynamic efficiently into the price.
•A midterm slightly leveraged short position should be very profitable for a fundamental investor.
Since then, the stock price has increased 24%, and 96% accumulated since the lows in January 2016. What happened?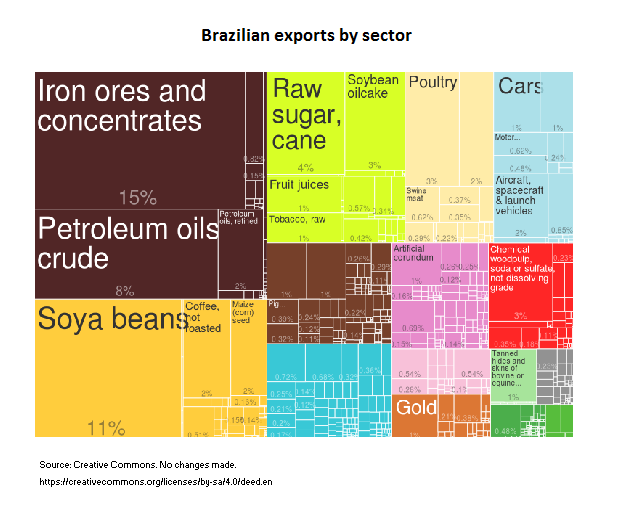 Macroeconomic short term evolution "going from apocalypse to plain bad"
The Brazilian economy has shown some signs of improvement or, at least, of the crash slowing down; in the words of Forbes Magazine, "the Brazilian economy goes from apocalyptic to plain bad".
Putting aside the complex political situation of the country after the impeachment of Dilma Roussef and her replacement by the caretaking government of Michel Temer, some minor indexes have slightly improved. Services PMI has increased to 41.4 points in June compared with a 37.3 reading in May 2016; manufacturing PMI also shot up from 41.6 in May, the worst reading in 7 years, to 43.2 in June.
Bulls about Brazil expect the mild improvement of services and industry combined with lower inflation - from 9.3% to circa 8% - to give some space to the Central Bank lowering interest rates and thus dragging the economy out of the recession.
This looks like wishful thinking: the deepness of the recession is very significant. GDP is falling at an annualized rate of -5.4%, industrial production at -7.8% and consumption and investment at a rate of -4% and -14% respectively in 2015.
Public debt is rising quick, currently at 69% of GDP and inflation still stays at too high levels to let the Central Bank lower interest rates.
Furthermore, when analyzing Brazil in the context of its international framework, it does not seem the adjustment of its main driver - Chinese appetite for commodities - is over.
Chinese GDP growth is still decelerating - currently at around 7% but likely to go lower in 2016 and 2017. This dynamic should put further pressure on commodity prices key to Brazilian exports; on top of that, overproduction likely to enter the market during 2016 and 2017 should push commodities prices - soya and iron ore, among others - even lower.
But Itau results are surprisingly good
Q2 2016 results for Itau Unibanco (NYSE:ITUB) have been mixed and surprising. Net income fell 9% quarter on quarter, driven by a decreasing loan book and partially compensated by an increase in fees charged to clients, both trends in the context of decreasing loan loss provisions.
Top line, Financial Margin fell 4.7% quarter on quarter and 3.7% compared with Q2 2015; Income Related to Financial Operations has continued its trend downwards consistently since Q3 2015.
Itau tried to compensate the fall in financial income with increases in clients' fees: the line commissions, fees and results from insurance went up 5.6% compared with Q1 2016.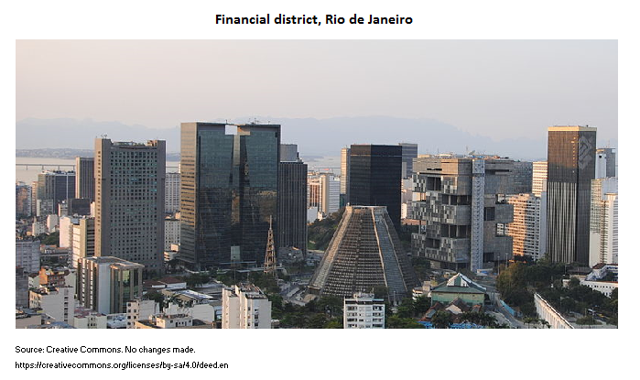 Costs were slightly up but basically under control, with an efficiency ratio of 46.7%, up 2.7 percent points compared with Q1 2016.
Credit quality has been broadly stable during the quarter, with a very mild increase in 90 days NPL ratio from 3.5% to 3.6%; on a more granular approach a fall of 90 day NPL ratio in Brazil for individual clients (from 6% to 5.9%) has been compensated for by a slight increase in corporate loan defaults, from 5.6% to 5.9%.
As a consequence, the capital ratio (Common Equity Tier One) looks optically very healthy at 14.8%.
On the lending front, loan book reduced 4.6% since Q1 2016; reduction in lending was particularly acute in SMEs and business lending in Brazil (-5% QoQ); in its turn, this had an impact on financial income from the loan book. Looking at the numbers, it seems Itau is putting the brakes on "corporate Brazil" lending. This strategy makes sense in the context of the deep depression the country is suffering.
Finally, ROE is still a healthy 20.6% and ROA is at reasonable levels of 1.6%. Although Itau's results look excellent, the near future does not look so rosy after a more detailed analysis.
The lack of NPLs increase in the context of the worst recession in 100 years in Brazil is surprising; what is particularly noticeable is the decrease in provisions expense during the quarter.
Nevertheless, given the macro situation of the country and the influences of external shocks that should worsen during 2017 and 2018, it looks like the low level of NPLs and the quarterly fall of provision expense is temporary. With GDP decelerating at 5.4% annualized, it is difficult to believe NPLs and provisions expenses will stay at current levels for long.
Thus, driven by a significant increase in NPLs and provisioning, Itau Unibanco's results should significantly worsen during the second quarter of 2016 and 2017.
Stock price and the future
Stock prices of Itau Unibanco and other major Brazilian banks have significantly increased during the first part of 2016: Itau Unibanco ADRs shot up 96% since their lows at $5.66 per ADR in January 2016 to $11.11 as per today; Bradesco's ADRs have increased 86% since lows - from $3.8 to $9.13; and Banco Santander Brazil - subject to some extent to its own dynamics - has increased 60% since March 2014.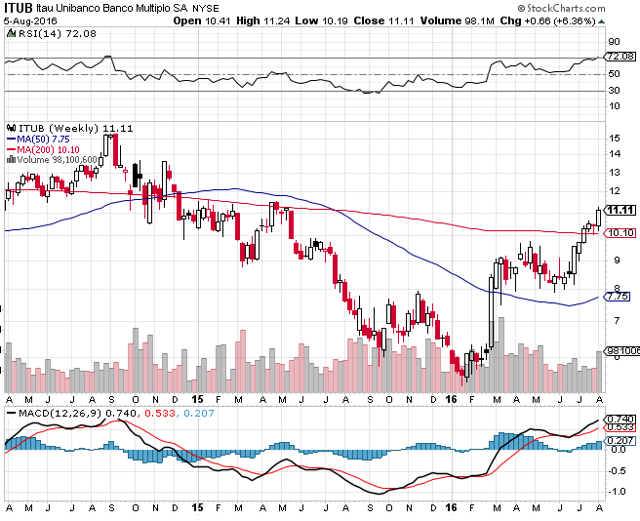 Since its low in early 2016, the Ibovespa Index has bounced back 52% and the Brazilian Real has moderately appreciated against the dollar.
What does all this mean? Looking at Itau Unibanco ADR's technical chart, it seems reasonable to assume the phenomenon is no more than a violent technical reaction supported by the general pullback of the Ibovespa index - and stock market indexes around the world - after the Banking Panic in early 2016 and backed to some extent by the better than expected Q2 2016 results.
Nevertheless, it does not look likely the pullback will resist the long term underlying trend downwards of the stock price and - more importantly - the negative macroeconomic situation of the country and its impact on Brazilian banks' results over the next three years.
Therefore, the pullback should self-exhaust soon, when the violent impulse that generated it fades. This has already happened before, for example, during the pullback in early 2014 from a minimum of $9.05 to $15.2 in just eight months, or a 68% increase, before falling to its historic minimum of $5.3 in January 2016.
In summary, taking into account 1) the deep recession in which Brazil is immersed is likely to continue or worsen in 2017, 2) the negative impact on banks' profits - including those of Itau - of this dynamic via increasing NPLs and depletion of the capital position independently of the mildly better quarterly results of the bank, and 3) the high level at which Itau ADRs are priced now after the recent pullback, it seems an excellent moment to increase the short position in the Brazilian bank.
The strategy should be notably lucrative during next two years.
Disclosure: I/we have no positions in any stocks mentioned, and no plans to initiate any positions within the next 72 hours.
I wrote this article myself, and it expresses my own opinions. I am not receiving compensation for it (other than from Seeking Alpha). I have no business relationship with any company whose stock is mentioned in this article.