The strong Non-Farm Payroll numbers this week has certainly given USD bulls new hope for a potential rate hike by the Fed in December this year, with some even calling for a hike in the September meeting. This has been a much welcomed relief following the worse than expected U.S. GDP data released recently.
This week brings the key RBNZ meeting we have been waiting for, with a 25bps cut expected. We personally expect a 25bps cut, with an extremely dovish RBNZ accompanying statement suggesting several more rate cuts into the first half of 2017. Chinese trade data, U.K. manufacturing numbers, German GDP & inflation, Eurozone GDP and U.S. retail sales are the only other key numbers in our opinion worth noting next week.
Trading and Technical Strategy for the week ahead:
| | | | | |
| --- | --- | --- | --- | --- |
| Instrument | Fundamentals | Short term bias (1-3 days) 4 hourly timeframe | Medium term trend (1wk-3mths) Daily timeframe | Long term trend (>3mths) Weekly timeframe |
| NZD/USD | Bearish | Bearish | Bearish | Bearish |
| USD/SGD | Bullish | Bullish | Bullish | Bearish |
| GBP/USD | Bearish | Bearish Bias being challenged | Bearish | Bullish |
| WTI OIL | Bearish but improving | Bullish Bias being challenged | Bullish | Bearish |
GBP/USD (FXB)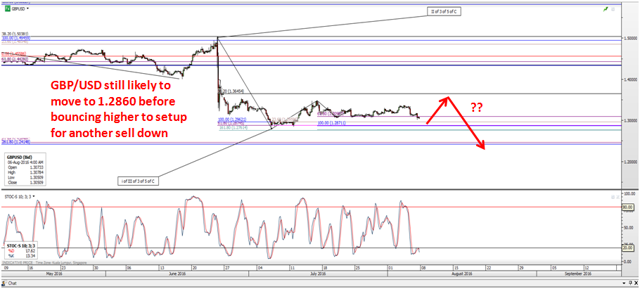 | | |
| --- | --- |
| Key Levels | |
| Support: | 1.2960/ 1.2870/ 1.2760/ 1.2460 |
| Resistance: | 1.3070/ 1.3190/ 1.3250/ 1.3320/ 1.3480/ 1.3530/ 1.3645 |
| | *Level to consider buying at for support and selling at for resistance for intra-day trades |
The GBP/USD was hit hard this week following the BOE's rate cut and additional quantitative easing announcement. A strong NFP number also helped to push the pair below the 1.3100 figure, but failed to break through the 1.3000 key support. We continue to view a move lower to the 1.2860 level for the GBP/USD before a bounce higher in the pair is seen thereafter which will setup the pair for the next sell down.
Trading strategy:
Whilst we remain bearish the GBP/USD and have a 1.2460 target, we think that current short term oversold technical conditions for the pair will pose a challenge to an immediate downside move to that level. We think trading short term selling at levels above 1.3120, with a stop loss at 1.3250 and profit target at the 1.2870 level will be the likely trade over the next two weeks. Thereafter, we do expect a bounce in the pair which would setup for the next larger move down.
NZD/USD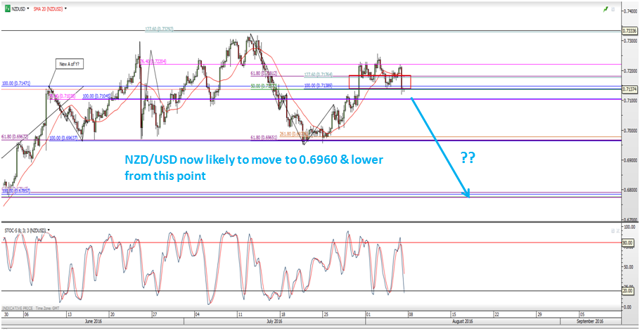 | | |
| --- | --- |
| Key Levels | |
| Support: | 0.7100/ 0.7050/ 0.6975/ 0.6875/ 0.6840/ 0.6810/ 0.6780 |
| Resistance: | 0.7180/ 0.7230/ 0.7300/ 0.7330/ 0.7350/ 0.7400/ 0.7500 |
| | *Level to consider buying at for support & selling at for resistance for intra-day trades |
The NZD/USD will be the key pair to watch this coming week with a 25bps cut expected, and an extremely dovish accompanying statement to follow. Several pundits have suggested given the 75bps differential between the RBA and RBNZ OCR rates, that a 50bps cut is not out of the question at this juncture. Either way, we expect the next move for the NZD down to break the 0.6960 key support decisively.
Trading strategy:
We traded around our shorts at 0.7215 with the average now at the 0.7232 level. Traders who have not established shorts can do so at the 0.7135 and 0.7160 levels to play the expected downside move to 0.6960 and lower this week. Our stop loss would be a break of 0.7335 to the upside.
USD/SGD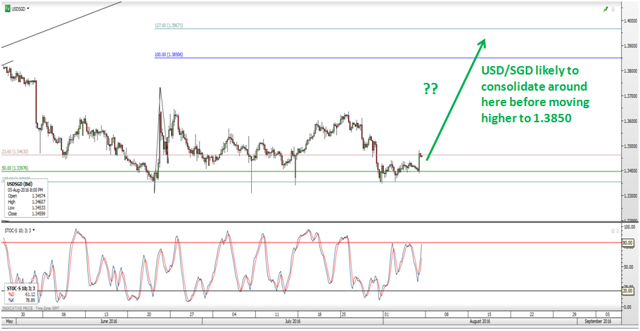 | | |
| --- | --- |
| Key Levels | |
| Support: | 1.3395/ 1.3320/ 1.3260/ 1.3150/ 1.3040 |
| Resistance: | 1.3465/ 1.3540/ 1.3630/ 1.3720/ 1.3850 |
| | *Level to consider buying at for support and selling at for resistance for intra-day trades |
The USD/SGD continues to remain fairly range bound with little sign of breaking out either way at this point. We continue to remain bullish on the pair so long as the 1.3150 level does not break to the downside. We continue to expect the MAS to ease in October by weakening the SGD from it's current elevated levels, and will be holding long USD/SGD positions into that event.
Trading strategy:
We will consider buying dips toward the 1.3395 and 1.3320 level with a stop loss at the 1.3150 level. Our first target to the upside is the 1.3850 level followed by 1.4000 and 1.4500 thereafter. This is a relatively longer term trade, so patience will likely be required to see results.
WTI OIL (USO)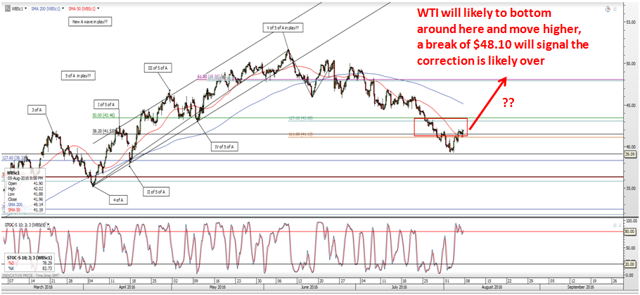 | | |
| --- | --- |
| Key Levels | |
| Support: | 40.00/ 39.20/ 38.30/ 37.60 /36.30 |
| Resistance: | 41.90/ 42.80/ 43.20/ 44.60/ 45.60/ 46/ 48.30/ 47.15/ 49/ 49.80/ 50.20/ 51 |
| | *Level to consider buying at for support & selling at for resistance for intra-day trades |
*Note on our price chart: Before we dive into the WTI technical analysis, we have decided to use the WTI continuous futures price as a chart instead of the original spot price posted in our article. This price will match the nearest dated WTI crude futures contract which will switch automatically once the contract settles, moving on to track the next nearest dated futures contract. We will also be only analyzing the technical aspect of the WTI price, given the fundamental aspect of WTI oil is well covered by many subject matter experts in the energy commodities section. At this time, the nearest dated futures contract being tracked by the above price chart is the September 2016 contract.
WTI oil bounced this week on news of production cuts being discussed in the September OPEC meeting. Whether this will lead to anything or not remains to be seen though we are not optimistic. However, we do expect WTI to trade higher in the coming weeks leading up to the meeting from current levels. $38.30 is our key level to the downside at this juncture.
Trading strategy:
We remain buyers of USO at current levels and will be looking to add XLE to the mix when equity markets work off their overbought conditions. We would only consider cutting out of the trade should WTI break the $38 level, which we view unlikely at this juncture given the very oversold conditions of WTI at present. Do join our mailing list on our site for updates throughout the week.
Risk Disclosure:
High Risk Warning: Foreign exchange, futures and ETF trading carries a high level of risk that may not be suitable for all investors. Leverage creates additional risk and loss exposure. Before you decide to trade any instrument, carefully consider your investment objectives, experience level, and risk tolerance. You could lose some or all of your initial investment; do not invest money that you cannot afford to lose. Educate yourself on the risks associated with trading, and seek advice from an independent financial or tax advisor if you have any questions.
Advisory Warning: THEMARKETJOURNAL provides references and links to selected blogs and other sources of economic and market information as an educational or informational service to its clients and prospects and does not endorse the opinions or recommendations of the blogs or other sources of information. Clients and prospects are advised to carefully consider the opinions and analysis offered in the blogs or other information sources in the context of the client or prospect's individual analysis and decision making. None of the blogs or other sources of information is to be considered as constituting a track record. Past performance is no guarantee of future results and THEMARKETJOURNAL specifically advises clients and prospects to carefully review all claims and representations made by advisors, bloggers, money managers and system vendors before investing any funds or opening an account with any brokerages or dealers. Any news, opinions, research, data, or other information contained within this article and our website is provided as general market commentary and does not constitute investment or trading advice.
Disclosure: I/we have no positions in any stocks mentioned, and no plans to initiate any positions within the next 72 hours.
I wrote this article myself, and it expresses my own opinions. I am not receiving compensation for it (other than from Seeking Alpha). I have no business relationship with any company whose stock is mentioned in this article.