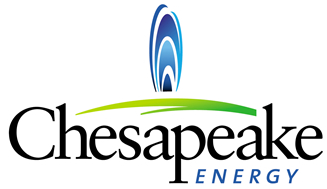 Chesapeake Energy Corp. (NYSE:CHK) reported 2nd quarter earnings last week, and the results were not as good as I had hoped. Just last week I penned an article on the struggling energy company in which I contended that details about further asset sales could be a catalyst for Chesapeake Energy's shares. Though the company did indeed increase its guidance with respect to asset divestitures for 2016, Chesapeake Energy's financial results themselves weighed on investor sentiment.
Chesapeake Energy's oil, natural gas, and NGL revenues cratered from $1,216 million in the 2nd quarter of last year to just $440 million in Q2-16, which is a reflection of sharply lower energy prices compared to the same quarter in 2015. Marketing, gathering and compression-related revenues slumped ~49 percent from $2,305 million in Q2-15 to just $1,182 million in Q2-16. On the back of lower price realizations, Chesapeake Energy's total revenues decreased ~54 percent year-over-year to $1,622 million (Q2-15: $3,521 million). Q2-16 revenues missed the consensus revenue estimate of $1,930 million by a mile.
Chesapeake Energy was also once more forced to recognize impairments of ~$1.0 billion, which were not as significant as last year. Yes, but asset write-downs are still asset write-downs. Chesapeake Energy wrote down the carrying value of its oil and natural gas properties by ~$5.0 billion in the 2nd quarter of 2015.
At the end of the day, Chesapeake Energy had a net loss of $1,792 million (largely thanks to asset write-downs) compared to a net loss of $4,151 million a year earlier. On a per-share basis, the company lost $2.48 compared to $6.27 in Q2-15. The adjusted loss was $0.14/share, missing analysts' consensus estimate of a loss of $0.10/share, too.
Raised Asset Sales Guidance
Selling off assets is a proven dynamic avenue for companies to raise cash quickly and pay down debt. And Chesapeake Energy needs to do a lot of that; the company's balance sheet showed more than $8.6 billion in long term debt (net) at the end of the June quarter, which, granted, is very high, but much less than a year ago when the company had to service $10.3 billion in debt.
Chesapeake Energy's debt load is formidable, but there is also no reason to downplay the company's successes in improving its debt profile.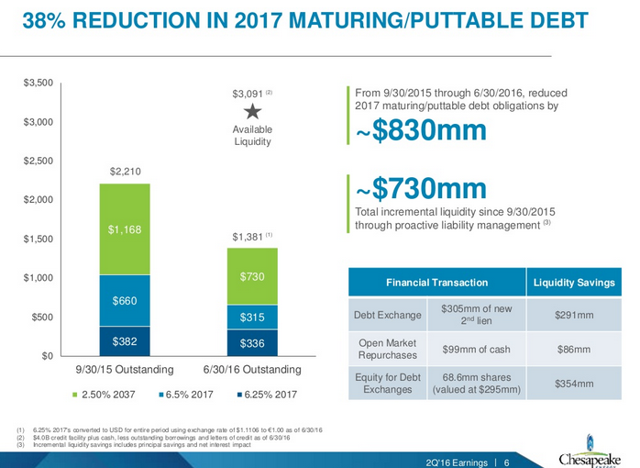 Source: Chesapeake Energy
Asset sales are going to help Chesapeake Energy to address this debt issue.
The company guided for $1.2-$1.7 billion in total gross proceeds from divestitures for 2016 earlier this year, but has now raised its asset sales target. This is what the company had to say about it [emphasis mine]:
The company continues to focus on select asset divestitures and is currently planning to sell additional properties by year-end 2016, including a portion of its Haynesville Shale properties. As a result, Chesapeake has raised its 2016 guidance for total gross asset divestitures either closed or under signed sales agreements to now be more than $2.0 billion, compared to its previous range of $1.2 to $1.7 billion.
Your Takeaway
I believe that asset sales are the best option for Chesapeake Energy at this point to get its debt under control and continue to save cash on annual interest expenses, which is why the raised asset sales target is a positive for shareholders. That being said, Chesapeake Energy is not out of the woods just yet, and investors will continue to be exposed to a high degree of volatility when owning the company's shares. I see Chesapeake Energy as a high-risk, high-reward spec over the short haul with 20-30 percent upside. Speculative Buy.
If you like to read more of my articles, and like to be kept up to date with the companies I cover, I kindly ask you that you scroll to the top of this page and click 'follow'. I am largely investing in dividend paying stocks, but also venture out occasionally and cover special situations that offer appealing reward-to-risk ratios and have potential for significant capital appreciation. Above all, my immediate investment goal is to achieve financial independence.
Disclosure: I am/we are long CHK.
I wrote this article myself, and it expresses my own opinions. I am not receiving compensation for it (other than from Seeking Alpha). I have no business relationship with any company whose stock is mentioned in this article.