PPG Industries (NYSE:PPG) is a leading diversified producer of coatings, chemicals, and glass products. Thanks to divestitures, acquisitions, and internal growth initiatives the company has shifted its product mix towards coatings, and away from more commoditized segments such as chemicals and glass. PPG is now the world's largest producer of coatings, making a diverse range of paint products used in housing, packaging, automobile, and aerospace end markets. While the transition to higher margin specialty paints has resulted in improved profitability in recent years, end market demand is slowing down and we think investors should be cautious. Analysts expect PPG to grow earnings roughly 10% in each of the next two years, but much of it will be the result of acquisitions and share repurchases.
The move into higher margin specialty coatings has been a key driver of earnings growth for PPG in recent years. Over the past 5 years, operating income has grown at a median rate of 8.3%, as operating margin expanded from 8.7% in 2010 to 14.4% TTM (Figure 1). We believe PPG has a narrow economic moat in this segment, as the firm collaborates with customers to design paints for unique products that meet specific performance standards. PPG's customer relationships raise switch costs and allow the firm to compete on factors beyond price. This can be very useful in an industry such as paints where raw materials costs are volatile, and the firm can use its pricing power to offset higher input costs and keep margins relatively stable.
Figure 1: Operating Margin Expansion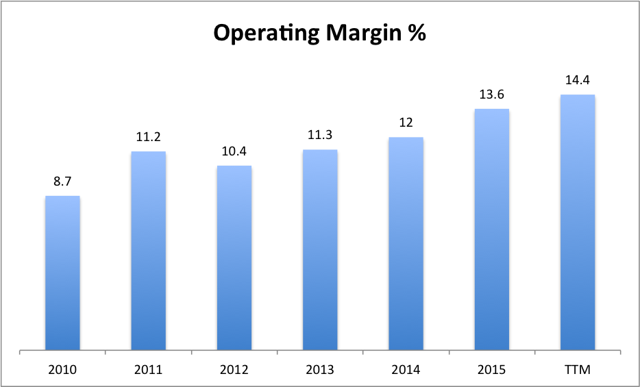 Source: Morningstar
PPG has benefited from strong demand in construction, aerospace, and autos over recent years, but there are signs that these cycles are reaching a peak (at least in the US which is still PPG's largest market). Acquisitions have been a big contributor to sales growth, but even with these acquisitions the company's top-line growth hasn't been very impressive: over the past five years PPG has grown revenues at a CAGR of 2.7%. In the latest quarter the company reported double-digits earnings growth that was largely the result of lower input costs (energy), cost cutting programs, and restructuring benefits. Sales volumes were flat year-over-year, as declines in the US and Canada offset growth in Europe and the Asia Pacific. Performance coating sales fell 3% in the US, which we think reflects the slowdown occurring in the aerospace and auto sectors.
Over the next five years we expect sales to grow 3-4% annually on average, driven by emerging markets. The combination of low energy prices, low interest rates, and cost cutting initiatives (PPG expects to create $100 million in annual savings by 2017) should allow margins to expand slightly further. PPG generates enough cash through operations to maintain spending on acquisitions, buybacks, and dividends, which should allow the company to report double-digit EPS growth. While the prospect of more cash returning to shareholders might excite investors, we have reservations about a company that isn't showing impressive organic growth, especially as end markets begin to show signs or weakness. The stock trades at a forward P/E of 15.2 and a trailing multiple of 19.3, more-or-less in line with historical averages. We think the broad-based economic weakness has heightened the risk profile, and the shares are fairly valued.
Conclusion:
It's difficult to find much value in today's market, and while the expectation of strong earnings growth may excite investors, investors should be cautious. Demand in PPG's core markets is starting to slow, and the company can't rely on cost cutting, low oil prices, and low interest rates forever. We can't recommend a company solely on the basis of increased dividends and share repurchases, as these could come under threat once the fundamentals catch up. PPG is fairly valued, and investors should wait for a sizeable pullback before investing.
Disclosure: I/we have no positions in any stocks mentioned, and no plans to initiate any positions within the next 72 hours.
I wrote this article myself, and it expresses my own opinions. I am not receiving compensation for it (other than from Seeking Alpha). I have no business relationship with any company whose stock is mentioned in this article.