Introduction:
I have been reporting activity in my taxable portfolio (The Perfect Porftolio) for some time now. What began as an attempt to generate income for my mother, as CD interest rates began to drop, has turned into a Social Security supplement program for my own use.
While the portfolio was started in 2009, I have elected to report the existing positions with the closing price that each of those companies had on December 31, 2015.
The reason for reporting the original selections this way is to make them more relevant to investors who may be considering initiating a position in any of these companies, this year.
There is also an "addition" section of the portfolio. These are companies that we have purchased this year (2016), and in articles shared on Seeking Alpha, I have included what I call our "watchlist" of potential purchases for this portfolio in real time.
What You Should Know:
Any time we have decided to purchase a new position, we shared that before the purchase was made and then we gave readers a confirmation of the purchase via the brokerage "Trade Notification."
So, if you have been following along, you would have seen my "positions of interest" and could have (if you had chosen to) joined me in adding any of these companies to your own portfolio.
Let me make this "perfectly clear" (no pun intended). I am not suggesting that any of my stock selections are right for you. Make your own decisions, based on your own goals and objectives. Do your own due diligence and either make a purchase or pass on making a purchase.
It is really up to you and I want to remind you that I am not a financial advisor, salesman, or anything more than the guy who lives next door to you.
How Have We Done So Far?
The portfolio has had its share of "ups and downs" along the way. One thing to always remember about individual stocks, is that they don't "go up" automatically just because you've bought some.
When I make a purchase of stock in a company, I am looking to hold that position for at least a year, if not longer. Most of my holdings are companies that I've held for 5-10-15 years or more.
At the end of July, our portfolio looks like this: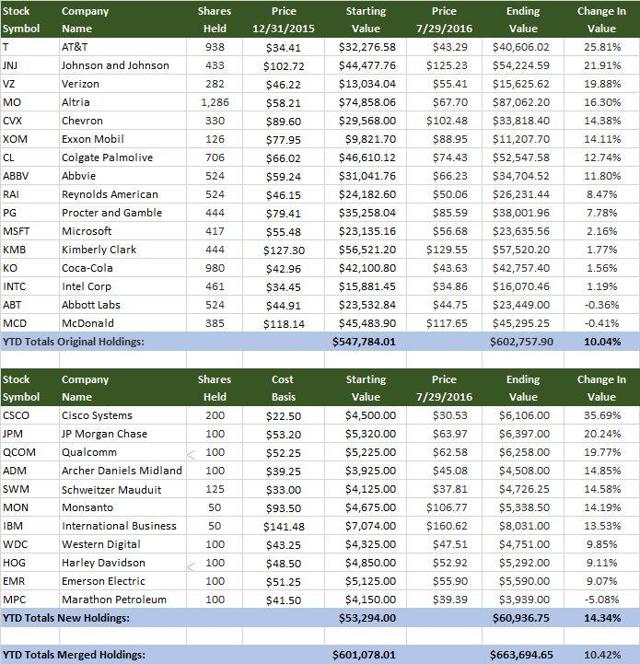 The original holdings are up 10.04% year to date with the best performers being AT&T (NYSE:T), Johnson & Johnson (NYSE:JNJ), Verizon (NYSE:VZ), Altria (NYSE:MO), Chevron (NYSE:CVX), Exxon Mobil (NYSE:XOM), Colgate-Palmolive (NYSE:CL), AbbVie (NYSE:ABBV), Reynolds American (NYSE:RAI), and Procter & Gamble (NYSE:PG).
The lesson you should be picking up here, is that the stock performance for these Blue Chips are from the start of this year. So, when people were saying that companies like these were "overvalued," you would still have a nice return relative to capital gains had you added these to your portfolio back in December.
Our New Holdings:
The stocks held in the "new" portfolio are up 14.34% year to date, with Cisco Systems (NASDAQ:CSCO), JPMorgan Chase (NYSE:JPM), Qualcomm (NASDAQ:QCOM), Archer Daniels Midland (NYSE:ADM), Schweitzer Mauduit (NYSE:SWM), Monsanto (NYSE:MON), and International Business Machines (NYSE:IBM) driving the returns.
It has been an interesting journey, relative to the selection process for the new companies in our portfolio.
Our first addition, Cisco Systems has been increasing their dividend for 6 years in a row. When we purchased the stock for our portfolio, our reasons were not as much about the dividend as it was about the growth potential of the company. The company announced a 23% increase in the dividend shortly after our purchase and the earnings report in concert with that dividend announcement helped to propel the stock higher.
JP Morgan Chase was our second purchase. We bought stock in the company for two reasons. First, I believe that JPM and Wells Fargo (NYSE:WFC) are the two "best" large banks for Dividend Growth Investors. JPM has been increasing dividends for the last 6 years (after the financial meltdown) and right after we made our purchase, the CEO of the company also decided to make a purchase. Unlike our 100 shares, Mr. Dimon bought 500,000 shares of JPM for $26.6 million. The stock rallied quite nicely from there.
Qualcomm is a company that we have owned in the past, but not in this taxable account. When we purchased QCOM, the stock was at a price that we considered to be a value and at the same time, the dividend yield was higher than the historic norm. Qualcomm has increased dividends for 16 years in a row.
When we purchased Monsanto, our reason was based on the valuation for the company and a 15 year history of annual dividend growth. Shortly after making our purchase, Bayer AG announced that they wanted to purchase Monsanto for $62 billion dollars. Oh, boy! While the deal is not done, Monsanto has increased in value and based on the Bayer offer, the buyout would result in an offer of $127 a share.
When you look to Dividend Growth Stocks that are priced at a value, then interesting things often happen. Each of the purchases that we made were priced at a value to intrinsic worth, based on our metrics of valuation. That's why we bought them.
Others saw the same value in the companies as did we. The results? Activity for those stocks, with large dividend increases, insider purchases, and acquisition proposals.
It's not rocket science. It's about value.
So, Where Are We Year To Date As A Total?
Combined into one portfolio, the two groups of stock are up 10.42% year to date and that translates into $62,616 of appreciation year to date (as of the end of July).
Now, some people might suggest that I could "create my own dividend" by selling stock and taking my profits. I get that.
Others would suggest that taking the dividends, while that being a smaller number, would be a better course of action. I get that.
What we are doing is holding our existing positions. The dividends that we generate from the initial stock selections have been growing at a rate that is significantly higher than inflation. On average, the income stream has been increasing around 8% annualized, but has dropped a bit as most of those holdings are stocks that have increased dividends annually for quite a long time.
It is too early to judge the new additions, but suffice to say, as a group, these companies have a history of larger than inflation dividend growth with some history to that growth. As things play out, we will address the Dividend Growth Rates in greater detail.
Summary and Conclusion:
If anything has become clear with this series of articles, it should be that the stock market is, in fact, a "market of stocks." There are companies that are grossly overvalued. There are companies that are currently fairly valued. There are companies that are currently undervalued.
The "trick" to successful investing is to find those companies that are priced at a level that represents them being "undervalued." Does that imply that your stock watchlist is going to have every watched stock turn out to be a "winner?"
Well, maybe not in the short run, but perhaps in the long run. In the meantime, DG stocks pay you a portion of their profits as you wait for capital appreciation.
A couple of our new picks have gone through some very interesting times. Let's take a look at a couple of our purchases and how they have fared in the short term.
Marathon Petroleum (NYSE:MPC) was purchased on April 26th for $41.50 a share. Here's what happened, represented by this chart: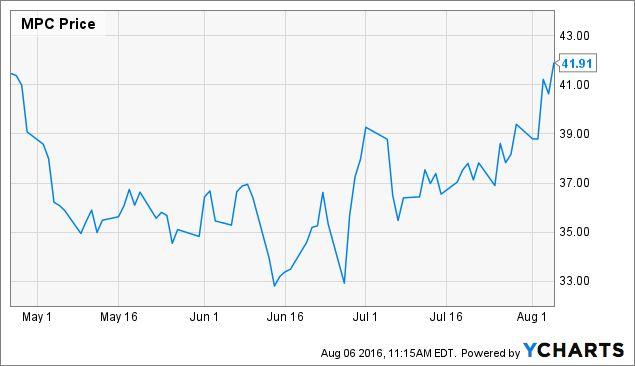 Well, that got ugly quickly. Immediately after making our purchase, the price of MPC began to decline. Then, it seemed to be trading in a range, before another drop to $33 a share. That represented quite a decline from our purchase price. Almost a 26% decline. So, was our valuation for MPC that far off? Well, timing is everything, but had we waited and bought at $33, we'd been very happy today. But, DGI is not about timing. It's about valuation. But valuation can be and often is a moving target. The point is, valuation will eventually play out as it has with this company.
I would have been a buyer of additional shares at $33 had I not committed to being transparent with this article series, so I was unable to make an announcement to that effect. I guess I could have bought the stock and then presented a Trade Notification, but I didn't buy any more stock.
I won't let that happen again. Next time, it's buy shares and share the Trade Notification as the stock has already been identified as a part of the portfolio and not a completely new position. Okay?
Harley-Davidson (NYSE:HOG) was purchased on April 22 for $48.50 a share. Here's the chart for HOG: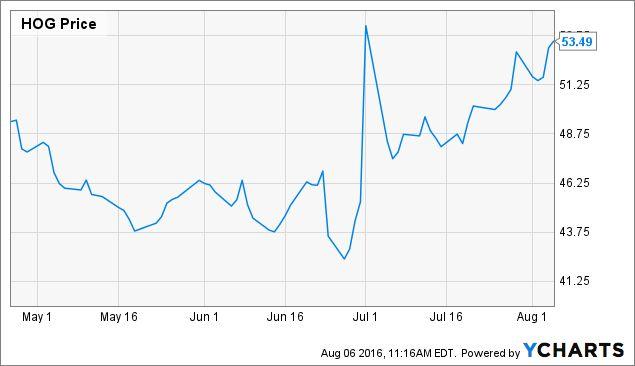 Same issue as MPC. We made our purchase and the price of the stock began to erode. It actually went all the way down to $42.39 on June 27th, a 14% decline in price. Again, this would have been a nice place to add additional shares and the company has gained in price since that time by a nice margin. (+26%).
We could look at other companies in the new group. Emerson Electric (NYSE:EMR) and Archer Daniels Midland would be showing similar patterns of price activity as do MPC and HOG.
Needless to say (I hope) is that as a DGI you are looking for a couple of specific metrics as part of your investment strategy:
1. Make purchases of stock in companies that are priced at a value, according to your own system of stock analysis. Will you always be "right?" Maybe not in the short run, but this is a long term game.
2. Look for companies that have a history of increasing dividends annually. There are companies that pay no dividend, companies that pay a dividend that might remain constant or fluctuate, and companies that increase their dividends annually. I prefer those that increase dividends annually.
3. Target Dividend Growth Rates (DGR) that are greater than inflation. If a company increases the dividend by a factor that is less than inflation, you have to worry about keeping ahead of the game, unless something peculiar about that company is part of the equation. Look at T and VZ. Both are underachievers when it comes to increasing the dividend. However, take a look at their "starting" yield points. Where are you going to get safe 4.15% to 5.5% yields and have those yields grow by 2% a year? T and VZ are great examples.
4. Reinvest dividends. If you are a younger investor or someone who has not had to deal with RMDs then in my opinion, reinvesting dividends is a no brainer. On the other hand, this particular portfolio is in a taxable account. I'm paying taxes on the dividends. So, in my opinion, I might as well use them to supplement my Social Security benefits.
5. Don't be second guessing yourself. If you think that XYZ stock is a value and meets all of your criteria for ownership, don't get all panicked if the stock declines below the price you paid for it. Now, if the stock is a complete dog and you are practicing delusional thinking (high risk/gambling) then that advice will likely be ignored by you. That's fine. It's your money.
6. Never be afraid to double down or double up on a given stock. For those who bought a company like AT&T or Johnson & Johnson back on December 31 (as in our portfolio) and you were thinking of buying more here, I would think "great idea." For those who bought stock at a perceived value and that stock has not performed as expected, then adding more might be a "great idea." I should have bought more shares of MPC, HOG, ADM and EMR when they pulled back after our initial purchases and will not let that mistake happen again.
Disclosure: I am/we are long ABT, ABBV, CL, CVX INTC JNJ KMB KO MCD MO MSFT PG RAI T VZ XOM CSCO JPM EMR HOG ADM SWM WDC MPC MON WDC QCOM. I wrote this article myself, and it expresses my own opinions. I am not receiving compensation for it (other than from Seeking Alpha). I have no business relationship with any company whose stock is mentioned in this article.