As the majority of Q2 earnings for major real estate investment trusts (REITs) have now been announced, analysts are looking specifically at retail REIT hits and misses as an indication of the macro environment of consumer spending. Retail REITs typically manage shopping malls, outlets, and other large-scale retail properties. The retail (and wholesale) sectors are currently facing intense headwinds, including election season uncertainty, a dampened Chinese economy, increased commodity price volatility, reduced consumer spending, over extension of retail space, and international political uncertainty (Brexit, for example). Below is a summary of the most recent Q2 EPS (note: not FFO) reports and outlooks from some of the largest retail REITs.
1. Simon Property Group (exceeded estimates)
Simon Property Group (NYSE:SPG) announced their Q2 earnings on 7/27, exceeding the Thomson Reuters' consensus estimate by $0.01 with $2.63 EPS. However, the firm failed to exceed top-line estimates, as quarterly revenue decreased by 2.5% over the prior fiscal year. SPG is a self-administered and managed REIT that owns, develops, and manages primarily malls and premium outlets. Stifel Nicolaus upped SPG's target price on 8/1 from $232 to $240, suggesting a more bullish attitude, and currently maintains their "buy" rating.
2. Kimco Realty Corporation (met estimates)
Reporting FFO per common share of $0.38 on 7/27, Kimco Realty Corp. (NYSE:KIM) met the Thomson Reuters' consensus estimate on the dot. The firm reported $0.44 FFO per common share for the same quarter last year. Overall earnings were $287.12m, below analyst expectations of $291.96m. The firm's U.S. occupancy rate reached an eight-year high of 96%, not seen since 2007. Strategically, the firm is nearly complete with an exit from the Canadian market. The balance sheet received an impressive boost, as the company increased cash/cash equivalents to $337.8m, up from $189.5m at the year end of 2015.
3. National Retail Properties (exceeded estimated)
National Retail Properties (NYSE:NNN) reported Q2 earnings on 8/2 of $0.60 EPS, beating analyst expectations of $0.58 by $0.02. The EPS is also above the $0.56 reported for the same quarter last year. Revenue came in at $130.92m, topping analyst estimates of $129.73m. National Retail Properties increased the guidance for FY16 to $2.31-2.36 EPS. The firm currently owns more than 2,050 properties located in approximately 50 states, with a current occupancy rate of 99.1%. Craig Macnab, CEO, commented during the Q2 earnings call: "2016 is off to a terrific start with better than expected acquisitions. Our balance sheet remains very strong and our portfolio occupancy continues to be exceptional." Despite this, the stock was downgraded by Zacks' analysts from a "buy" rating to "hold" in a report issued on Friday, 8/5.
4. Ramco-Gershenson Properties Trust (exceeded estimates)
Ramco-Gershenson Properties Trust (NYSE:RPT) released their Q2 earnings report on 8/2. The firm reported $0.35 EPS for the quarter, exceeding the Zacks' EPS estimate of $0.34 by $0.01. Earnings during the quarter came in at $65.90m, topping the analyst estimates of $65.76m. Year-over-year revenue was up 10.4%. On average, analysts predict that Ramco-Gershenson Properties Trust will post $1.36 earnings per share for the current year. The firm's portfolio currently includes an office building and approximately 70 shopping centers comprising approximately 15.3 million sq. ft. Zacks upgraded the firm rating from "sell" to "hold" on 8/5.
5. Weingarten Realty Investors (exceeded estimates)
Weingarten Realty Investors (NYSE:WRI) reported their Q2 earnings results on 7/28. The firm's bottom line came in at $0.57 EPS ($73.58m overall), exceeding Thomson Reuters' analyst expectations of $0.56 EPS by $0.01. For the same quarter last year, the firm reported $0.54 EPS ($68.28m). The firm posted revenue of $132.81m, topping analyst expectations of $129.52m. The year-over-year earnings growth is 7.8%, with an EPS growth of 5.6%. The firm is headquartered in Houston, TX and owns, manages, and develops shopping centers.
Year to date, REITs in general have surpassed S&P 500 growth, as shown in the chart below: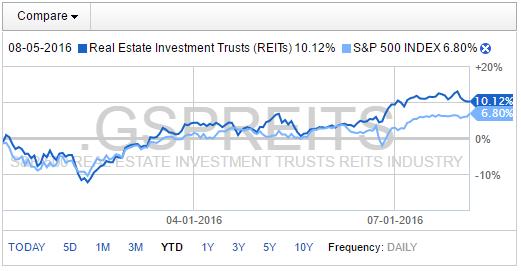 Source: Fidelity
Out of the five retail REITs that reported Q2 earnings, each either met or exceeded analyst expectations. However, earnings expectations for Q2 are of low quality, given the recent hiccup in retail spending. The minimal amounts by which retail REITs are exceeding these low-quality expectations should be cause for concern if there is a steep decline in consumer retail spending during Q3.
Disclosure: I/we have no positions in any stocks mentioned, and no plans to initiate any positions within the next 72 hours.
I wrote this article myself, and it expresses my own opinions. I am not receiving compensation for it (other than from Seeking Alpha). I have no business relationship with any company whose stock is mentioned in this article.