Cisco Systems, (NASDAQ:CSCO), otherwise sometimes affectionately known as the Cisco Kid, the legendary technology growth stock from the 1990's that regularly grew revenue 75% - 100% on the back of their switching and routing core business strength, is another large-cap technology company faced with the prospect of reinventing itself as the halcyon days of late last century (seems weird to say that) fade in the rear-view mirror.
While an earnings preview is usually started with the Street consensus and the numbers, for Cisco, a look at the long-term chart might provide a reader with more insight: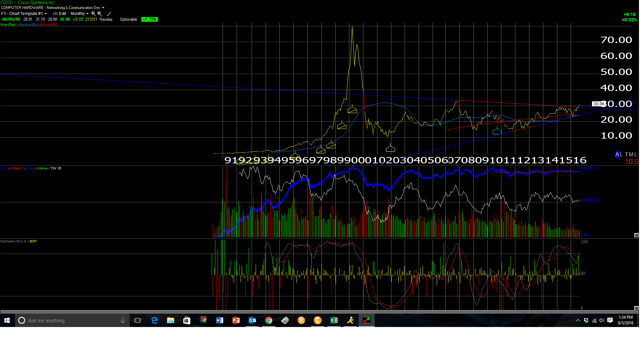 The stock is just starting to break-out of what has essentially been a 16-year trading range between the 2000 - 2001 collapse from its $82, March, 2000, high to its October, 2002, $8 low.
That is a pretty big range.
Since that time, Cisco did trade up as far $33.60 in November '07, but you know what happened after that.
Fiscal Q4 '16:
Cisco doesn't report it's fiscal 4th quarter, 2016, financial results until August 17th, 2016, after the closing bell. Currently Street consensus is looking for $0.60 on $12.57 billion in revenue for expected year-over-year growth of 2% and -2% respectively.
However what really matters at this point is 2017 guidance, with current consensus expecting $2.44 in EPS on $50.43 billion in revenue for expected year-over-year growth of 5% and 3% respectively.
Forward expectations:
| | | | | |
| --- | --- | --- | --- | --- |
| | Cons. EPS | y/y gro | Cons. Rev | y/y gro |
| Fiscal '19 | $2.80 | 10% | $51.57 bl | 0% |
| Fiscal '18 | $2.55 | 5% | $51.45 bl | 2% |
| Fiscal '17 | $2.44 | 5% | $50.43 bl | 3% |
| Fiscal '16 | $2.33 | 5% | $49.1 bl | 0% |
Source: Thomson Reuters consensus estimates as of 8/5/16
The real issue at Cisco is that the company continues to struggle mightily with transforming the business away from the core switching and routing businesses, which is still roughly $5.5 billion or 45% of Cisco's total revenue, and offer little growth, into areas like Security (Cloud Security), which is still just 4% of revenue but is growing mid-teens annually.
The fact is John Chambers and other at Cisco are constantly talking about the "Internet of Things" (NYSEMKT:IOT) as the wave of the future but the business is still stuck in the 1990's model.
Hopefully Chuck Robbins and the new CFO Kramer and the new management team can change all that.
But here is my one big issue with Cisco: the company has spent a lot of money and issued a lot of stock to acquire maybe hundreds of small companies to reinvent itself over the last 15 - 16 years, and then to have these exec's leave Cisco, cash in their incentive shares, and the original Cisco is still generating 1% - 3% revenue growth 15 - 16 years later.
You have to wonder who is playing who here...
Valuation: Cisco is trading at 13(x) earnings for what is expected mid-single-digit earnings growth going forward, so on a P.E or PEG basis the stock is fairly valued.
Looking at cash-flow, which Cisco wastes thanks to the granting of formidable stock options to acquisitions, Cisco is trading at 7(x) cash-flow and 11(x) free-cash-flow "ex cash", which isn't too shabby for this market.
Cisco sports a 3% - 3.5% dividend yield which gives investors a lot of reasons to hang around the stock as it works through re-creating the business model. Cisco is paying out roughly half of its free-cash-flow to fund the dividend, and the other half is spent on the share repurchase plan a lot of which is wasted having to offset the dilution of incentive stock options.
Conclusion: Looking at the chart above, long-term investors have to be wondering if the shares are poised for a long-term breakout of this trading range, and whether the shares can trade above the 2007 high of $33.60 on Q4 '16 results.
Fundamentally nothing has really changed, and I suspect Cisco is going to have to reduce headcount again and continue to put pressure on the "emerging growth" businesses like Security, Data Center and Services.
Since early 2009, Services has grown as a percentage of revenues from 19% to 26% as of last quarter.
Those three segments were roughly $4 billion of Cisco's total $12 billion in revenue last quarter and were growing the fastest too, but "emerging tech" is still not making much of a dent in overall revenue.
Cisco can't continue to reduce headcount and cut expenses as the only way to generate EPS growth. The share repurchase program - in my opinion - wastes a lot of capital repo'ing incentive stock shares. While overall the share repurchase program is still accretive, in my opinions, billions of free-cash-flow get wasted on buying back incentive stock. (There was a good discussion with a reader on Cisco's last earnings preview about incentive stock options and exactly how much was needed to be repo'ed. )
Still, I'm a believer in technical analysis: a breakout of this 16-year consolidation and the stock is telling investors there is better growth ahead.
There are three aspects to look for in a successful turnaround:
1.) New management: while John Chambers is still Chairman, Chuck Robbins and his new CFO represent a fresh start at Cisco. It is hard to say how much control John has really given up, but it does mean a fresh perspective on some old problems.
2.) The brand remains intact: with $50 billion in annual revenue, Cisco still has an excellent reputation in networking. I don't think that is an issue.
3.) Ample free-cash-flow to fund a turnaround either with "build" or "buy" strategies. Buying smaller, bolt-on tech companies hasn't done much to drive revenue growth over the last 15 years (in my opinion). However there is enough free-cash-flow there to continue to make the push into Security, Collaboration, Cloud, and IOT.
Fiscal '17 guidance and Robbins discussion of Q4 results will go a long way determining stock price action.
I'm not totally convinced yet.
One client maintains a small position in Cisco shares from January, 1998 with a cost basis near $9.50. Cisco has been bought and sold for client accounts over the years.
Like all the large-cap tech giants of the late 1990's, Cisco is going to reinvent itself into almost a whole new company or it is going to continue to languish.
Disclosure: I am/we are long CSCO.
I wrote this article myself, and it expresses my own opinions. I am not receiving compensation for it (other than from Seeking Alpha). I have no business relationship with any company whose stock is mentioned in this article.