EOG Resources, Inc. (NYSE:EOG), originally named "Enron Oil & Gas Company" (separated from Enron two years prior to the scandal that led to Enron's demise), has chosen to spend unusually much time and space on the nebulous notion of "resource potential" in its recent announcements. The company's usage of this volatile concept along with "premium drilling" to dazzle investors has literally been bought by the market, as the stock closed at $90.16 last Friday, exceeding the high of $89.52 last seen on November 3, 2015 and rising back to levels last seen in May 2015. Yet both the oil prices and the firm's EBITDAX are presently substantially lower than they were in the fall of 2015, let alone May 2015. I find this unreasonable and consider the stock to be grossly overpriced.
A "resource potential" is an uncertain and volatile quantity, rarely mentioned by EOG's competitors
Here is some small type from a presentation by Pioneer Natural Resources (NYSE:PXD), "the second largest pure play shale oil producer behind EOG":
In this presentation, Pioneer includes estimates of quantities of oil and gas using certain terms, such as "resource potential," ... which the SEC's guidelines strictly prohibit Pioneer from including in filings with the SEC. These estimates are by their nature more speculative than estimates of proved reserves and accordingly are subject to substantially greater risk of being recovered by Pioneer.
Aside from disclaimers, this concept is not actually found anywhere in Pioneer's recent presentations. In contrast, the claim about the resource potential is literally the first line in EOG's press release of the second quarter earnings: "Increases Net Premium Inventory to 4,300 Locations and Total Net Premium Resource Potential to 3.5 BnBoe". This quote also introduces the term "premium", which will be discussed later. EOG then expands on the incredible success it has had increasing the "premium net resource potential":
In the second quarter 2016, EOG increased its inventory of net premium drilling locations from 3,200 to 4,300. Premium inventory is defined by a direct after-tax rate of return hurdle rate of at least 30 percent assuming $40 flat crude oil prices. Total premium net resource potential increased from 2.0 billion barrels of oil equivalent (BnBoe) to 3.5 BnBoe. These additions were the result of advances in completion technology, precision targeting, longer laterals and cost reductions.
It is most unusual for any company to achieve this much "improvement" in any truly important measure in the course of a single quarter. Aside from being mesmerized by the 75% growth, it is hard to compare the "resource potentials" of EOG and its peers. Concho Resources (NYSE:CXO) is a rare example of a company that has made one-line mentions of its resource potential, 5 billion barrels of oil equivalent at the end of 2015 and an increase of 35% year-on-year. Speaking of the magnitude of the resource potential, EOG's either figure of "premium" 3.5 billion Boe or the total resource potential of 7 billion Boe appear to be disproportionately small compared to Concho's 5 billion Boe. This is because Concho is a smaller company, producing 145.2 MBoepd in Q2 2016 compared to EOG's 551.1 MBoepd. Taking both companies' figures for granted, this could imply that EOG's long-term "potential" production economics are inferior to Concho's.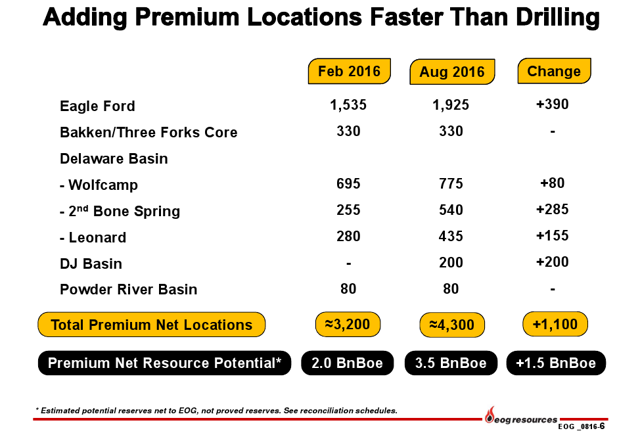 Source: EOG Resources Q2 2016 Earnings Presentation
Concho's 35% figure sets the scale for a reasonable annual increase which I am inclined to trust as the company does not rely on it to market itself aside from mentioning it in passing at most a couple of times a year. So how could EOG arrive at the outlandish 75% growth?
I think the explanation is in the incredible instability of "premium inventory":
EOG estimates that a 10 percent reduction in completed well costs or a 10 percent improvement in estimated recoverable reserves per well would more than double EOG's premium inventory in the Eagle Ford.
Based on cost reductions other operators have been reporting, as well as EOG's own lease operating costs declining 27% in H1 2016 compared to all of 2015 and operating costs decreasing 15% during the same time, the reduction in costs is still ongoing and so a decline in completed well costs approaching 10% looks plausible.
Why not "hedge in May and go away"?
The company claims a "10 percent compound annual crude oil production growth through 2020" assuming WTI future prices flat at $50. If the company can grow at this level, why not lock it in and demonstrate that they can? I examined hedging by EOG and its competitors in an earlier article, pointing out comprehensive hedging programs employed by Pioneer Natural Resources, Concho Resources and Noble Energy (NYSE:NE) that have been able to continually increase production as a result, growing within the cash flow.
Deciding to forgo oil hedges, EOG has missed a two month-long window of opportunity, as the strategy of "hedge in May and go away" (till next May) has worked well last year, and so far this year. The longest-dated but still somewhat liquid NYMEX WTI future (the 13th month contract) was above $50 for the entire period from May 16 to July 20, except for a single day. The daily settlement prices averaged $51.53 during this period, with the maximum of $53.87. While no one can be expected to hedge themselves at the very top, the price remained above $51.5 for 22 out of 46 business days in this period. The front month future averaged $47.85 over the same two-month period and was about $49 for 14 days out of 46. Prices of futures more than a year ahead were likely higher than indicated by the 13th month future. Even accounting for this contango (the spot price for oil being lower than longer-dated future prices), it is clear that EOG could have locked in a flat WTI level of $51 or higher for all of the next two years, without trying too hard. Then the company would not have to say "assuming a flat $50 WTI" because they would have locked it in. The failure to hedge makes production growth claims less likely to materialize.
What is "premium drilling"?
The word "premium" was everywhere in the second quarter press release, the presentation and the earnings conference call:
Much of this year's increase can be attributed to our shift to premium drilling
...
However, as slide five illustrates, just 60% of our 2016 drilling program is premium, so we expect to see this chart show improvement for many years to come.
...
the premium drilling is what helps us with the growth forward because it just requires fewer wells, and we'll not be having to ramp up to the number of rigs that we had, for instance, in 2014
An obvious question is, why not do 100% of premium drilling? On another note, the phenomenon of not requiring as many rigs as before is not unique to EOG. For example, Concho had 40 rigs in the Permian Basin in 2014, while presently they are growing production with merely 16 rigs. I think "premium" is qualitatively the same as the term "high-grading of inventory/locations" used by other companies, its only advantage being that it sounds more refined.
Value-wise, EOG is now vastly more expensive than in October or June 2015
The chart below shows EOG dividend-adjusted closing prices along with prices of two NYMEX WTI futures contracts, the front month representing an approximation to the spot oil price and the 13th month having been chosen as the longest-dated futures contract that boasts substantial liquidity.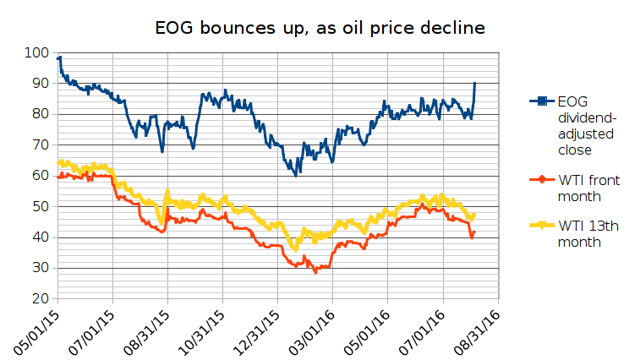 Source: Quandl and author's analysis
Accounting for dividends, the closing price of $90.16 on August 5 was last exceeded on May 21, 2015. At the time, the front-month WTI future traded at 59.89, a level now seen only in EOG executives' dreams and press releases ("Assuming flat $60 WTI"), and far higher than $41.82 seen last Friday. The 13th month oil future was at $63.23, again a far cry from Friday's $47.47 settlement price. I think EOG's overbought condition deserves to be called "irrational exuberance".
It is not as if the company is somehow quantitatively better today than it was last year, all claims referring to "premium" and "resource potential" notwithstanding. As the following exhibit demonstrates, the net debt load went from $5 billion in Q2 2015 to $6.2 billion in the latest quarter. Despite an increase in the capital invested, the firm's EBITDAX at $702 million in the latest quarter is 24% less than $919 million in Q3 2015 when the stock was cheaper, and almost 50% below EBITDAX of $1,317 million in Q2 2015 when the stock was at roughly the same level as after Friday's jump.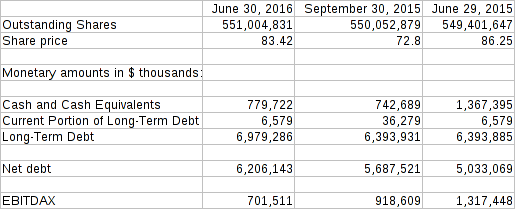 Source: EOG's SEC filings and author's analysis
Conclusion
As mentioned above, EOG Resources is the "largest pure play shale oil producer". Hence it is unsurprising when the street analysts unquestioningly adopt its terminology, such as "premium drilling" instead of the "high-grading". The market reaction to the second quarter earnings release on Friday illustrates how the market has bought EOG's claims about its "resource potential" despite it being a highly unstable quantity outside of SEC-allowed reserve disclosures. We will have to wait till February 2017 to find out about the progress EOG has made growing its reserves, which are standardized and comparable.
In the meantime, the current picture is that the stock has set a new year-to-date high, exceeding the previous high reached in early November 2015. The non-GAAP (because who wants to talk GAAP anymore, given all the actual GAAP losses) earnings picture is that EBITDAX in the latest quarter is 24% less than in Q3 2015 (the figure of relevance to November 2015 high).
The stock has also broken through the level of $90 last seen in the second quarter of 2015, when the company's EBITDAX was nearly double the latest quarter's value. The stock being at $90 is also incompatible with both short-term and long-term oil prices substantially lower than they were the previous time EOG was at $90 in May 2015. Based on the stated fundamental factors, I rate EOG a "sell".
Note from author: Thank you for reading. If you like this article, please follow me by clicking the "Follow" link at the top of this page and choosing "Real-time alerts on this author" to be informed of my latest ideas.
Disclaimer: Opinions expressed herein by the author are not an investment recommendation and are not meant to be relied upon in investment decisions. The author is not acting in an investment, tax, legal or any other advisory capacity. This is not an investment research report. The author's opinions expressed herein address only select aspects of potential investment in securities of the companies mentioned and cannot be a substitute for comprehensive investment analysis. Any analysis presented herein is illustrative in nature, limited in scope, based on an incomplete set of information, and has limitations to its accuracy. The author recommends that potential and existing investors conduct thorough investment research of their own, including detailed review of the companies' SEC filings and consult a qualified investment advisor. The information upon which this material is based was obtained from sources believed to be reliable, but has not been independently verified. Therefore, the author cannot guarantee its accuracy. Any opinions or estimates constitute the author's best judgment as of the date of publication and are subject to change without notice. The author explicitly disclaims any liability that may arise from the use of this material.
Disclosure: I/we have no positions in any stocks mentioned, and no plans to initiate any positions within the next 72 hours.
I wrote this article myself, and it expresses my own opinions. I am not receiving compensation for it (other than from Seeking Alpha). I have no business relationship with any company whose stock is mentioned in this article.