My wife texted me a few hours ago. She expressed enthusiasm for the fact that the Dow closed above 13,000, exuberantly commenting that the stock market is so "high." (Exclamation points and smiley faces.)
I did not wish to throw hail stones on her proclamation (or maybe I did). Yet the Dow also "achieved" this milestone back in April of 2007. If the Dow were able to achieve historically average returns of 7% since that time (excluding dividend reinvestment), we'd be dancing with 18,000, not 13,000.
Granted, 13k is a psychological barrier for investors. And with program traders selling the Dow 13,000 news for weeks, the bull's resolve is impressive. Nevertheless, even if the world's central banks (e.g., Federal Reserve, ECB, BOJ, etc.) are able to buoy stock assets with quantitative easing, they're not able to keep commodity prices from surging simultaneously.
According the the Bureau of Labor Statistics (BLS), scores of food items rose by more than 10% in 2011, including sugar (12%), flour (16%) and peanut butter (22%). And while it's true that corresponding Commodity ETNs may or may not be appreciating in the same manner as the retail products, the fact that iPath DJ Sugar Total Return (NYSEARCA:SGG) is up 12.5% in 2012 alone should garner some attention.
True, Dow 13k is far better than a hole in the side of the head, let alone the 6,600 it registered in March of 2009. Yet the prices at the grocery food store are not merely revisiting their April 2007 prices like the Dow – food prices are unbelievably higher.
It follows that it may make sense for investors to consider the commodity angle, not just investing in the "industrials" that create the products from those commodities. Here are three exchange-traded vehicles that may provide sweet returns for believers in the inevitable consequences of the Fed "expanding" its balance sheet:
1. iPath DJ Sugar Total Return (SGG). What makes sugar so attractive is that it is one of the oldest commodities on international exchanges. What's more, worldwide demand is still vibrant. In fact, demand is even greater in developing nations with up-n-coming middle classes. Additionally, SGG is well above its 200-day moving average.
Click to enlarge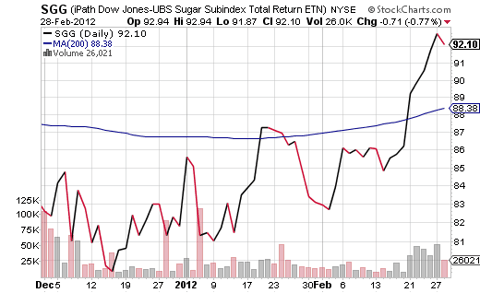 2. ETF Physical Platinum (NYSEARCA:PPLT). How often in one's lifetime does an investor get a chance to invest in a metal that has almost always been priced higher than gold? The sovereign debt crisis in Europe had pushed the semi-precious platinum to the depths, whereas gold had been able to maintain its safer haven status as an alternative to fiat currency. However, with China beginning to ease, and with U.S. economic prospects improving, platinum has roared back from its lows. PPLT is back above a 200-day trendline.
Click to enlarge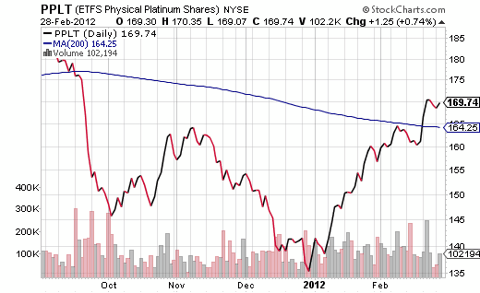 3. Teucrium Soybean Fund (NYSEARCA:SOYB). With energy prices skyrocketing on Syrian and Iranian concerns, consumers may find themselves shifting some of their eating habits. For example, they may find themselves eating less in the way of pork or beef. Yet soybeans appear in almost everything we eat - soy being a key ingredient in almost all processed food. What's more, soy is hitting five-month highs on China, which imports about two-thirds of the world's crop. Last week, China purchased the second-largest amount of U.S. soybeans on record.
Click to enlarge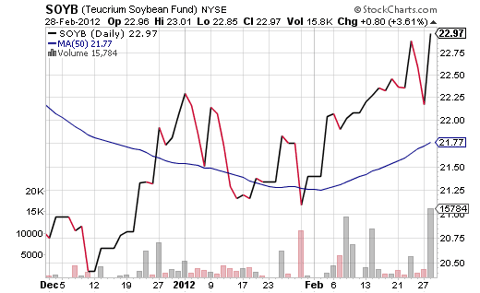 Disclosure: Gary Gordon, MS, CFP is the president of Pacific Park Financial, Inc., a Registered Investment Adviser with the SEC. Gary Gordon, Pacific Park Financial, Inc, and/or its clients may hold positions in the ETFs, mutual funds, and/or any investment asset mentioned above. The commentary does not constitute individualized investment advice. The opinions offered herein are not personalized recommendations to buy, sell or hold securities. At times, issuers of exchange-traded products compensate Pacific Park Financial, Inc. or its subsidiaries for advertising at the ETF Expert web site. ETF Expert content is created independently of any advertising relationships.