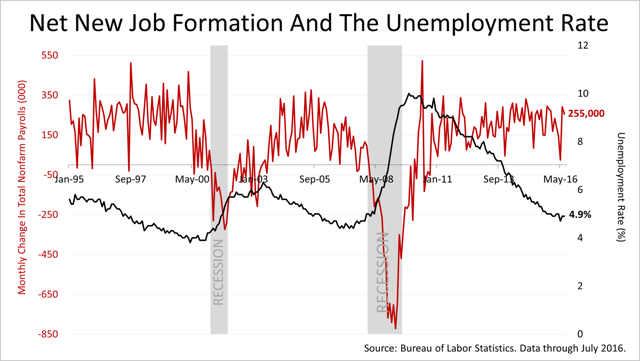 On Friday, news that 255,000 net new jobs were created in July delighted stock investors. The "establishment" survey of job formation, which is shown above in red, was supported by the "household" survey of job formation. Job growth boomed in July.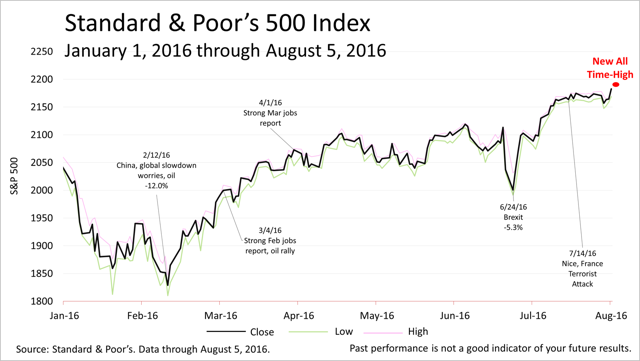 The S&P 500 finished the week at a record all-time high again.
The value of the Standard & Poor's 500 surged almost 1% Friday to close at 2182.87.
When you are fortunate enough to see a chart of growth like this in the U.S. stock market, fundamentals are more important to focus on than ever so that you can discern a bull market from irrational exuberance.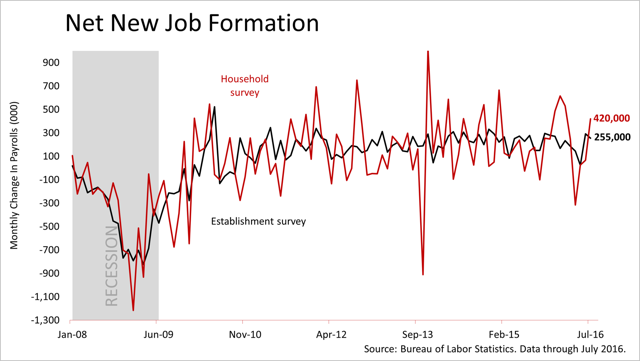 This is the household survey of job formation. It's a smaller sampling of businesses than the establishment survey and much more volatile month to month. In July, according to this monthly metric of job formation, 420,000 new jobs were created - a big surge.
News that both job-formation reports were booming in July confirmed that the U.S. economy was growing at a surprisingly healthy pace.
The unemployment rate, meanwhile, was unchanged at 4.9%, which also was good news. An uptick in the labor force participation rate was a bright spot in that report.
Friday's positive data on jobs put a cap on a week of strong economic reports.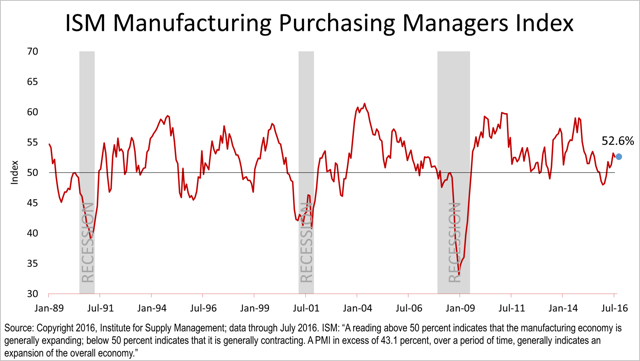 The July Institute of Supply Management's purchasing managers surveys, which measures business activity in the manufacturing and non-manufacturing segments of the economy, also posted healthy readings.
Economic activity in the manufacturing sector expanded in July for the fifth consecutive month, said the nation's supply executives in the latest Manufacturing ISM Report On Business. The overall economy grew for the 86th consecutive month. The ISM manufacturing PMI historically has slumped to less than 50 as the economy slid into recession.
The much-more important non-manufacturing sector, which accounts for 86% of U.S. economic activity, grew in July for the 78th consecutive month, according to the latest Non-Manufacturing ISM report. The non-manufacturing sector registered a 55.5% reading in July. That was a percentage point lower than the June reading, but represents continued growth in the non-manufacturing sector at a slower rate.
A key component of the non manufacturing index, the forward-looking index measuring new orders, came in at a strong 60.3%. That's four-tenths of a percentage point higher than the reading of 59.9% in June. This indicates business activity is about to pick up in the non-manufacturing segment of the U.S. economy as these new orders get filled.
While this index has only a limited history, its calculation methodology is the same as for the manufacturing index. One might reasonably assume that the ISM non-manufacturing PMI would substantially slump from its present level to a reading under 50 well before the onset of recession.
Among the employment reports from the U.S. Bureau of Labor Statistics, came new figures on the number of hours worked and average hourly earnings (AHE). Growth in AHE has risen by 2.6% over last July, and this compares favorably to its average annual post-recession growth rate of 2.1%.
With weeks before a national election, you will often hear politicians from both sides of the aisle assert that the average American has not had a pay raise for two decades. It's untrue. Perhaps it's bad politics to say workers are getting paid more, but the data shows clearly that wage stagnation is a fiction.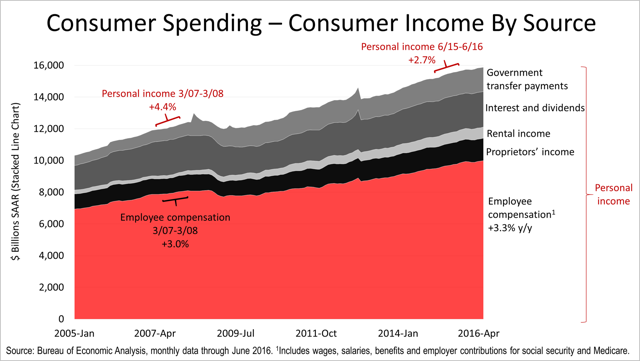 If the components of growth in the U.S. economy were a breadcrumb trail, they would lead to wage gains and job growth. Wage gains and job growth are the two main drivers of employee compensation.
Wage gains and job growth account for the majority of personal income. Personal income drives personal spending, and personal spending is responsible for 69% of all economic activity known to the U.S. government. Hence, the significance and intense focus on these two monthly data points this week. Because July's data was quite positive, the stock market is reacting accordingly.
We're in a long-term bull stock market almost unprecedented for its length.
The S&P 500 had gained about 9% since the start of the year. That's the average gain for a full-12 month year in eight months.
A correction of 10% could always occur, and market sentiment could suddenly turn negative due to some unexpected event.
However, none of the signs that preceded economic downturns in the past were evident as the third quarter of 2016 approached. Those who have derided the economy's slow growth are being surprised by the renewed signs of strength. They're capitulating.
It's always like this with bull markets. They're unexpected.
To think, just a few weeks ago, fears of Brexit sent stocks worldwide into a tailspin. Similarly, the slow but long growth cycle that's followed The Great Recession has defied expectations.
This is why regulators require we always will tell you that past performance of investments are not indicative of your future results. But it's a double edge, and sometimes you get a good surprise.
The Current Employment Statistics (CES) program produces nonfarm employment series for all employees (AE), production and nonsupervisory employees (PE), and women employees (WE). For AE and PE, CES also produces average hourly earnings (AHE), average weekly hours (AWH), and, in manufacturing industries only, average weekly overtime hours (AWOH).
Concurrent with the release of January 2010 data, the CES program began publishing all employee hours and earnings as official BLS series. These series were developed to measure the AHE and AWH of all nonfarm private sector employees and the AWOH of all manufacturing employees. AE hours and earnings were first released as experimental series in April 2007, and included national level estimates at a total private sector level and limited industry detail.
Historically, the CES program has published average hours and earnings series for production employees in the goods-producing industries and for non-supervisory employees in the service-providing industries. These employees account for about 82 percent of total private nonfarm employment. The AE hours and earnings series are more comprehensive in coverage, covering 100 percent of all paid employees in the private sector, thereby providing improved information for analyzing economic trends and for constructing other major economic indicators, including nonfarm productivity and personal income.
AE average hours and earnings data are derived from reports of hours and payrolls for all employees. PE average hours and earnings data are derived from reports of production and related employees in manufacturing and mining and logging, construction employees in construction, and nonsupervisory employees in private service-providing industries.