Business overview
Cenveo, Inc. (NYSE:CVO) is a manufacturer of paper and printing products. They operate in three self-explanatory segments. There is the envelope segment, which makes envelopes; the commercial printing segment that does commercial printing, e.g. for direct mail campaigns; and the labels segment. These are old-school, declining industries, and Cenveo has declined along with them. In the first quarter, the company was staring at bankruptcy, with unpayable debt coming due. The stock price declined as low as 2.80 (actually 0.35 at the time; there has been a 8:1 reverse split in the meantime, to maintain the NYSE listing). Short interest hit around 20% of the float, with the shorts waiting for the stock to go to zero.
Management pulled a financial rabbit out of the hat, however. Somehow they exchanged a large pile of expensive debt for a smaller pile of cheaper debt, along with some equity claims in the form of warrants. They lowered the interest rate and payments, lowered the company's debt load, extended maturities, and gave the company more liquidity. For details, see the press release. A remarkable performance, all in all.
At the same time, the fundamental issues facing the company have not gone away: declining sales, narrow margins, and sky-high leverage. To combat these, management has been selling off non-core segments, aiming at a smaller but higher-margin business. Here I want to examine the company's recent earnings report. My judgment - in case you want to skip right to the end - is that Cenveo is dicey as a going concern, and unattractive as an investment. They may make it, or they may not, but they probably aren't going to make you any money.
Earnings review
Earnings this quarter and last are artificially boosted by debt exchanges. Because the company was facing bankruptcy, it could negotiate to buy back existing debt at a discount. This counts as income, albeit not cash, and it makes earnings look better than they are.
More indicative of reality is revenue of $404M, which is down 2% from year-ago revenue of $413M (adjusted to exclude discontinued operations). Last quarter was $432M vs. $429M, so up 0.7%. In short, the company doesn't look to be going anywhere fast on the top line, but the pressure is if anything slightly down.
If we pay attention only to recurring, cash expenses, we get an income sheet that looks something like this for the quarter: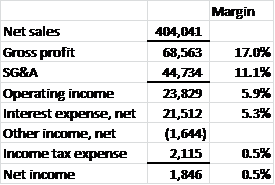 (Source: company filings)
The major savings on the interest expense line have already been realized this quarter, but they may drop a touch in quarters to come. The bottom line (literally), is that the company is barely breaking even.
Going forward, management has indicated a few more quarters of investment and restructuring, in an attempt to streamline the business and boost margins. Cenveo is walking a tightrope here, without much in the way of cash reserves or extra debt capacity; any misstep could tip them back toward bankruptcy.
Valuation
Cenveo has no liquidation value, so it has to be valued on its earnings power. That is marginal, as demonstrated above. Using my normalized numbers above as a guess about future quarters, the return on assets is less than 1%.
Using the same numbers, I get an EV/EBITDA of about 12 and a P/E of about 11.5. Both of these metrics are somewhat misleading, as EV/EBITDA ignores the heavy interest payments, and P/E ignores the giant debt load. In neither case have I counted future debt/expenses due to ongoing restructuring and investment.
Perhaps we should look at cash flow. Operating cash flow from continuing operations (lots of qualifiers, there) was a respectable 17.1M this quarter, giving a EV/CF ratio of 17. But last quarter had negative cash flow, so for the half we get an EV/CF of 106 - not where you want to be. There is enough variation in the operating cash flow from quarter to quarter that I don't feel comfortable making a normalized estimate here.
Furthermore, the recent debt exchange involved issuing warrants for 1/6 of the company's stock, so some heavy dilution is in the offing.
Most of all, this company has very little room for error. Debt/assets is already 1.7. If any of these ongoing investments fails to pay off, or if margins don't improve, any lender would be foolish to extend yet more credit. The company would have little recourse but to sell off assets that are increasingly "core".
Conclusion
The stock has run up from as low as 2.80, or more recently 6-ish, to as high as 10. A lot of that can be attributed to short interest coming off, as the company edged away from bankruptcy. I do not expect a surge like that again anytime soon.
Overall, I see no reasons to buy Cenveo, and a number of reasons to stay away. You can find better places to put your money.
Disclosure: I/we have no positions in any stocks mentioned, and no plans to initiate any positions within the next 72 hours.
I wrote this article myself, and it expresses my own opinions. I am not receiving compensation for it (other than from Seeking Alpha). I have no business relationship with any company whose stock is mentioned in this article.
Editor's Note: This article covers one or more stocks trading at less than $1 per share and/or with less than a $100 million market cap. Please be aware of the risks associated with these stocks.