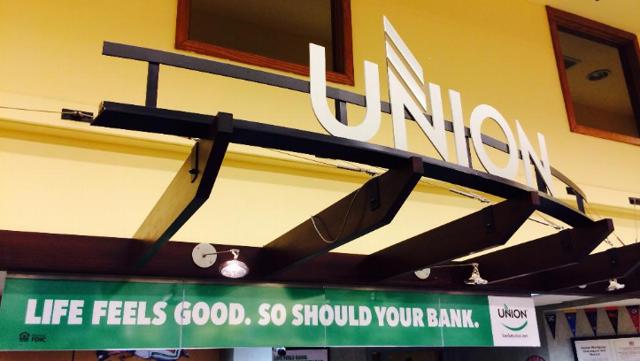 Last time I visited community bank Union Bankshares (NASDAQ:UBSH), the stock was fresh off of a weak Q4 report and a nasty selloff. At the time, shares were just 22 bucks and given today's prices, that was certainly a bargain. UBSH has been very busy acquiring smaller competitors and growing its business in much the same mold that BB&T has used for years, albeit at a much slower pace. The Q2 report has shares flying again and indeed, UBSH is trading at its highs once more. UBSH is certainly one of the better performing financials in the regional and community space but are there catalysts for it to continue its march?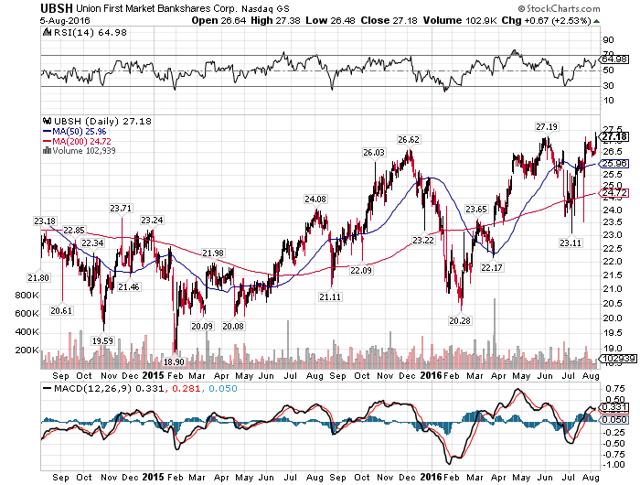 Union's Q2 showed revenue growth strength that most financials don't have at this point, up almost 5%. That's a great result and it speaks to why shares are flying as they are; profitable growth is hard to come by for banks these days. In addition to top line growth, UBSH is doing it the right way with growth in loans and deposits. After adjusting for the sale of the company's credit card portfolio in last year's Q3, loans were up an annualized 11.1% from Q1 and 8.3% over last year's Q2. That is a tremendous amount of loan growth as UBSH continues to aggressively go after new business. The aim here is for UBSH to be the dominant community bank in Virginia and it is certainly making progress towards that goal.
On the deposit side, UBSH saw 10.1% annualized growth over Q1 and 5.4% over last year's Q2. UBSH has always been aggressive with its loan-to-deposit ratio and that number grew again in Q2 as loan growth outpaced deposit growth. There is nothing inherently wrong with that as long as underwriting standards are followed and the company doesn't chase growth for the sake of growth. But the momentum here is undeniable and UBSH continues to perform very well.
So well, in fact, that UBSH's NIM is a whopping 3.84%, up 2bps from the previous quarter. The 2bps gain doesn't matter but that NIM is absolutely fantastic, indicating that UBSH's loan growth is quite profitable indeed. If other banks were getting that sort of yield I suspect they would be going after loan growth the way UBSH is because it is making a lot of money on all of those loans. NIM near 4% is almost unheard of these days and UBSH should be very proud of the effort it is putting forth.
On the credit front, things are progressing rather nicely as well. NPAs were down 11.3% from Q1 and as a percentage of total loans, fell 17bps from last year's Q2. The story is the same with past due loans, net charge offs, provisions and allowances for loan losses. In other words, every single way to slice credit metrics saw material improvements in UBSH's Q2 and again, the rate that it is growing with improving credit metrics is simply astounding.
Even expenses were up only 1.8% against the nearly 5% gain in revenue and all the other growth metrics we've talked about; UBSH is doing everything right and it shows in the stock price. The only problem I see is that it could be getting stretched here.
Analysts have UBSH earning $1.72 this year and $1.86 next year, indicating that today's price implies PEs of 15.8 on this year's earnings and 14.6 times next year's estimates. For a traditional bank, those numbers are stratospheric and I'm not aware of another bank trading with that sort of valuation. Certainly there is one somewhere that is trading on par with UBSH but for a billion-plus dollar market cap, this is rarified air indeed. And the fun doesn't stop there; price to tangible book value is an equally alarming 1.6. That is also a valuation that is highly exclusive and while I could go on, the point is that UBSH has more than a premium valuation at this point.
Is it that good? Yes, it is very good indeed; all the data points bear that out in no uncertain terms. But we cannot simply pay any price for any company regardless of how good it is. Given the depressed valuations of banks all over the place it seems very difficult to justify the expense for UBSH despite how good it is. UBSH has a share repurchase program but it is tiny in comparison to its market cap so it is not a driver of EPS growth. It continues to grow loans and deposits as well as NII and noninterest income but those things are driving ~10% EPS growth, hardly the sort of thing that would justify 16 times earnings for a bank.
The bottom line is that I really like UBSH if you ignore the stock price but obviously we cannot do that. I think it has been bid up to the point where you'd do yourself a disservice by putting new money to work here. If it breaks out and makes progress against resistance at $27/$28 then maybe on a pullback, you could own it. But for me, on a valuation basis, it has gone way too far for me to be interested here irrespective of how good it is.
Disclosure: I/we have no positions in any stocks mentioned, and no plans to initiate any positions within the next 72 hours.
I wrote this article myself, and it expresses my own opinions. I am not receiving compensation for it (other than from Seeking Alpha). I have no business relationship with any company whose stock is mentioned in this article.