Over the past couple weeks now, shares of Chicago Bridge & Iron (NYSE:CBI) have been under intense pressure. While a downgrade and some bad sales and earnings revisions are to blame for some of the decline, one major overhang appears to be a lawsuit from Westinghouse, a company that is 87% owned by Toshiba (OTCPK:TOSBF) (OTCPK:TOSYY), in the amount of $2.15 billion. While this may seem like a death knell for the enterprise, further research suggests that this is simply not the case.
Thank you!
In my first article where I talked mostly about the downgrade of the stock, I lamented the fact that I could not get access to the court documents filed in Delaware. This was due to the fact that, in order to get said documents, you either have to pay a third-party affiliated with Delaware or you have to go there in person to retrieve them. I live in Ohio and don't want to fly out of state for that but I did submit a request for a quote with the third-party provider and was planning on paying for the service when one of my readers, narayanp2, was kind enough to submit a link to a site that had the court document for free. For that, I thank you.
What's this lawsuit all about?
After spending the better part of a day reading through 158 pages of court-related documents, I figured out that the suit being pressed by Westinghouse relates to three things that circle around a definition of working capital. Last year, CBI agreed to sell its nuclear construction business, known as CB&I Stone & Webster Inc. Most of this sale's proceeds should come as contingent payments to CBI that could end up being as high as $544 million, but management classified the sale as more or less giving the business away in exchange for Westinghouse assuming all liabilities associated with project overruns (namely VC Summer and Vogtle).
In setting up the Purchase Agreement, CBI and Westinghouse agreed that a key point in the arrangement would involve the nuclear business's net working capital, which is defined as the extra current assets above current liabilities of a business. Based on the agreement, the two parties set a "peg" of $1.174 billion. Any amount exceeding this peg would be money that Westinghouse would need to pay back to CBI, while any number below it would represent money owed by CBI to Westinghouse. This would be classified as a "working capital adjustment" and is quite common when companies sell subsidiaries or sets of assets to other parties. In the image below, you can see what the picture looked like as of June 30th, 2015.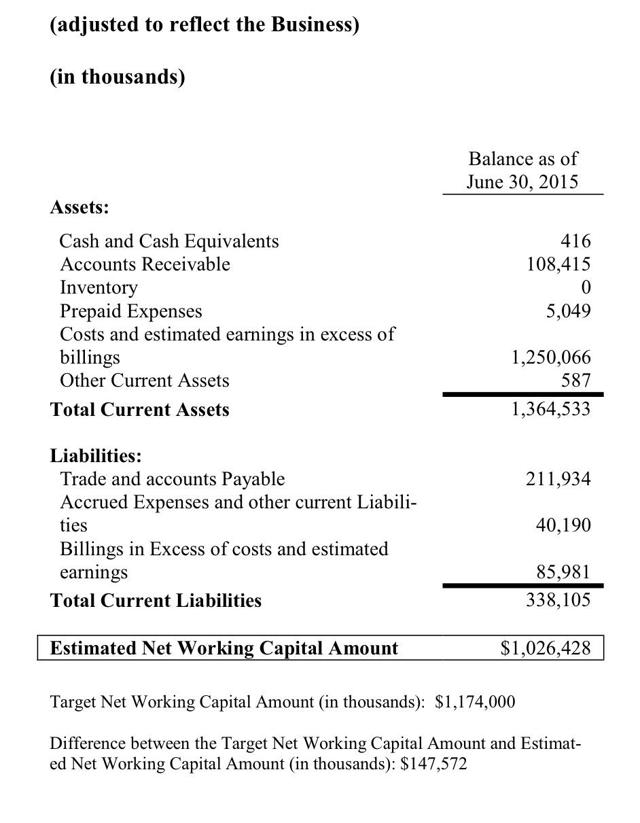 What we see here is a case where the peg is greater than the net working capital at the time - to the tune of $147.57 million. Had nothing changed and the sale closed then, CBI would have owed Westinghouse that amount but in order to keep the projects running as best as they could until the sale was completed, CBI was required to keep pumping their own money into the plants for a period of time. After everything was said and done, CBI told Westinghouse that the net working capital adjustment should be $427.81 million in CBI's favor.
This all seems quite simple but because of the intricacies of accounting, the truth is always hard to come by, especially when you consider that each party has incentives to misbehave. You see, the largest component of the peg set by both entities was a difference of $1.16 billion driven by $1.25 billion in costs and estimated earnings in excess of billings, less $85.98 million classified as billings in excess of costs and estimated earnings.
For those not accustomed to accounting, I'll break this down. Costs and estimated earnings in excess of billings is an asset category on the balance sheet. When a company like CBI performs work under the percentage of completion method for a customer but has yet to be paid for that work, they classify it as an asset because it's essentially an accounts receivable balance for them. Billings in excess of costs and estimated earnings are the opposite; management has collected cash but has not performed the work.
Westinghouse is now making the claim that the values of these accounts should be adjusted for three different reasons. The first relates to the fact that, before CBI sold its nuclear construction business, CBI had performed work on the nuclear projects, $1.25 billion of which it has not been paid for. This amount is money that CBI should legally be able to retrieve from Westinghouse because of design changes and regulatory issues related to Westinghouse's nuclear facility design.
Naturally, you would expect that CBI would be compensated in full for this amount if they kept the nuclear construction business, but Westinghouse is now claiming that CBI should have considered only 70% of that amount recoverable. This is, quite literally, Westinghouse claiming that they would not have reimbursed CBI in full for work that was (at Westinghouse's admission) largely Westinghouse's fault - and doing so not before the deal closed when they knew how the books were being kept, but after when they figured they would sue for the difference they believe they are owed.
On top of this, Westinghouse stated that CBI should have also booked hundreds of millions of dollars in losses as a reserve liability. While this may or may not be true, there is the undeniable fact that Westinghouse was given full access to all of the books associated with the transaction, had the opportunity to (and should have) told CBI prior to the deal closing that it disagreed with the amounts shown to them three days before the transaction was supposed to close (so they could have stopped or tried to modify the deal), and, according to CBI, had at least 49 outside consultants (including at least 10 from KPMG), as well as many internal employees, looking through these numbers before the deal closed.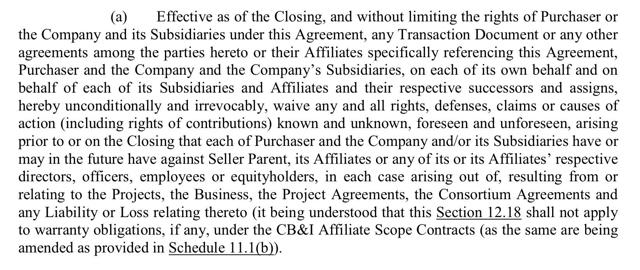 All-in-all, these transactions come up to an adjustment (according to Westinghouse) of $903.9 million. However, there was more than just that. After completing the transaction, Westinghouse hired Fluor (NYSE:FLR) to complete the nuclear facilities and received a quote from them that the total cost of completion for the plants would be $3.2 billion. While this estimate may turn out to be true, the very nature of the deal between CBI and Westinghouse called for Westinghouse to protect CBI from all liabilities associated with these projects, whether in the past, present, or future. This was included in the Purchase Agreement, as can be seen in the image above, as well as in the term sheet, an excerpt of which can be seen in the image below. It should also be mentioned that since CBI gave Westinghouse access to its own estimated costs to completion for the projects, it is their own negligence in not hiring a third-party sooner to give them an estimate on the projects, especially when they had intimate knowledge of all that was transpiring.

Because of this revision, combined with the fact that, once again, Westinghouse believes that CBI should book 30% of the amount of the projects as being unrecoverable, the total amount added to CBI's bill has grown by $956.6 million. This actually should fly in the face of accounting philosophy because work on projects that has not been done and for which money has not been collected should not ever, from all the racking of my brain can determine, be classified under current assets or current liabilities. Rather, this falls under the category of CBI being protected from all legal claims associated with its nuclear business.
Finally, Westinghouse makes the claim that CBI owes it $432 million associated with the remaining Margin Fair Value Liability attributable to its Shaw acquisition (the predecessor of CB&I Stone & Webster Inc.). When CBI bought Shaw, it booked an amount of $745.5 million here associated with long-term contracts acquired and concluded that it would recognize this as revenue while amortizing the balance sheet entry on a percentage of completion basis over the life span of its contracts.
This is actually a pretty nuanced item and it could be argued that CBI should have considered placing this in the sale to Westinghouse but, instead, the firm booked the remaining $432 million as a loss on net assets sold when they sold the nuclear construction business last year. Ultimately, this makes the most sense to me and it would have been a non-cash item for Westinghouse anyways so I can't see any sort of cash payment being justified even if Westinghouse didn't have access to the books before buying the nuclear construction business.
Can CBI be liable for anything?
There is plenty that can be debated about what CBI may or may not owe since not all information is out in the public right now. Whether or not the firm should be owed $427.81 million for additional capital it put into the projects is something that we will need to wait and see about and, depending on the actual numbers, they may even owe Westinghouse something nominal (though this seems very unlikely).
Besides working capital adjustments, however, the only thing I saw in the contract that suggests CBI may be liable for anything at all is if they did not conduct these negotiations in "good faith." If management had been lying or intentionally hiding information from Westinghouse, then that would constitute a breach of contract and they would likely need to pay something. However, this would not be anywhere near the $2.15 billion that Westinghouse claims because of the $432 million non-cash item and because, if Westinghouse is correct, Westinghouse would be intentionally stiffing CBI for work they have done without telling CBI prior to the contract closing that they would do so. In essence, it would be the very definition of corporate malfeasance in my opinion.
A note on Toshiba
I believe you can tell a lot about a company or a person by looking into their past. In 2015, Toshiba, the majority owner of Westinghouse, hired a team of auditors to look over their books. What they discovered is that, over a period of seven years, the firm had (through aggressive accounting) in its nuclear business, including at Westinghouse, engaged in improper accounting, which included "downplaying or delaying the recording of losses." As a result, earnings over that timeframe were overstated by $1.2 billion. As of the time of this writing, the firm is under investigation by different U.S. authorities, including the U.S. Department of Justice. Additionally, regarding this particular case with CBI's nuclear construction business, the company, in its court filing against Westinghouse, claimed this move by the company to be nothing more than a "cynical money grab."
Takeaway
Generally speaking, I am cautious with what I say; but after reviewing all of the information, I cannot have but one clear conclusion here. I do not know what the end result will be in this lawsuit, but I will say that, with the exception of scenarios where companies have engaged in outright fraud, I have never once seen a case where accounting has been so twisted by a company as it has in the case of Westinghouse and its claims. In my view, what Westinghouse is doing is the most negligent and immoral, not to mention unprofessional, display of manipulative accounting I've ever seen in a non-fraudulent case and their lawsuit has precisely zero credibility.
Disclosure: I am/we are long CBI.
I wrote this article myself, and it expresses my own opinions. I am not receiving compensation for it (other than from Seeking Alpha). I have no business relationship with any company whose stock is mentioned in this article.
Editor's Note: This article discusses one or more securities that do not trade on a major U.S. exchange. Please be aware of the risks associated with these stocks.