The Energy Information Administration (EIA) recently updated its report, "Differences Between Monthly and Weekly Working Gas In Storage." It concludes:
Based on a comparison of weekly estimates and monthly data from January 2010 through May 2016, estimated total working gas stocks have exhibited an average absolute error of 12 billion cubic feet, or 0.5 percent."
Monthly Methodology (EIA-191)
The Form EIA-191 is completed by all operators of underground natural gas storage fields in the United States. Data are provided for storage volumes in each storage field and reservoir. Each month EIA presents these data in the Natural Gas Monthly aggregated by state and storage region. Approximately 140 underground natural gas storage operators report for their operations at approximately 413 storage fields.
Weekly Methodology (EIA-912)
The EIA explains that the data it collects for its weekly survey is provided by a sample of storage operators drawn from the census of storage operators that report on Form EIA-191. The sampling procedure uses a stratified sample design with probability proportionate to size (PPS) sample selection, with a measure of size equal to the average between selected October and March monthly volumes. There are six strata that are based on geographic region and field type (salt or nonsalt): East, Midwest, Mountain, Pacific, South Central- Salt, and South Central- Nonsalt.
These data are used to prepare regional and national estimates for all underground storage. The Form EIA-912 requests reports of the volumes of working gas in storage as of 9 a.m. Central Standard Time (CST) Friday of the previous week from a sample of underground natural gas storage operators.
Respondents are asked to provide data representing working gas in storage fields their company operates in each of five regions of the United States. The deadline for submitting reports to the EIA is 5 p.m. Eastern Time the following Monday, except when Monday is a federal holiday. In that case, forms are due at 5 p.m. on Tuesday.
EIA employs a number of editing processes to ensure that the data collected each week are accurate. EIA also employs secondary source information such as weather data, pipeline flows, and third party stock or net change estimates. Companies with responses that are outside the edit bounds or with notes about special issues are contacted by survey personnel for confirmation or correction.
Data Discrepancies
By coincidence, I had begun to analyze the differences between the monthly and weekly (interpolated) values. And so when EIA published its report, I immediately noticed that the monthly data it used in the analysis was not the data found in its Natural Gas Monthly spreadsheet.
Based on that EIA's monthly data, I calculated an average difference of -20 billion cubic feet (BCF) and a standard deviation of 12 BCF with the weekly data being lower on average. For the latest month (May 2016), the weekly storage figure is 32 BCF lower than the monthly estimate.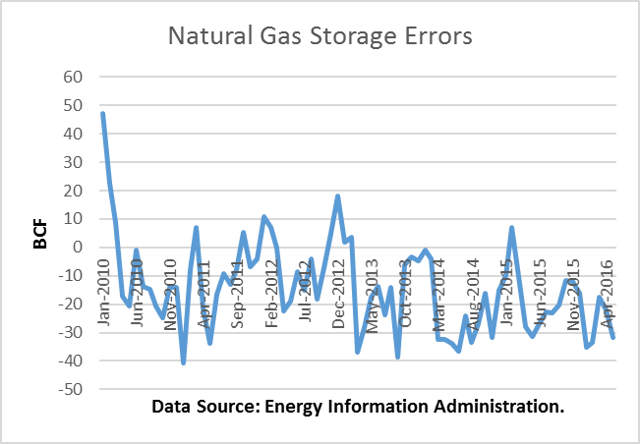 Conclusions
The EIA's comparison between its monthly and weekly data is confusing because the monthly data series is not the same as reported in the Natural Gas Monthly. Based on that data, the error is about twice as large. Moreover, there seems to be a systematic error in the weekly data to be lower than the monthly data. Given how much attention the market pays to expectations being off a few BCF, it is important to understand that the error of estimate is more than a few BCF.
Disclosure: I/we have no positions in any stocks mentioned, and no plans to initiate any positions within the next 72 hours.
I wrote this article myself, and it expresses my own opinions. I am not receiving compensation for it (other than from Seeking Alpha). I have no business relationship with any company whose stock is mentioned in this article.