Introduction
Earlier this week, I was talking to a friend about the results of Great Panther Silver (NYSEMKT:GPL), and that specific person was wondering how on earth it was possible Great Panther Silver was unable to generate a decent profit if the average received price per ounce of silver was almost $18.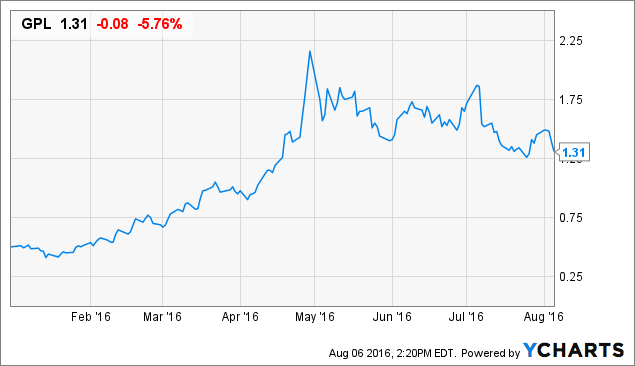 He made the classic mistake of looking at the EPS of a mining company, rather than studying the cash flow results, as Great Panther actually had a phenomenal quarter.
I couldn't care less about the net loss…
In the second quarter of the current financial year, Great Panther saw its total silver-equivalent production decrease by approximately 5% to 1.04 million ounces on the back of a much lower silver production rate. The total amount of silver that has been produced fell by approximately 17% to less than 540,000 ounces but fortunately this was partly offset by a 13% higher gold production rate, as GPL produced in excess of 6,000 ounces of gold.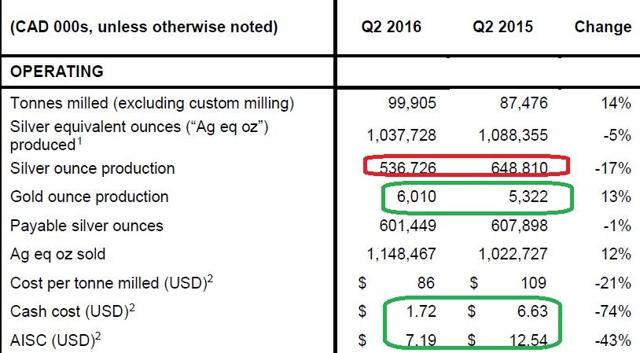 Source: MD&A Report
Due to the higher gold production and the low capital expenditures, Great Panther Silver reduced its AISC by a stunning 43% on a year-on-year basis to just $7.19 per ounce of (PURE) silver. That sounds great, but what does it mean for the financial results?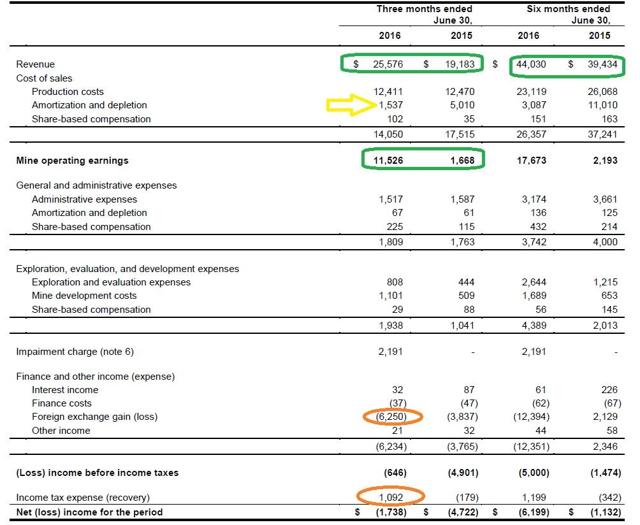 Source: financial statements
The total revenue during the quarter was approximately $25.6M, more than 25% higher than the $19.2M generated in the same quarter last year as the (much) higher gold and silver prices compensated for the lower total production of the precious metals. As Great Panther reduced its operating expenses (well, everything remained quite stable except for the lower depletion rate), the mine operating earnings were a pretty impressive $11.5M, or 7 times (!) higher than in the same quarter of last year.
Despite this, Great Panther Silver reported a net loss of $1.7M, and I do think a lot of people, just like my friend, were fooled by this bad result. However, the entire loss was caused by a $2.2M impairment charge and a $6.3M forex loss. Despite reporting a pre-tax loss of $646,000, Great Panther Silver was hit with a tax bill of $1.1M, ending up with a net loss of $1.7M.
My buddy is technically 100% right when he says a company shouldn't be operating if it's unable to be profitable at $18 silver. Essentially, he's absolutely right, but I would disagree with the fact to base an investment decision on the net income rather than the cash flow.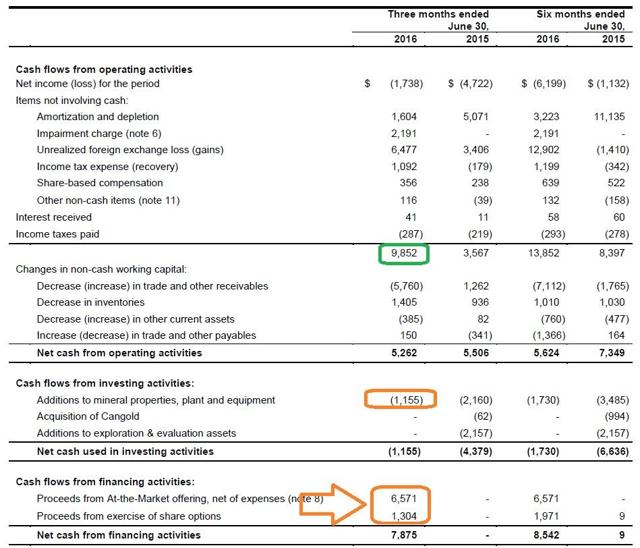 Source: financial statements
And that's exactly why most investors might have missed the company's impressive cash flow results. The total operating cash flow (before changes in Great Panther's working capital position) was an impressive $9.9M (keep in mind that's very decent for a company which produced just 1 million silver-equivalent ounces. After deducting the capital expenditures of $1.2M, Great Panther Silver's adjusted free cash flow in Q2 was $8.7M, and this already sounds and looks quite a bit better than a net loss of $1.7M.
Does the capital raise mean Great Panther is looking to deploy cash somewhere?
Investors focused on details will notice Great Panther was also able to raise more cash through option exercises (increasing the share count) and through its at-the-market offering, raising approximately $6.6M. This boosted the cash position to $28.8M but also increased the working capital position to in excess of $49M.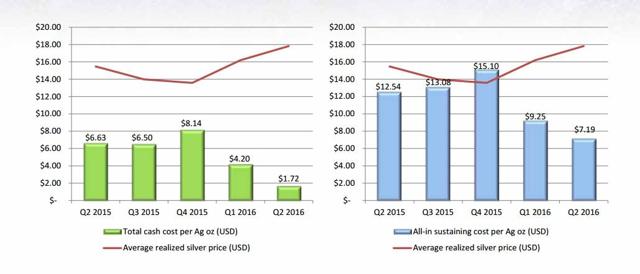 Source: company presentation
On top of that, Great Panther also closed a bought deal after the second quarter ended, raising an additional $30M which will have boosted its working capital position to in excess of $80M if you also take the additional free cash flow from its operations from the past five weeks into account.
That's really interesting, and it could mean the company is mulling over an additional acquisition, and we'd like to refer to the fact that even though the original option agreement with Nyrstar has been terminated, Great Panther Silver still hasn't officially said 'no' to acquire the project. At least, that's how I interpret the company's update on the termination of the option deal, but the $2.2M impairment charge on the Nyrstar asset might be a sign Great Panther is looking at other potential acquisitions as the company is now fully cashed up, and generating a respectable amount of free cash flow.
Great Panther doesn't 'have' to do anything, but it would make sense to try to pick up some projects that have fallen through the cracks or have been dropped by other silver miners in the past few years.
Investment thesis
One thing is certain, Great Panther has no issues to raise cash, as the bought deal was initiated by the buyers of the stock and not by the company. Some people might not agree to this 'dilution', but as you can now purchase stock at a 18% lower price than where the bought deal was conducted, you're actually getting a better deal out of it. Not only was the bought deal buyer-initiated, everything was also completed in a matter of days, indicating there was quite a lot of demand out there.
At a current market capitalization of $217M and an enterprise value of $160M, having generating $8.7M on a quarterly basis is an excellent achievement. Keep in mind I do expect the capex and the exploration expenses to increase, as Great Panther might have to catch up with postponed investments on its properties. In fact, the free cash flow will be very limited in H2, as Great Panther's updated guidance seems to indicate the average AISC in the second half of the year might be as high as $17-18/oz on the back of doing twice as much exploration drilling compared to the first half of the year.
Disclosure: I/we have no positions in any stocks mentioned, but may initiate a long position in GPL over the next 72 hours.
I wrote this article myself, and it expresses my own opinions. I am not receiving compensation for it (other than from Seeking Alpha). I have no business relationship with any company whose stock is mentioned in this article.