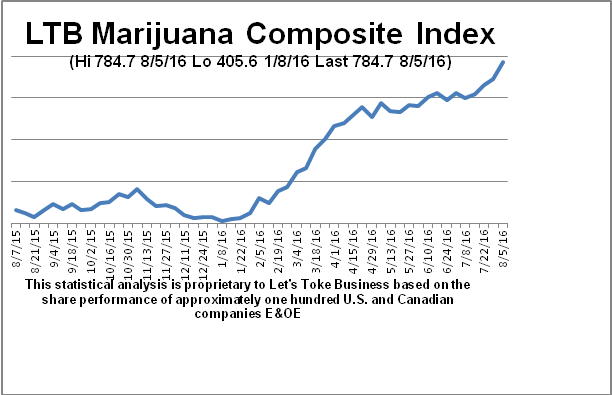 The world seems to be unfolding even more than I imagined it might as this chart shows. My Seeking Alpha summary last week said it all: (A) Canadian cannabis stocks seem poised to exceed 2014 highs and they took another step closer with a gain of 5.4% to close at 784.72, (B) we favor the Licensed Producer sector which had a spectacular week with a gain of almost 30% on the index (see below), and (C) exposure to the group will raise your portfolio returns which was certainly true given the Dow and the TSX were up less than 1% each last week.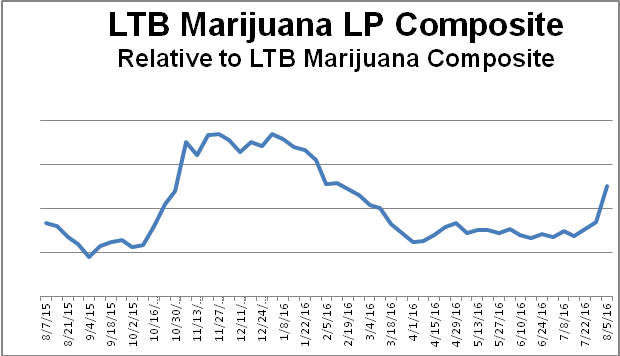 The LTB Licensed Producer Index posted a one week record advance in the form of a stunning gain of 28.6%. The chart above is revealing because it shows how much better you did in the LP stocks than in the typical marijuana stock. Even for an index of only nine LP stocks, this is an amazing result. We have never witnessed such a massive weekly advance in any of our indexes. Without the LP stocks, the gain in the Marijuana Composite would have been cut by more than half and the Low Price Stock Index without any of these "stars" actually declined .5% on the week.
Here's how each Canadian LP performed last week:
Company Ticker Price % Change
Symbol 8/5/16 Week
Aurora Cannabis (OTCQX:ACBFF) $0.50 +48.3%
THC Biomed (OTCQB:THCBF) $0.19* +48.0%
Organigram (OTCQB:OGRMF) $1.33 +32.8%
Emerald Health (TBQBF) $0.21 +31.7%
Canopy Growth (TWMJF) $3.14 +31.1%
Mettrum (OTC:MQTRF) $2.41 +25.3%
Pharmacan (PRMCF) $0.50* +25.0%
Supreme (OTCPK:SPRWF) $0.37 +15.6%
Aphria (OTCQB:APHQF) $1.94 +15.4%
*Canadian dollar quotes only
Finally, here is how the marijuana stocks in general have performed compared to the Toronto Stock Exchange, the senior exchange in Canada.
(click to enlarge)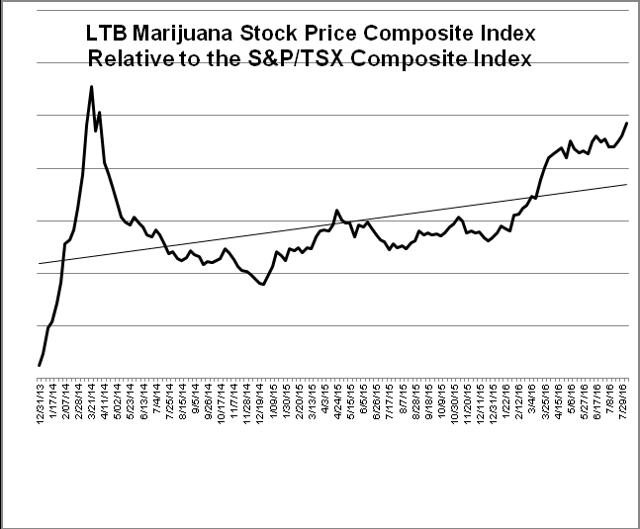 This is a relative performance chart that compares the LTB Marijuana Composite Index to the TSX Composite Index. By rising consistently to the right, it reveals the marijuana stocks have been generally outperforming the average Canadian stock. Everyone understands that a few percentage points in long-term return will make a significant difference in the amount of capital amassed over time. Imagine the impact of outperforming by over 25% in a week!
Sometimes when a group of stocks makes such a massive gain there is something else at work we aren't aware of yet. Nevertheless, it doesn't seem prudent to chase these stocks now. If you don't have or didn't buy an LP stock holding or two already, I wouldn't start now. That would be like trying to board a ship after it has left the dock. You're more likely to get soaked. But if that's your situation, don't worry. With the cannabis group, there'll be lots of opportunities in the weeks ahead. Stay tuned!
For those who purchased earlier and lower, prepare for profit taking. It's said in Las Vegas, if you don't quit when you're up, you'll quit when you're down. Similarly, if you buy a stock and don't sell it at a profit, you'll sell at a loss. If the "buy low" part is done, don't forget a profitable trade has two parts: buying and selling. A successful trade is like a lobster trap - easier to get in than to get out.
Remember, the tried and true investment adage is "buy low - sell high" but few can follow this simple axiom. The main reason is most investors want to wait until all the good news is out before buying. When they finally take the plunge, so does the stock they just bought.
To avoid this problem, use the concept "buy on mystery and sell on history." This means buy stocks before all the good news is out; while there is still some mystery. When the news comes out, in other words when the news you've been waiting for becomes history - sell. That is what smart money does and it explains why it's hard to prosper going in the wrong direction.
For the past three months, I have been urging people to rebalance toward the Canadian Licensed Producers. That was "buying on mystery." In the next couple of weeks, Health Canada will table its legislative response to the Allard decision (HC v. Allard). When that happens consider taking some profits. Don't sell all. I still like the LP group long term. So take partial profits. Depending on risk tolerance and aggressiveness, sell some and look for an opportunity to buy back when and if LP stock prices dip. For the time being, look to complete a profitable trade by selling high. Get in sync with the smart money.
Disclosure: I/we have no positions in any stocks mentioned, and no plans to initiate any positions within the next 72 hours.
I wrote this article myself, and it expresses my own opinions. I am not receiving compensation for it (other than from Seeking Alpha). I have no business relationship with any company whose stock is mentioned in this article.
Editor's Note: This article covers one or more stocks trading at less than $1 per share and/or with less than a $100 million market cap. Please be aware of the risks associated with these stocks.