A family member recently got a blood count to investigate the cause of fatigue. The white count was elevated. A blood smear followed by a gene expression study showed Philadelphia Chromosome positive CML -- chronic myeloid leukemia. Another family member messaged us a photo of the packet of capsules that had promptly been prescribed:
://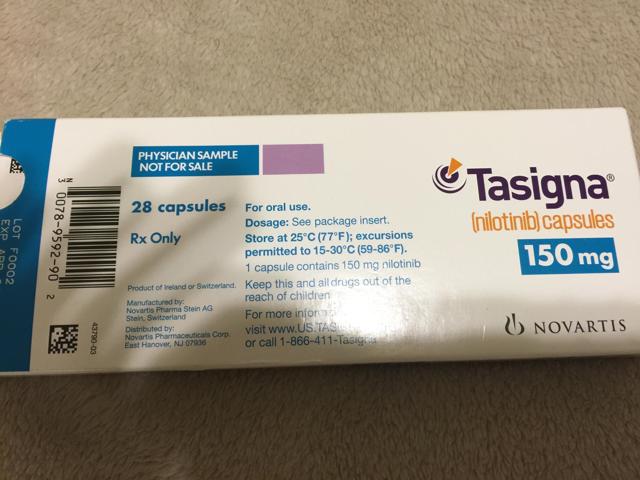 I was relieved not only to learn the diagnosis was CML and not AML, a much more difficult leukemia to treat, but that a 2nd generation tyrosine kinase inhibitor had been the initial selection of her oncologist. Tasigna is single-pill mono-therapy for CML. Small molecule inhibitors of mutant kinase called BCR-ABL have turned this once deadly disease into a chronic manageable one, much like anti-retroviral drugs have done for persons with HIV. That's one reason I invest in biotech.
Novartis (NYSE:NVS) pioneered modern treatment of CML with its prototype drug Gleevec, approved by the FDA in 2001. Gleevec imatinib went generic in January 2016. Novartis might have been satisfied with Gleevec and our family member might have done just as well on this medication. But Novartis devoted more research to the design of the much more powerful 2nd generation Tasigna nilotinib which the FDA approved in 2007. The mechanism of drug action is explained on the Tasigna wesbite in terms a patient or family member can understand: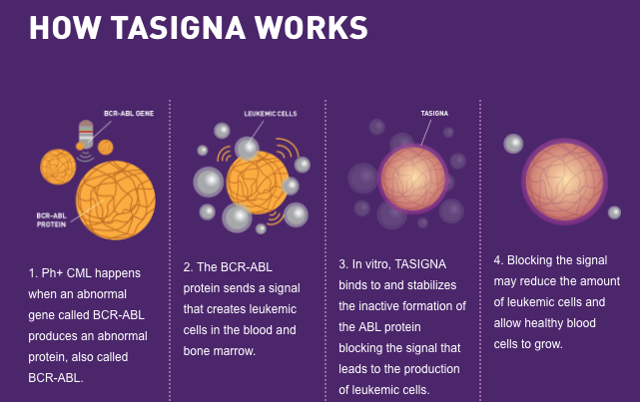 There is beauty in the design of this drug. That is another reason why I buy biotech.
Before reassuring our family member that a state-of-the-art pill was being prescribed -- since I am not an oncologist -- I surfed to the latest online version of the journal Blood and found this article:
Moving treatment free remission into mainstream clinical practice in CML
I read that article, and let the title and conclusions sink in: CML can not only be held in remission for many years; it may be curable with a 2-year course of single-pill therapy. Our family member may well be spared the pain of having bone marrow ablation followed by a transplant, and multiple rounds of toxic, nauseating, hair-losing intravenous chemotherapy. What the experts are saying is that if a TKI pill is causing side effects in someone with CML (or I might add if resources are constrained), and there is no detectable BCR-ABL gene transcript detectable by quantitative PCR in the blood, it may be safe to stop the drug after 2 years of treatment. This shows that ongoing investment in research can bring down the total cost of drugs that were at first crazy expensive.
The results of post-marketing research can save money for society, and that's a good investment.
Since Novartis already had the platform to develop the prototype Gleevec, it must have been cheaper to develop the 2nd generation Tasigna. That's why biotech investors should seek out companies with a platform that can churn out multiple drugs; it is cost-effective, and patent expiration is not such a big worry then. In the case of Novartis, the 2nd generation drug will cannibalize the 1st generation, but that's a win-win: in 2015, sales of Gleevec were $4.7b and up only 5%; sales of Tasigna were $1.6b and up 16%. Norvartis has an area of expertise and a name for itself.
Novartis is a big pharmaceutical company, but the home-runs it hit for CML show that it is a biotech too. Novartis is even ahead in the CAR-T cell race through its collaboration with Carl June and others at U Penn. Argue if you want, but Novartis, while not as exciting a financial gamble as Juno (NASDAQ:JUNO), Kite (NASDAQ:KITE) or Bristol-Myers Squibb (NYSE:BMY), designs smart, powerful drugs for cancer. If you can find a smaller company by a different name that had one such drug as Gleevec on the market and another emerging from the pipeline, wouldn't you buy it for the right price?
Small-cap biotechnology companies with a floor under their stocks provided by sales of a first approved product are still out there. But expect a bumpy ride. I sleep well at night knowing that I have a small portion of my retirement assets allocated to companies that will produce future cures for diseases now considered deadly.
Disclosure: I/we have no positions in any stocks mentioned, and no plans to initiate any positions within the next 72 hours.
I wrote this article myself, and it expresses my own opinions. I am not receiving compensation for it (other than from Seeking Alpha). I have no business relationship with any company whose stock is mentioned in this article.