M&A activity in 2016 has been white hot. As I reported a few months ago, "almost 60% of executives expected to carry out acquisitions" this year. It is true that the size of the deals in 2016 has lagged those of 2015 by quite a bit. Shire's (NASDAQ:SHPG) acquisition of Baxalta for $32 billion, the largest deal in 2016 so far, would have ranked only 12th in 2015.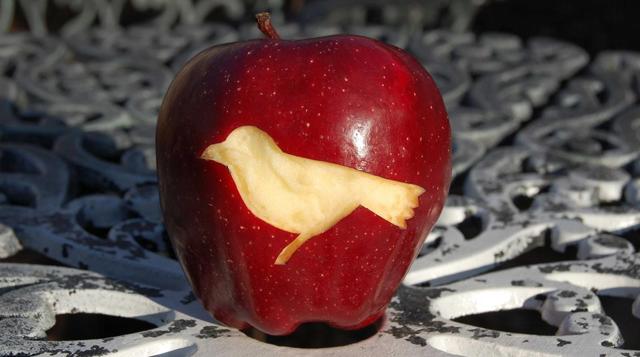 Image Credit: mkdickerson.com
But at least in the tech world, there has been no shortage of meaningful acquisitions being executed, especially by cash-rich, growth-starved stalwarts like Verizon (NYSE:VZ) and Microsoft (NASDAQ:MSFT) looking to diversify their business models and re-ignite top line growth.
Cutting against the grain is Apple (NASDAQ:AAPL). The company, which has recently started to suffer a painful decline in iPhone revenues, has not been a big participant in M&A activity. As the table below illustrates, Apple has about as much net cash (cash and equivalents minus debt) as Alphabet (GOOG, GOOGL), Microsoft, Facebook (NASDAQ:FB), Cisco (NASDAQ:CSCO) and IBM Corp. (NYSE:IBM) combined. Yet, the company's largest acquisition of 2015-2016 so far, Turi, priced at an estimated $200 million, dwarfs in size when compared to the Microsoft-LinkedIn ($26.2 billion) or even the IBM-Cleversafe ($1.3 billion) deals.

Source: DM Martins Research, using data from Wiki, Yahoo Finance and SEC filings
With Apple's hardware sales dwindling (see my article on iPads and the graph below on the iPhone sales decline in 2016) and other revenue streams having to pick up the slack, I believe the company should do more to try and leverage its cash reserves and the sizable iPhone installed base.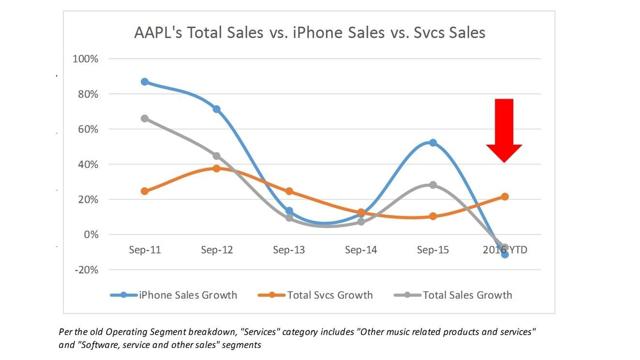 Source: DM Martins, using data from Company's press release and SEC filings
Is Twitter a plausible answer?
To be fair, it is no secret that I have never been a big fan of Twitter (NYSE:TWTR). For a while now, I fear for the decline of the company's monthly user base and the stalling of its ARPU (average revenue per user). My concerns were not eased by the company's most recent earnings release. It is also no secret that I would love to see Apple use its huge pile of cash and healthy cash flow-generating abilities ($41 billion in free cash so far in the current fiscal year that ends September 2016) to double its dividend payments to shareholders.
But I have to admit that I can see Twitter fitting well into Apple's business model.
Apple is good at what Twitter is bad: user experience
One of Twitter's biggest operational problems, one that management seems to have already recognized, is the platform's less-than-impressive user experience, including "confusing ("@names" syntax and "@reply" rules) or insufficient (timeline) features that the company expects to address in the near future".
User experience seems to be exactly the area in which Apple excels the most. CEO Tim Cook, not for the first time, emphasized during the most recent earnings call how iPads have "exceptionally high customer satisfaction and engagement" (96% satisfaction rate for the iPad Mini and 95% for the iPad Air, according to 451 Research), and how "J.D. Power ranked [the Apple Watch] highest in customer satisfaction among all smartwatches" - while the iPhone has been fighting a hard battle with Samsung (OTC:SSNLF) devices for customer preference.
To be fair, designing user-friendly hardware versus software likely requires different skill sets. But I attribute part of the success of Apple's devices to a well-constructed and intuitive interface. At the very least, I find it plausible that Apple's software design team could very well apply some of its best practices to improve the user experience on the Twitter platform.
Apple could provide Twitter with much-needed "professional management"
Another common concern that I hear from many Twitter investors pertains to management - more specifically to Jack Dorsey. After being appointed "part-time CEO" in October 2015, a combination of unimpressive results (monthly average users have remained largely flat, while GAAP net income margin deteriorated in 2Q16) and a declining stock price (-26% since October 1st of last year) has ignited a discussion amongst some shareholders about a change in leadership.
Apple, in my view, has the scale and the operational diligence that I believe Twitter needs at this pivotal moment in its short life (the company was founded in 2006). Although many readers might dislike Tim Cook for the visionary that he is not, especially in the unfair comparison with his predecessor Steve Jobs, Apple's current CEO is a pragmatic executor. I believe that Twitter, at this moment, needs more than a user interface revamp and a couple of new platform features. It needs a seasoned, fully dedicated management team with deeper pockets and the institutional support necessary to give Twitter a better chance at thriving.
I believe Apple would do great in this role.
Apple has the installed base
Late last month, Apple disclosed the sale of its one-billionth iPhone. And according to research firm Gartner, iPhones continue to become more popular worldwide, now biting off 17.9% of the smartphone market versus 12.7% about three years ago.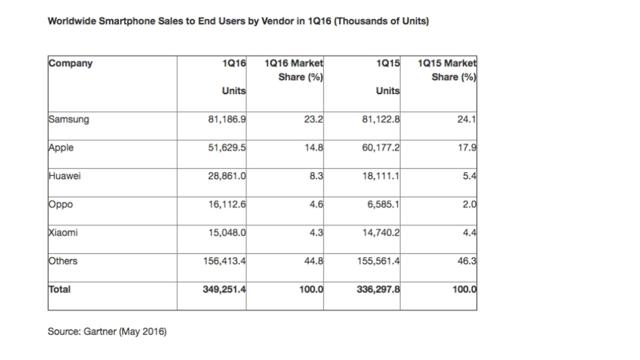 Source: BGR.com
So, although iPhone sales have started to decline, at least for now, the Cupertino company should still be able to leverage its large installed base in order to monetize on smartphone usage. In fact, doing so is what has allowed Apple to grow its services business 22% in 2016 YTD, despite the 12% drop in iPhone sales over the same period.
Just like Apple has integrated apps like Numbers, Pages and Health into its most recent iOS versions, it could do something similar with Twitter. The company could include Twitter functionality into Safari or even on the hardware itself - similar to how certain TVs and set-top boxes have incorporated Netflix and YouTube buttons on their remote controls.
In conclusion
Although I am not very excited about Twitter for the business that it is today, I believe the company can do much better under Apple's management. Apple has the resources to make the deal happen, including the cash or the line of credit to buy the social media company at a price that is not as high as it was a mere year ago, when shares traded close to $30.
Whether Apple would entertain such a deal remains to be seen.
Disclosure: I am/we are long AAPL, CSCO, GOOG.
I wrote this article myself, and it expresses my own opinions. I am not receiving compensation for it (other than from Seeking Alpha). I have no business relationship with any company whose stock is mentioned in this article.