By Parke Shall
The recent Bitfinex hack seems to be coming to a resolution that will be far more beneficial for its users than the Mt. Gox bitcoin hack of 2014. With this, we believe bitcoin is only getting stronger and we continue to believe that,
1. Bitcoin has already been "validated"
2. Bitcoin will appreciate meaningfully going forward
After the Bitfinex hack in Hong Kong was announced, bitcoin prices dropped significantly in a span of just hours, crashing from over $600 per BTC to under $500, a very volatile 15% move.
But since then, as we predicted, prices have already rebounded about 19% from lows. Further, going forward, we think bitcoin comes out of this scandal even stronger.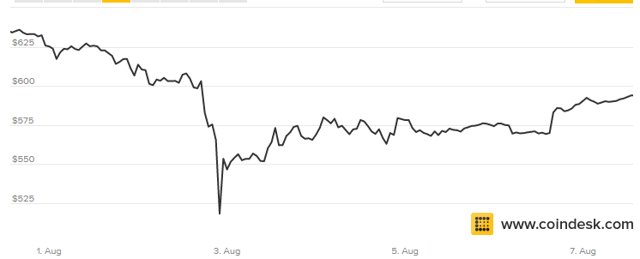 Today we found out that the recovery users of the exchange are getting is far better than the recovery that they got in the Mt. Gox hack.
This news confirms and furthers our already existing thesis that bitcoin would return stronger than it did after Mt. Gox.
We said in our previous article that even though the price of bitcoin declined on the news of the hack, that we were fairly confident the price would once again rise as the news made its way through the news cycle and fear drifted away. We also highlighted that the hack did not show that the security of bitcoin itself was compromised, but rather that the security that these exchanges are using has been compromised.
News broke this morning that users of the Hong Kong Bitfinex exchange are going to receive restitution to the tune of about 64% of what they previously held. This is a major step in the right direction from the hack prior. At Mt. Gox, hundreds of millions of dollars of bitcoin were lost and those participating in the exchange received nothing. Bloomberg reported,
Hong Kong-based Bitfinex said all users will lose 36 percent of their deposits after the bitcoin exchange concluded its review of a $71 million hacking attack.

To compensate its customers, Bitfinex said users will receive tokens that may later be redeemed or exchanged for shares in its parent company. Following the announcement, bitcoin climbed to $594 as of 10:55 a.m. on Sunday in Tokyo, based on prices from Coinbase. The virtual currency dropped 12 percent to $577.23 in the week through Friday, its largest weekly decline since June, according to Bloomberg prices.

"After much thought, analysis, and consultation, we have arrived at the conclusion that losses must be generalized across all accounts and assets," the exchange wrote in a blog post on Saturday. "In place of the loss in each wallet, we are crediting a token labeled BFX to record each customer's discrete losses."

Efforts to reach Bitfinex were not immediately successful. A representative of the exchange, verified by Bloomberg, wrote on Reddit that the 36 percent loss "applies to all assets across the site, so everyone." The exchange previously said losses would only apply to users who either had bitcoin deposited at the exchange or who were in the process of lending U.S. dollars for margin trading.
While this certainly isn't a happy ending to the story, it is a step in the right direction. Hopefully, Bitfinex's handling of the situation sets an example for those in the industry and also encourages exchanges to set up reserves and contingency plans in the case of a security breach. There are numerous ideas and suggestions for ensuring bitcoin on an exchange, including actual bitcoin insurance and monetary reserves that should be explored as a result of this hack.
But the most important thing about the story is that we have progressed since the first real security breach where hundreds of millions of dollars were lost. Another part of the bitcoin story continues to evolve, and we believe the question of whether or not bitcoin has been validated is long in the past.
Now, it is simply just setting up contingency plans and ideas for when the unexpected occurs that remains for those furthering their bitcoin ventures. Bitcoin pushes forward into the future.
This was a nice resolution to a story that shook the bitcoin underground for a couple of days. As with everything bitcoin thus far, there has been resolve and continued buy-in for the digital currency. These incidents seem to only be making the community stronger, and this is why we think bitcoin continues to have a long runway for growth going forward.
We hope investors took the chance to buy bitcoin cheap last week, but we also think bitcoin still has a long runway to appreciate from this point forward. We continue to think bitcoin will appreciate meaningfully over time, and we remain long.
Disclosure: I am/we are long BITCOIN.
I wrote this article myself, and it expresses my own opinions. I am not receiving compensation for it (other than from Seeking Alpha). I have no business relationship with any company whose stock is mentioned in this article.