Priceline Group (PCLN) is primarily an online broker for hotel accommodations, air travel, and rental car and restaurant reservations. In addition, it owns Kayak.com, from which it earns advertising and referral revenue. During fiscal year 2015, Priceline earned approximately $9.2 billion of gross profit from its business activities. Going forward, management's strategy is fourfold:
Provide the best customer service. This entails building and maintaining intuitive, easy-to-use online travel and reservation search services; continually increasing the number of accommodations available on their websites; and providing informative and useful content to help users make travel and restaurant decisions.
Partner with travel service providers and restaurants. In addition to marketing the travel services and tables of its retail partners, Priceline is seeking additional ways to engage them such as providing them with marketing and analytics tools to help attract additional guests.
Maintain multiple, independently managed brands. Here the goal is to foster an entrepreneurial, competitive spirit among the company's various brands, while sharing best practices and access to customers and services.
Invest in profitable and sustainable growth. The company intends to financially support organic growth in all of its brands as well as to make strategic investments in acquisitions and other businesses as the opportunities arise.
Interestingly, the company's desire to maintain separate brands allows it to appeal to a wide variety of consumers seeking different kinds of travel experiences. For example, its well-marketed Name Your Own Price product appeals to budget travelers, while its Booking.com website connects travelers to a host of boutique accommodations across Europe, appealing to a different consumer altogether.
Investment Thesis and Valuation
Priceline is well-positioned to benefit from growth in online travel bookings in China and other emerging markets as well as from its leading position in Europe. In China, Priceline has a valuable partnership with a market leader, Ctrip (NASDAQ:CTRP). As China continues to add to its middle class, and as online penetration gets deeper, Priceline stands to benefit from this partnership. In Europe, Priceline enjoys long-standing relationships with boutique hoteliers and providers of unique lodging. According to Morningstar, as of May, Priceline had 900,000 properties on its network; in comparison, Expedia (NASDAQ:EXPE) had 282,000 at the end of March.
Turning to its financials, Priceline has an impressive history of growth and operating efficiency. As the chart below shows, the company has been able to decrease its cost of revenue from over 60% to less than 10% over the prior 10-year period.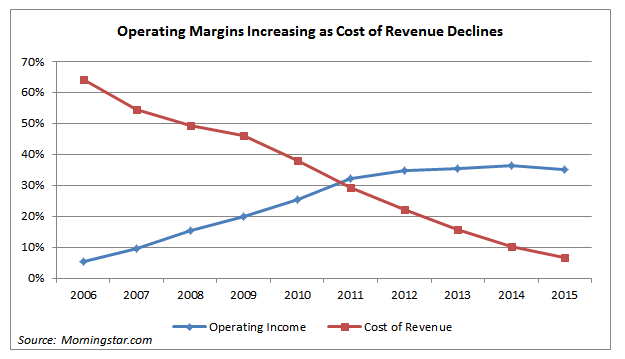 This accomplishment is even more remarkable after observing the continuous decline in costs over the period. Through several market cycles as well as a sustained period of growth for the company, Priceline has been able to bring revenue costs to rock bottom levels. It can also be seen from the chart the growth in Priceline's operating margins, likely driven by the decline in revenue costs.
Although Priceline does not pay a dividend, its track record indicates management can invest for growth as well as generate free cash flow. In contrast to its smaller U.S. competitor, Expedia, Priceline has been able to increase free cash flow as a percentage of revenue every year since 2006, although this figure has plateaued of late. See the chart below. Not only has Expedia's free cash flow varied greater than Priceline's, it appears to be on a downward trend. If Priceline can exploit the many growth opportunities it is pursuing abroad, expect its upward trend in free cash flow generation to continue.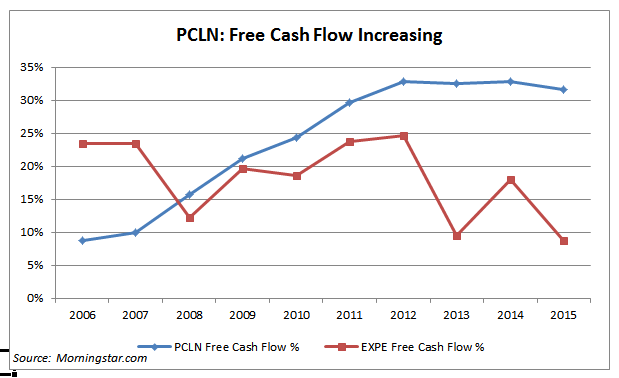 Clearly, Priceline, while growing at a compounded average annual rate of 72% since 2006, has maintained operating discipline in a variety of market conditions and has generated healthy amounts of cash for its owners.
Not surprisingly, Priceline's solid financials have led to an above-market valuation. Based on the chart below, Priceline's stock is above the industry average across several valuation yardsticks - price-to-earnings, price-to-book, price-to-sales and price-to-cash flow. However, for investors seeking a potentially attractive price point, the stock has retreated slightly from its 5-year average price multiples.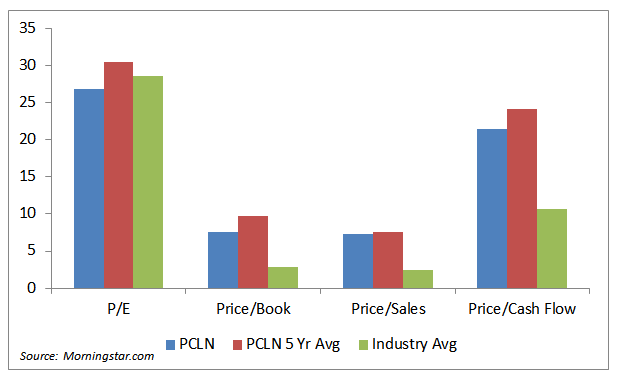 In summary, for investors who can sit through potential volatility arising from cash flows abroad - exchange rate risk, political and country risk, etc. - Priceline presents an attractive growth and solid cash flow opportunity.
Disclosure: I/we have no positions in any stocks mentioned, and no plans to initiate any positions within the next 72 hours.
I wrote this article myself, and it expresses my own opinions. I am not receiving compensation for it (other than from Seeking Alpha). I have no business relationship with any company whose stock is mentioned in this article.